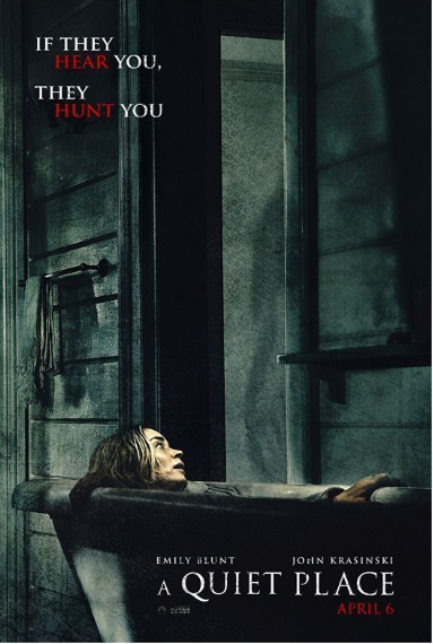 Sve u svemu: 4 / 5

Više o filmu: Imdb.com
Video

U nekakvom postapokaliptičnom svijetu, četveročlana obitelj prisiljena je živjeti u potpunoj tišini, budući da mjestom haraju monstrumi s ultra-senzibilnim sluhom i koji love po najmanjem šumu...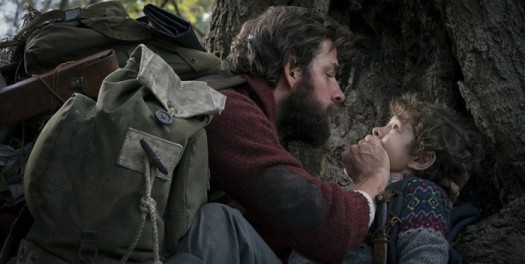 Proljeće 2018. godine u horor svijetu definitivno će obilježiti A Quiet Place, djelo glumca, producenta i redatelja Johna Krasinskog (možda najpoznatijeg po poznatoj seriji The Office). On je ovdje istovremeno i glavni lik zajedno sa svojom boljom polovicom Emily Blunt, koja i ovdje predstavlja njegovu ženu, a sina i kćer glume im Millicent Simmonds (glumica je gluha od rođenja) i Noah Jupe. Idemo malo infoa oko ovog filma: Quiet Place prilično se marketinški dobro progurao među mainstream filmske naslove, pogotovo nakon premijere na South by Southwest festivalu, gdje ga je kritika jako ishvalila, a sve je to bio uvod u genijalan proboj u kinima - zaradio je preko 326 milijuna dolara, a imao je budžet oko 20-ak mil te se tjednima zadržavao na prvom mjestu Box Officea. Pametnom dosta - Quiet Place postao je treći najunosniji u kinima, nakon prošlogodišnjeg IT-a i Paranormal Activity 3, a postao je i horor film s najvećim unosom u premijernom vikendu emitiranja. Filmu su to definitivno omogućili inovativni pristupi radnji, atmosferi i samom oblikovanju cjelokupne, autentične ideje. S obzirom da se svakojaki oblik dijaloga čuje i može uzburkati čudovišta, u filmu ima jako, jako malo dijaloga, sve se bazira na američkom znakovnom jeziku, tako da ima u filmu i mnogo tišine koja se veoma dobro implicirala uz stvaranje napetosti. Slično su uspješni bili i Don't Breathe te 10 Cloverfield Lane, koji su svoju filmsku ideju također u neku ruku bazirali na stvaranju atmosfere sa što manje zvuka i buke.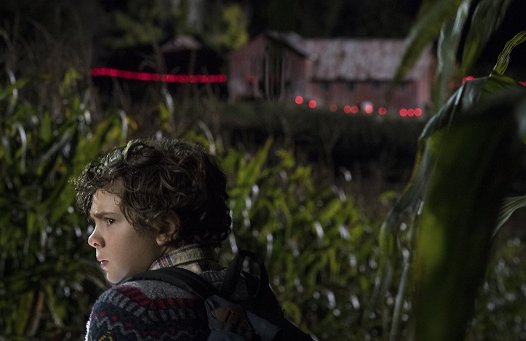 Za dobar horor film nije vam potrebno čak ni puno toga - dovoljno je biti nešto drugačiji od drugih i ponuditi nešto što je posebnije, ne toliko viđeno i upakirati u kvalitetan scenarij ispunjen upečatljivim likovima koji će tu tešku radnju uspjeti nositi. Dakako, za glumu u kojoj nema puno dijaloga, prva pretpostavka je da ni gluma ne mora nužno briljirati, no upravo suprotno - gluma tek u tim situacijama mora biti veoma snažna, gestikulativna i vješta. Skromna glumačka postava u tome je itekako uspjela, a to je istovremeno jedan od najboljih aspekata filma. Nadalje, čudovišta su upravo onakva kakva želim da u filmovima budu - mistična i ne baš dokučiva. Najbolje je kad se u horor filmu ne objasni puno toga, već preko pojedinih detalja u filmu možete otkriti nešto više o originsima antagonista ili nemilih događaja, pa je tako još jedna od prednosti filma upravo ta ljepota u detaljima koju donosi. Monsteri izgledom vuku na hibrid Resident Evila i Stranger Thingsa, no riječ je o unikatnim neprijateljima koji nimalo nisu bezazleni, već su vraški brzi, okretni i osjetljivi na zvuk, a navodno čuju komešanje ili šum na 10-ak kilometara udaljenosti. Zar to već samo po sebi nije intrigantno? Atmosfera filma i sami događaji podsjećaju na mashup filmova Hidden iz 2015. i Shyamalanovog The Village iz 2004. godine, svaka greška se plaća, a potražiti sklonište u dobro opremljenoj kući ne mora nužno značiti siguran ishod. Kada je riječ o filmu u kojemu je tišina glavni motiv, potrebno je stvoriti ideje i scene koje će ostati pamtljive i po mogućnosti dosad neviđene, kao što je npr. za izdvojiti scenu trudne protagonistice kada joj krene pucati vodenjak, a čudovište se nalazi u neposrednoj blizini. To je pravi horor, samo ga je nužno dobro prepričati. Ono što mi je uzrokovalo to da ne dam filmu odličnu ocjenu je pomalo spor proces uhodavanja u film, previše baziran na dramski aspekt u recimo prvih 35 minuta lagane monotonije, no dalje sve što možemo vidjeti uistinu je odlično. Još jedna stvar koja mi je zasmetala možda je metoda zaštite protiv čudovišta, nisam siguran što sam uopće htio vidjeti kao izlaznu opciju budući da je teško osmisliti nešto odviše učinkovito.




Da skratim priču, Quiet Place je pravi pravcati horor film s daškom drame, inovativan, poseban, zanimljiv te uzrokuje povremene jump scene. Drago mi je da je Krasinskom dobiveni scenarij odlično pošao za rukom, a najveće čestitke idu autorima scenarija, što su u 2018. uspjeli napraviti nešto kvalitetno i izrazito primamljivo za horor fanove. Najavljen je i nastavak, a to ćemo vidjeti kako će izgledati i kako će utjecati na cjelokupnu ideju.