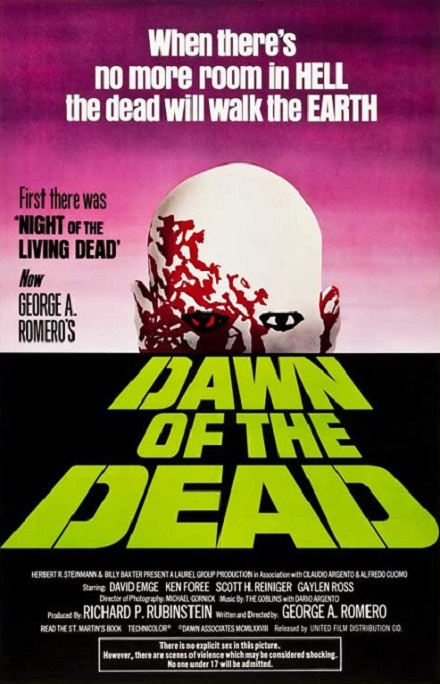 Sve u svemu: 4,5 / 5

Više o filmu: Imdb.com
Video

Epidemija virusa koja diže mrtve iz groba i koja pretvara ljude u zombije širi se i na gradskim ulicama. Nekoliko različitih pojedinaca koji se međusobno ne poznaju završavaju u napuštenom shopping centru i traže sklonište, u nadi da će se izvući živi...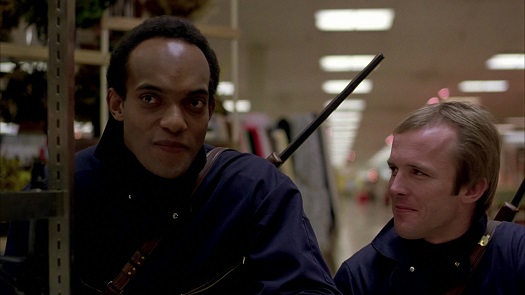 George A. Romero, zombie ćaća, nakon velikog je uspjeha Night of the Living Dead filma deset godina kasnije odlučio objaviti i njegov neformalni nastavak - Zora živih mrtvaca poslužila je kao dio istog univerzuma, iako se likovi i sama radnja ne događaju simultano, niti nekim određenim redom. Možemo samo zaključiti da se zombie epidemija proširila u još više dijelova Amerike i da je zahvatila urbane sredine, o čemu svjedoče brojna medijska javljanja tijekom cijelog filma, glasovi voditelja na radiju, TV prilozi i emisije, novine...sve upućuje na to da se dogodio poznati tagline filma: When there's no more room in hell, the dead will walk the earth. Film je realiziran u suradnji s talijanskim redateljem Dariom Argentom, koji je svoju ulogu proširio na talijansko tržište, gdje se posla ''nastavka'' ovog filma prihvatio Lucio Fulci i tako je nastao famozni Zombi 2, no o tom filmu više u zasebnom osvrtu. Dawn of the Dead mnoge mlađe generacije, a i one rođene tijekom devedesetih, pamte (ne)isključivo po remakeu iz 2004. godine istog naziva, koji je uveo nekoliko ključnih promjena naspram originala, adekvatno prilagodio film tekovinama 21. stoljeća te ubrzao njegovu dinamiku, pa i samih zombija (u remakeu zombiji trče, dok su u originalnu romerovski spori i tromi). To je sigurno i razlog zašto je taj remake jedan od najuspješnijih remakeova horora ikad, a mnogi ga čak smatraju i nešto boljom verzijom i boljom realizacijom. No, kao i sve u životu, sve trebamo staviti u kontekst vremena, pa tako trebamo promatrati i oriđiđi Dawn of the Dead. Vjerujem kako ne trebam previše ulaziti u samu pop-kulturnu povijest filma i nasljeđe koje je ostavio za sobom, postajući inspiracija stotinama zombie flickova, a isto tako ostajući mnogo rangova iznad njih, unatoč tome što je sada već postalo smiješno gledati ovakve zombije 40-ak godina poslije.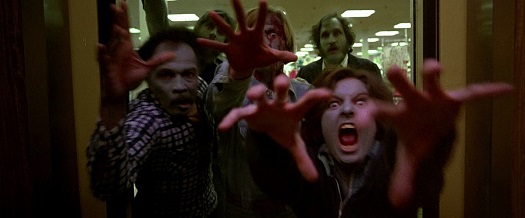 Mnogo toga možda sada iz ove perspektive može biti smiješno ili čudno napravljeno, ali, gledamo li na kraj sedamdesetih godina, koje su uvelike postavile žanrovske okvire u nekim drugim tematikama, Romerovi naslovi tada su služili kao "šaka u oko" ukalupljenim haunted house/okultnim/omnibus filmovima, a Dawn of the Dead postao je jedan od najprepoznatljivijih simbola žanra 20. stoljeća. Veliku je tu ulogu igralo i koketiranje sa slanjem društveno-angažiranih poruka s kriticizmima socijalnog poretka, masovnih medija, konzumerizma, rasizma i drugih izama, koje su zapravo vrlo primjetne kroz film, a koje i same antagoniste ponekad stave u drugi plan. Kroz medije se također dosta toga sazna o zombijima, kakve su vrste, što vole, što ne vole, što ih može oštetiti, ubiti, zaustaviti, priroda njihove gladi za određenim kanibalizmom, dakle, film je postavio neke edukativne temelje kako se treba postaviti kada se izrađuju filmski zombiji. Što se same radnje tiče, ona je odlično raspodijeljena na dubinsko upoznavanje likova, naprosto se toliko involvirate u njihove radnje i njihov background, da vam, za razliku od tipičnog horor filma, uspiju "prirasti srcu". Priča u šoping centru dobro je razrađena, dosta se detalja iskoristilo koji su se mogli i trebali iskoristiti kao šeme za akcije sa zombijima, a nakon odličnog uvoda slijedi sredina filma koja je malo opuštenije atmosfere, sve do novih problema. Film je jak zbog svojih tada eksperimentalnih načina snimanja i dojmljivih poteza s kamerom, a valjda istaknuti i gomilu praktičnih efekata koji su s obzirom na tadašnji budžet (film je nezavisne produkcije, od milijun i pol dolara zaradio je 66 milijuna) bili odlično realizirani. Svakako treba pohvaliti i odličnu glumu i odnos među likovima, a što se zamjerki tiče, možda ću ovdje staviti jednu nepopularnu zamjerku, a to je da je film malčice predug i raširen. Shvaćam poantu i da se trebalo polako razvijati sve kako bismo se upoznali s likovima, ali možda je malo i za tadašnje, ne samo za današnje pojmove više od 2 sata slow-burn radnje ipak predugačko da bi u potpunosti moglo zadržati pažnju.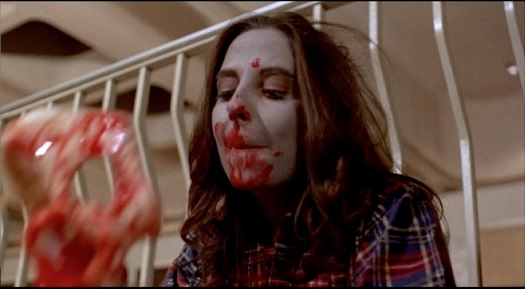 Ne vrijedi vući paralele između originala i remakea, svaki je poseban i odličan na svoj način, što je zapravo nama filmofilima najbolja stvar - dok je remake u potpunosti pogodio suvremena stremljenja u filmu, tako je i oriđiđi u potpunosti odrao filmski svijet kada je izašao. Kada bih se prema osobnim preferencijama morao odlučiti koji mi je bolji, morat ću nakon dugo, dugo razmišljanja ipak prevagnuti na remake. Iako, da se razumijemo, svaki rispekt imam prema ovom naslovu, Romeru, cjelokupnom projektu - trebalo je znati i moći snimiti ovakav film s takvim budžetom, a da ostane za sva vremena.