Dođe tako vrijeme kada čovjek mora otići par koraka unatrag i posvetiti se kultnim ili opskurnim ili kojekakvim horor naslovima iz zlatnog perioda...dođe tako vrijeme i da vam crkne ekran na mobitelu i da sve bilješke koje ste vodili dok ste gledali ove naslove nestanu, pa ajd' se vi sada sjetite nakon mjesec i nešto otkako ste ih pogledali, na što uopće treba obratiti pažnju...no ajmo probati, jer malo je reći da su filmovi u ovom nizu lako pamtljivi. Btw uveli smo novog smajlića, a to je ROFL, jer naime, postoje ti neki filmovi kojima moraš dati ultra nisku ocjenu, ali ti budu toliko dragi ili te toliko nasmiju da se ne možeš i ne smiješ ljutiti na njih. Na ovoj listi imamo ih čak dva!

Night Train to Terror (1985)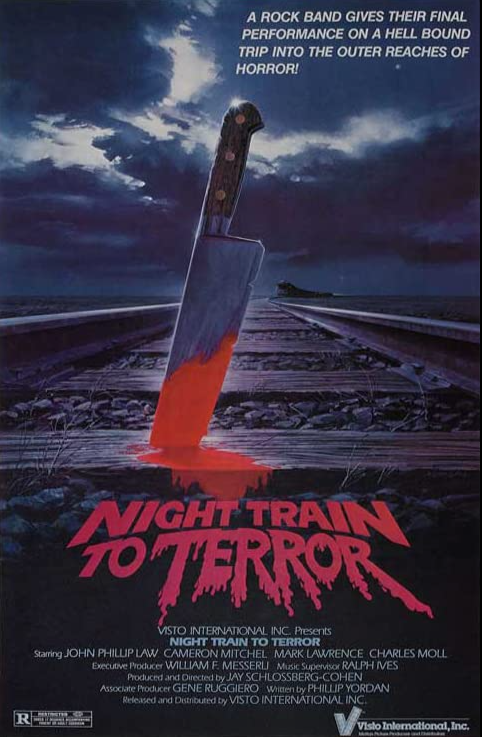 Sve u svemu: 2 / 5

Više o filmu: Imdb.com
Video

Pazite sad doslovan prijevod s imdb-a: Bog i Sotona su u vlaku i raspravljaju o sudbini tri osobe. Priče ljudi o kojima je riječ ispričane su u tri vrlo čudna zapleta. Jedan uključuje ludnicu s vrlo zanimljivim planovima liječenja. Drugi uključuje 'klub smrti'. Posljednja priča prikazuje nam pustolovine poslužitelja Sotone. Ovo je čudan film.
Da, dobro ste pročitali...u plotu filma piše: this is a strange movie. Pa što onda očekivati? S velikim veseljem smo se frend i ja uputili u gledanje ovog djelca i to na putu autobusom prema Bratislavi, smatrajući kako je ovo ustvari idealan film za gledanje u autobusu. Nije, doduše, Moje grčko vjenčanje pa da bude film koji se u autobusu pušta svima, ali mi smo bili sasvim zadovoljni privatnijom projekcijom s laptopa. Kako prolazi film vi se sve više i više čudite, smijete, a u trenutku dok se na austrijskoj autocesti dogodio udes i dok smo polagano išli, teško nam je takva neka situacija mogla odlijepiti pogled od ovog žanrovskog remek-djela osamdesetih. Teško je ovo nazvati anthology filmom samo zato što ima više priča, gdje je glavna radnja razgovor boga i vraga u kupeu vlaka, no s druge strane, teško je ovo općenito nazvati filmom. Ovo je jednostavno toliko loše da je naprosto presimpatično i s potpunim pravom zaslužuje biti kamen temeljac ROFL emotikona na ovom blogu, makar ih je bilo i prije u ovih 600 i nešto recenzija. Horor elementi ovdje su splatter krvave scene, dosta body horora za kojeg sam se čak nekad i iznenadio kako je krvavo napravljen, a film će se svakako pamtiti i po ultra nebuloznim glazbenim komadima (ili glazbenom komadu) koji presijecaju svaku priču i koji su ne znam na koji način okosnica filma. Ma nešto tako neraspoređeno, nesređeno, spektakularno banalno i jezivo loše mogu samo osamdesete proizvesti. Ovo je neprocjenjiv dodatak jako bogatoj lepezi trash filmova toga razdoblja. Ajde ga baš pogledajte i dajte svoj dojam, I dare you.


Scarecrows (1988)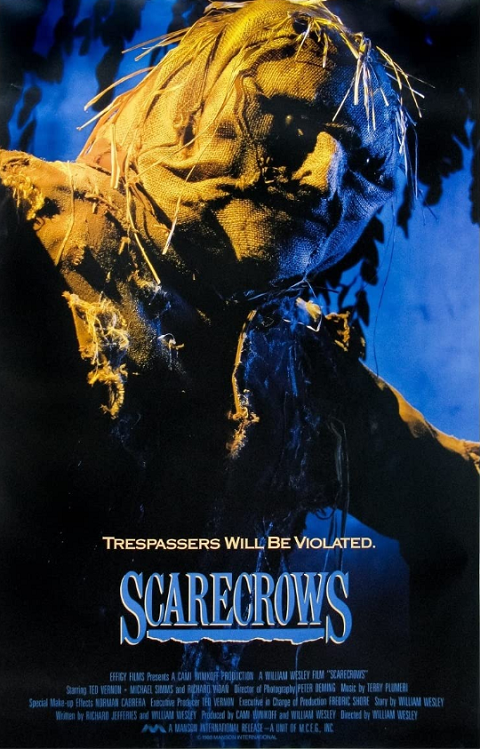 Sve u svemu: 3,5 / 5

Više o filmu: Imdb.com
Video

Banda kriminalaca otima avion iz vojnog kampa Pendleton i prisili pilota i njegovu kćer da ih odvezu u Meksiko. Međutim, neočekivano slijetanje jednog od njihovih članova natjera ih da slete prisilno slete ranije i da se stvore na groblju s čudnim imanjem, na polju prepunom živih strašila...
Scarecrows je horor kojeg sam nehotice izbjegavao vjerojatno od perioda kada sam imao možda 50-ak recenzija na blogu. Nepoznat mi je razlog zašto se tako događalo. Evo, trebalo je 15-ak godina da mu se posvetim i nimalo nisam požalio. Ovo je film koji ne spada u nešto skupe projekte, na trenutke je podosta low-budget i takav se stil snimanja dosta često primijeti, a to možemo vidjeti i kod angažiranja jednako tako low-budget glumačke postave. Ono što je zapravo najveća snaga filma je što su to možda i jedini segmenti gdje mi uviđamo manjak sredstava - film je mimo toga jako zabavan predstavnik žanra potkraj osamdesetih godina, s prilično zanimljivim zapletom događaja i jednako tako dobrim antagonistima. U filmu zapravo jako malo ima protagonista, eventualno dvoje anti-junaka, a strašila sama po sebi izgledaju jako dobro i zapravo creepy u nekoliko situacija, što je još jedan faktor koji me ugodno iznenadio. Nedostatak jasnoće o podrijetlu strašila ubojica zapravo povećava njihovu učinkovitost kao simbola određenog užasa. Pojedine scene nekoliko puta će vas natjerati da se trgnete, a to nije nimalo lak zadatak kada su u pitanju iskusni ljubitelji horor filmova. A sudbine koje doživljavaju likovi su naprosto tragične kada pomislimo što im se sve uspjelo u jednoj noći dogoditi i koliko im je netko "bacio malera", u početku nisu ništa više od hrpe zaboravljivih kretena, ali na kraju su osobine pojedinaca izašle na vidjelo čineći ih ipak definiranijima, unatoč jeftinoj glumi. Scarecrows ima zabavnu radnju, unatoč nekim jasno vidljivim manama preko kojih biste mogli, ako ste ozbiljan horor gledatelj, prilično jednostavno preći, vrlo je lako probavljiv iako se osjeti nedostatak budžeta, a to mu samo dodatno imponira da može ponosno držati glavu gore kao jedna od boljih ponuda iz najinventivnije ere hororaca.


I Walked With a Zombie (1943)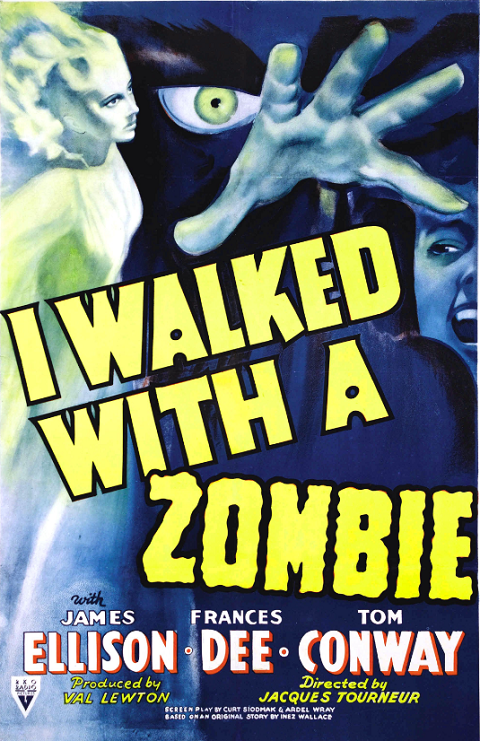 Sve u svemu: 3 / 5

Više o filmu: Imdb.com
Video

Medicinska sestra je angažirana da brine o ženi vlasnika plantaže šećera na karipskom otoku. Kako sve više i više provodi svoje vrijeme tamo i upoznaje lokalce, kućepazitelje i članove obitelji, uviđa kako je nešto oko te žene zlokobno i povezano s voodoo ritualima, kao i na cijelom otoku...
Kao i Scarecrows, već godinama planiram pogledati ovaj podosta poznati hororac iz onog doba 40-ih kada su ovakvi oblici filmova sve više i više dobivali na značaju i kada je zapravo krenula komercijalna ekspanzija različitih horor podžanrova. Film je analiziran zbog tema ropstva i rasizma te zbog prikaza vjerovanja povezanih s religijama afričke dijaspore, posebice haićanskog Voodooa. Na tim se područjima, prema mojim saznanjima, nekako i počela rađati (ne samo filmska) ideja zombija i ustanka ljudi iz mrtvih putem određenih ritualnih postupaka. Nešto recentniji, a opet stariji film, The Serpent and the Rainbow Wesa Cravena, također dublje progovara o toj tematici. Što se same radnje filma tiče, nisam nešto posebno oduševljen njezinim tijekom niti pretjeranim smislom. Dojma sam kako je glavna radnja dolaska žene na otok ustvari sporedna, sačinjena upravo iz razloga kako bi se mogla ekranizirati i prepričati priča vezana za voodoo i rasizam, kroz brojne metafore i simbolike. Što je opet ok, ali zbog toga filmu manjka mesa, iako traje 70-ak minuta. Njegova je priča zapravo relativno jednostavna, ali je njegova obrada ta koja mi se svidjela jer je sofisticirana, stvorila je određenu zrelost i dramatiku koje lako privuku i zainteresiraju. Upravo zbog toga nerijetko mu spotiču da u mnogočemu graniči s odlikama žanra horora, predstavljajući zapravo rijetke filmske sekvence koje mogu i na koji način izazvati nelagodu ili jezu. Naravno, ako u samu tu jezu ne uvučete simboliku koju smo već spominjali. Jedan od temeljnih predstavnika zombie podžanra, a koji će možda više biti pamtljiv zbog svoje meta-poruke.


Trog (1970)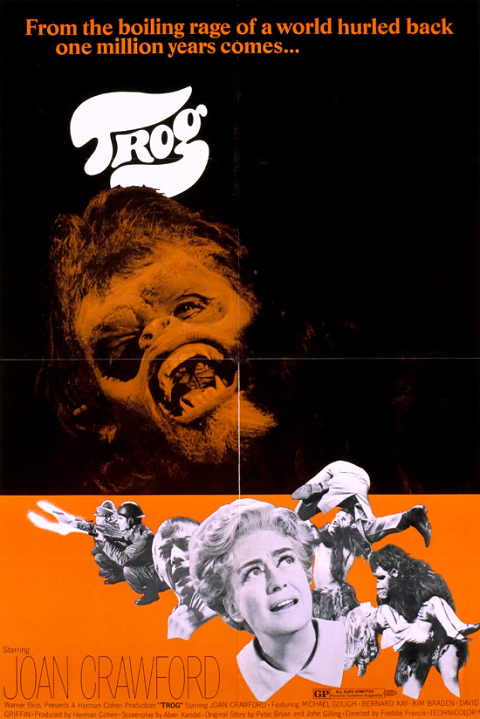 Sve u svemu: 1 / 5

Više o filmu: Imdb.com
Video

Istraživači nailaze na špilju u čijoj se dubini nalazi primitivni troglodit. Nakon što je usmrtio jednog člana ekspedicije, zarobljuju ga i odvode ga u civilizaciju na istraživanje, gdje antropologinja nastoji komunicirati s njim putem lijekova i operacije, međutim, Trog se ne da tako lako...
Eh, da. Ovaj post od četiri kratka osvrta prolazi u znaku ROFL-a očito. Frend s kojim sam jednako tako pogledao i prva dva naslova ove recenzije jednaki je zaljubljenik u hororce ovakvog tipa, filmove D produkcije koji, kako godine prolaze, stječu nekakav kultni status. Ali, pazite, u ovome filmu glumi Joan Crawford, oskarovka koja se toliko posvetila glumi i u ovakvom naslovu da joj jednostavno moramo skinuti kapu i čestitati joj. Razina njezine posvećenosti i truda u ovakvom neprikosnovenom smeću od filma ostat će mi možda i najpamtljivija pojedinost. Radnja ovog filma graniči s pisanjem zadaćnice u osnovnoj školi i zadatka: Napišite priču o prošlosti i sadašnjosti na jednom mjestu. Trog je toliko simpatičan film na kojeg smo se pošteno smijali gotovo cijelo vrijeme njegovog trajanja. Toliko nešto loše, amaterski napisano, katastrofično snimljeno, mogu samo horor filmovi sedamdesetih i osamdesetih godina. Troglodit je apsolutna pobjeda filma, kojeg je zapravo odlično odglumio Joe Cornelius, a koji ima, iako lošu, ipak najbolju šminku u filmu. Da vi samo vidite scene kada Joan Crawford nastoji komunicirati s njime putem različitih boja, kada mu daju ribu za hranu, kada mu daju da češlja lutku....sve su to čari zbog kojih nikada zapravo neću moći zaboraviti na ovaj film. Početak, sredina i kraj su naprosto fantastično loši, nemam ništa posebno za izdvojiti, osim da ako stvarno imate sat i nešto sitno za ubiti, preporučam vam da se fino nasmijete uz ovaj uradak. Hvala redatelju Freddieju Francisu koji nam je, pored Tales from the Crypt, The Creeping Flesh i ostalih vrlo dobrih naslova podario ovakvu pobjedu od filma. Trog apsolutno ulazi u top listu ovog bloga, doduše ne onu na koju bi neki film volio doći.