Trilogija objavljena u jednoj godini? Trilogija napravljena tako da radnjom ide unatrag? Zašto da ne? Fear Street trilogiju producirao je Netflix, a bazirana je na istoimenom serijalu romana popularnog horor-triler pisca R.L. Stinea. Redateljica Leigh Janiak zaslužna je za kompletnu trilogiju, a sva tri filma međusobno su jako isprepletena i ne mogu samostalno stajati - da ne duljimo u uvodu, idemo vidjeti o čemu je uopće ovdje riječ.


Fear Street Part 1: 1994 (2021)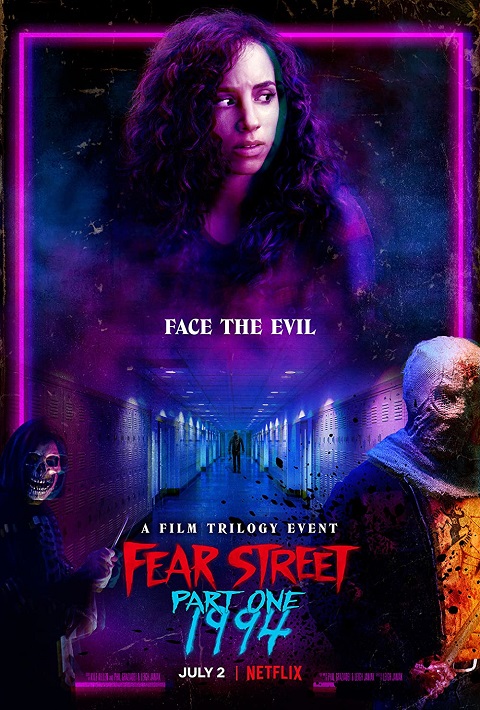 Sve u svemu: 3 / 5

Više o filmu: Imdb.com
Video

Krug tinejdžerskih prijatelja slučajno se susreće s drevnim zlom odgovornim za seriju brutalnih ubojstava koja njihov grad muče više od 300 godina. Dobrodošli u Shadyside...
Sve počinje u tipičnom slasherskom okruženju devedesetih - videoteka u mallu, ubojica s kosturskom maskom koja vreba svoje žrtve, ma kakva poslastica. Dobivamo ubrzo puno više od onoga što smo mogli očekivati. Koliko god da sam kao mlađi čitao R.L. Stinea, njegov Fear Street serijal čitao sam u mahovima i bez nekakvog redoslijeda pa stoga nemam memoriju pojavljuje li se išta slično u knjigama što smo mogli vidjeti ovdje, osim ponekih imena, lokaliteta i stilova naracije. Koncept ove trilogije izrazito je intrigantan i dosad neviđen, stoga automatski ide pohvala na tu stranu, a što smo mogli vidjeti s prvim dijelom? (A)tipičnu 90's priču isprepletenu s nekoliko ubojica i povećim brojem teen žrtava, a kroz cijeli serijal pratit će nas glavna okosnica radnje, riječ je o vještici Sarah Fier koja zaposjeda takozvano mjesto Shadyside i njene stanovnike već stoljećima nakon jednog nemilog događaja, a o čijoj ćemo priči saznavati više kako trilogija napreduje. Ne mogu se oteti dojmu da sam tijekom cijelog filma imao flashback na oba humoristična hororca Happy Death Day, time-loop momente koji mi nisu nužno uvijek sjele, a važno za napomenuti jest činjenica da nisam pobornik pretjeranog humora u ovakvom obliku slashera/fantasy horora, budući da olako može splasnuti bazično dobra atmosfera koja se gradila do nekakve sredine filma. Bilo kako bilo, prvi dio me uspješno natjerao da pogledam i preostala dva, unatoč svakojakim nelogičnostima, prozirnim dijelovima, blesavim rješenjima. Ipak, imao je ono nešto što ne viđamo tako često.

Fear Street Part 2: 1978 (2021)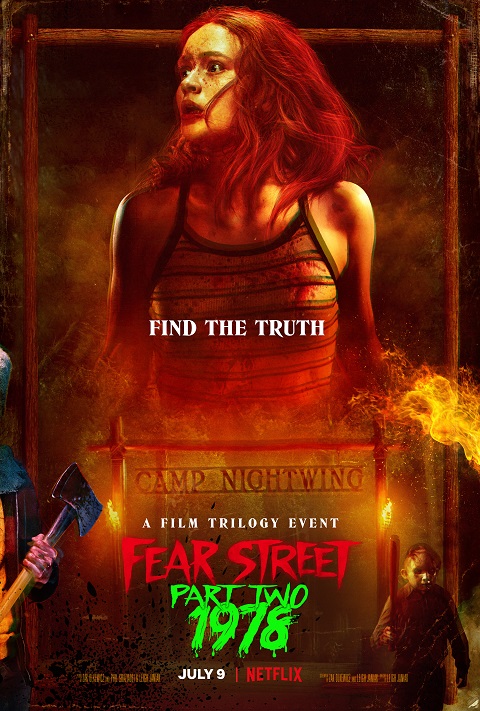 Sve u svemu: 3,5 / 5

Više o filmu: Imdb.com
Video

Shadyside, 1978 - Camp Nightwing zaprima školarce preko ljeta, no prokletstvo mjesta odrazit će se i na novog ubojicu koji će ljetovanje pretvoriti u krvavi pohod...
Pobornici dobre atmosfere u horor filmovima, ako nisu dobili ono što su željeli s dobrim ambijentom i atmosferom s prvim dijelom, s drugim će svakako morati. Dvojka Fear Street vodi nas 16 godina radnjom unatrag, a da ne spoilam previše, reći ću samo kako ćemo ista glumačka lica vidjeti i u ovom dijelu, samo u drugačijim ulogama, uz neka nova koja će se međusobno smiksati u trećem, finalnom dijelu. Kamp, jezero, tinedjžeri, osamdesete, synth mjuza, seksa i krvi k'o u priči...teško da može poći loše, čak i da je loše. No, na sreću nije tako ispalo. Drugi dio trilogije po mnogima je najbolji prikaz "back to roots" horora, sa super soundtrackom, dobrom glumom, ponešto manje humorističnih elemenata, ali opet dovoljno da pomalo pokvari onaj krajnji dojam. Svidio mi se narativ trilogije i u kojem smjeru idu s razvojem priče, odnosno tim nekakvim naopakim pristupom. Ubojstva su ponešto razrijeđena, ali svako od njih je vraški dobro i zanimljivo odrađeno. Solidna priča oko drugog dijela dodatno se nadograđuje sa sve boljim prepričavanjem cjelokupne radnje, a posebno moram pohvaliti kvalitetu i ljubav prema žanru kojom se pristupa gotovo svakoj minuti filma. Vidi se da ekipa iza filma zna što radi, a nekoliko raznih frikova i ubojica što se ovdje pojavljuju mogli bi nam biti vraćeni u nekoj drugoj R.L. Stine trilogiji. Drugi dio je bolji od prvog, nije sad neki genijalan film o kojemu će se godinama pričati, ali ponudio je nešto što moderna i mlada publika traži, a opet dovoljno toga što će zainteresirati i one prekaljene, iskusne žanrovske gledatelje.

Fear Street Part 3: 1666 (2021)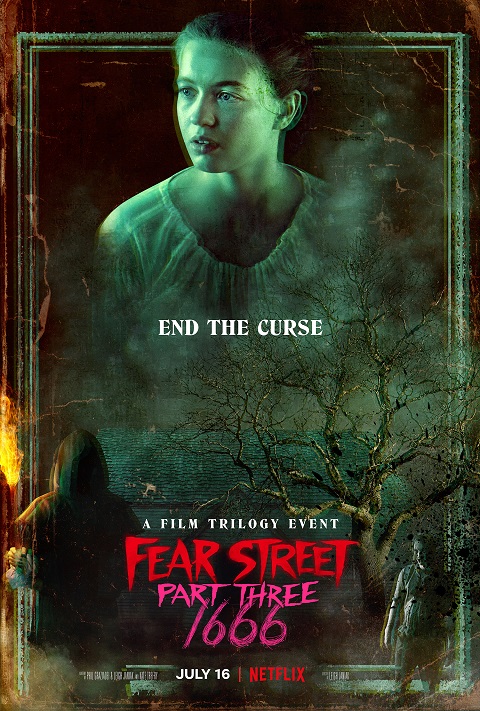 Sve u svemu: 3,5 / 5

Više o filmu: Imdb.com
Video

Podrijetlo prokletstva Sarah Fier konačno se otkriva jer se povijest Shadysidea i njegovih stanovnika popunjava punim krugom u noći koja zauvijek mijenja živote...
Ok, nakon prošlog manjeg skoka od nekih 16 godina, skačemo radnjom točno 312 godina, u 1666. godinu (year intended vjerojatno) i ruralno, maglovito okruženje, u skladu s tadašnjim nestabilnim, revolucijskim godinama. Fantastična i prikladna atmosfera s dobrim okruženjem i kvalitetnom fotografijom predstavlja finalni dio kao ruralni horor za kojeg možete lako pretpostaviti kako će biti najviše gruesome od svih dijelova do sada. Kako je rečeno, priča se ovdje kompletira, dolazi vrijeme da se prokletstvo retrogradno prekine, a da se cijela štorija oko Sarah Fier (konačno) privede kraju. Pametan je potez da se cijela trilogija objavi i postane dostupna iste godine, praktički isti mjesec, jer ne vjerujem da bi gledateljima ova radnja pažnju držala dovoljno dugo da bi na sljedeći film mogli čekati godinu i nešto dana. Treći dio po mnogima je bolji od prvog, a slabiji od drugog, a ja ću reći kako mi je gotovo pa jednake kvalitete 1978. - jako dobro snimljen, prikazuje jako dobre scene (scena s djecom u kapelici, ajme majko kako dobro), no isto tako nastavlja s blesavim rješenjima i nelogičnostima, a ima i tendenciju stvaranja ultra blesavog naglaska modernih i mladih američkih glumica i glumaca u razdoblju kada ne da se nije tako pričalo, nego niti približno dobro nisu taj segment pokrili. Kakogod bilo, zanemarimo li te neke tehničko-taktičke greške, trojka daje kompletnu sliku, a to je ono čemu sam se nadao i što sam već pred kraj lagano počeo čekati, a krajnja scena nam otvara i prostor da to nije sve što bismo od Fear Street slasher universea mogli vidjeti.

Presjek trilogije: Ne mogu reći da sam ostao razočaran. Vrlo solidne scene u sva tri filma, neke jako dobre, neke loše, neke li-la, ali mislim da sam dobio više nego što sam očekivao. Netko je bio opisao serijal kao divan ljetni izlet mozga na pašu i ne mogu se više složiti s tom izjavom. Prvi dio malo zbuni i bude nekako naporan s time svime, ali kako sve više shvaćate što se događa, to vam bude lakše pogledati priču do kraja, no jedina je mana kod mene bila to što mi je bilo sve lakše i oprostiti se (barem privremeno) od ekraniziranog svijeta R.L. Stinea.