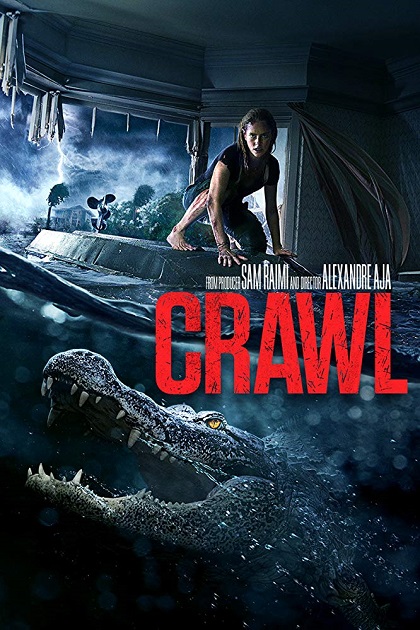 Sve u svemu: 4 / 5

Više o filmu: Imdb.com
Video

Haley saznaje da joj je otac zarobljen u vlastitoj potopljenoj kući tijekom jedne od najvećih uraganskih oluja te ga odluči spasiti. Međutim, kasnije postaje svjesna da spašavanje neće teći tako lako, budući da su u kuću naneseni aligatori...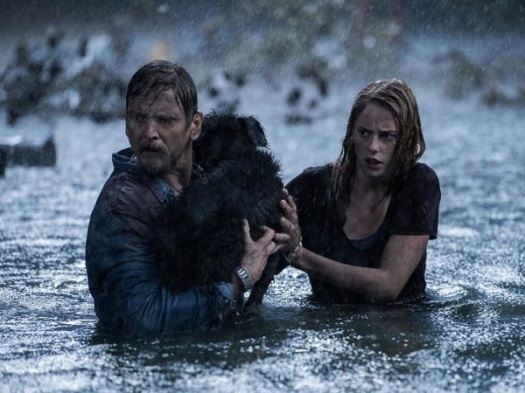 Francuski redatelj Alexandre Aja do sad nas je počastio dobrim naslovima poput "Haute tension", "Mirrors" ili remakeom "The Hills Have Eyes", a uz producenta Sama Raimija pripremio nam je za sredinu ove godine i animal horor flick pod nazivom "Crawl". Prilično jednostavna radnja - djevojka koja je btw i profesionalna plivačica, odluči posjetiti oca koji joj se ne javlja tijekom perioda evakuacije jednog gradića uslijed ogromne vremenske nepogode koja je najkarakterističnija za podneblje Floride - no ne i za podneblje susjedne nam Srbije, gdje se ustvari snimao čitav film - jedan od većih fun factova. Ulaskom u kuću shvati da je otac zarobljen u podrumu velike kuće, a da pritom tamo nije sam - dva američka aligatora tamo vrebaju i pokušavaju doprijeti do plijena. Inače nisam pretjerani ljubitelj animal attack filmova niti se često dogodi da naletim na kvalitetan filmski uradak, međutim ova me radnja zaintrigirala zbog svoje ''uskosti'' i suženosti po pitanju opcija stvaranja priče - volim filmove koji u što manje kvadratnih metara uspiju smjestiti što kvalitetnije razrađenu radnju. Nije lako držati pažnju sat i pol vremena, a da se sve odvija uglavnom u prostorijama kuće i nešto sitno izvan nje. Valja pri tome nadodati da je radnja ovog filma dojmljivo i iznenađujuće dinamična i turbulentna, nema prevelikih zastajkivanja, iščekivanja ili sličnog, film dosta intenzivno udara u srž i zbog toga ću ga odmah na početku morati pohvaliti i dati mu zasluženu pozitivnu ocjenu.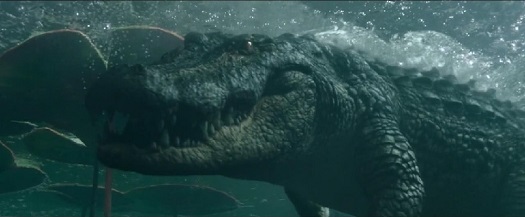 Odmah nakon prvih 20 minuta upoznavanja s glavnom heroinom Kayom Scodelario kreće akcija s aligatorima - antagonisti su napravljeni mora se reći odlično - kvalitetan CGI i načini snimanja pružili su mi satisfakciju tijekom gledanja, što nisam očekivao da će baš na jednako dobroj razini biti realizirano. Akcije s aligatorima dobro su i pametno osmišljenje, uz naravno nekoliko nelogičnosti i povremenih rupa (ne može sve baš biti ajnc a). Kako naracija teče, tako se i kuća postepeno poplavljuje te sve više raste napetost i gradi se atmosfera te se mora naglasiti kako je izvedba itekako pametno zamišljena, vezano za manje više sve događaje u kući. Možemo li ovdje više pričati o trileru ili hororu, diskutabilno je, no nekolicina napetih scena sasvim je dovoljna da se ovaj film okarakterizira kao filmom strave (ako je mogao Deep Blue Sea može i ovaj), koje su usput rečeno, sve napravljene solidno. Inovacije u filmu ne manjka pa tako možemo vidjeti raznorazne ideje protagonistice kako doći do ostvarenja cilja ili kako se u kući u kojoj je nekoć živjela pametno izboriti s krvoločnim predatorima. S druge strane, posljednjih pola sata nekako mi je najmanje ostalo u dobrom sjećanju, no to ne znači da je uspjelo u krajnost utjecati na cjelokupan dojam i priču, upliće se tu viška motivacijskih obiteljskih dijaloga između oca i kćeri, zatim imamo nekoliko izoliranih slučajeva koji su pomalo ofrlje napravljeni, a s obzirom da se držala neka određena napetost i atmosfera tijekom prve dvije trećine filma, nekako sam očekivao da će krajnji ishod biti razvodnjeniji.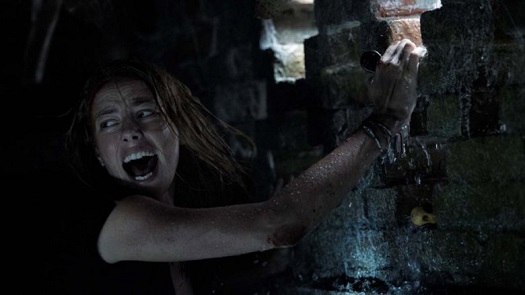 Bilo kako bilo, Crawl Alexandra Aje moja je preporuka - riječ je o filmu kojeg je zahtjevno napraviti, a da ostane dovoljno inteligentan i kvalitetan da vam zadrži pažnju. Dobri efekti, dobra gluma, dobro osmišljena radnja, nekoliko očekivanih nelogičnosti i neobjašnjenih detalja - sasvim zabavan film.