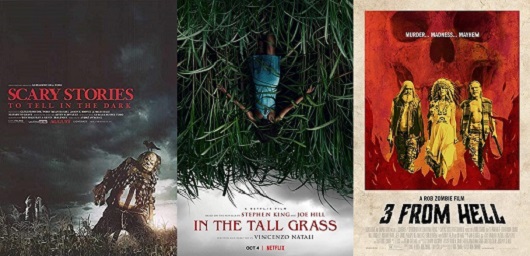 Novi podcast je u Halloween ozračju te smo tom prilikom odlučili napraviti epizodu u kojoj ćemo se doticati preko 15 hororaca, no o 3 filma ćemo pričati nešto duže, a riječ je o filmovima Scary Stories to Tell in the Dark, In the Tall Grass i 3 from Hell, svi iz 2019. godine.

Scary Stories to Tell in the Dark je film baziran prema istoimenoj popularnoj zbirci priča Alvina Schwartza, režiran od strane Andréa Řvredala. Riječ je o dječjem hororcu u kojem skupina prijatelja za Noć vještica odlazi u napuštenu kuću u kojoj je navodno živjela obitelj koja je zatvarala u podrum svoju psihotičnu kćer. Kćer je počela pisati priče u kojima se ljudima oko nje događaju smrtonosne stvari te je navodno pisala priče krvlju svojih žrtava. Nakon što nabasaju na knjigu djevojčice, nevolje krenu i među njihovim sumještanima i njima samima.

In the Tall Grass istoimena je ekranizacija novele Stephena Kinga i njegovog sina mu Joea Hilla, gdje mladi par odlazi u visoku travu (šipražje) nakon što čuju dječakov poziv u pomoć. Ubrzo otkrivaju kako iz trave ne mogu tek tako izaći, a da zlo koje tamo obitava postaje sve jače i jače...

3 from Hell najnoviji je film glazbenika i horor redatelja Roba Zombieja te istovremeno i treća i posljednja instalacija filmova House of 1000 Corpses i The Devil's Rejects. Radnja se nastavlja direktno na potonji film te pratimo nove dogodovštine Firefly, Otisa i kapetana Spauldinga/Otisovog bratića.

Kroz sva 3 filma smo prošli što smo više mogli te smo, naravno, napravili spoiler free recenzije. Na kraju videa se isto tako nalaze kratki osvrti na filmove The Silence, The Curse of La Llorona, The Dead Don't Die, Polaroid, Child's Play, Brightburn, Happy Death Day 2U, Pet Sematary, Annabelle Comes Home, The Perfection, Us, Crawl i Midsommar.