Texas Chainsaw Massacre (2022)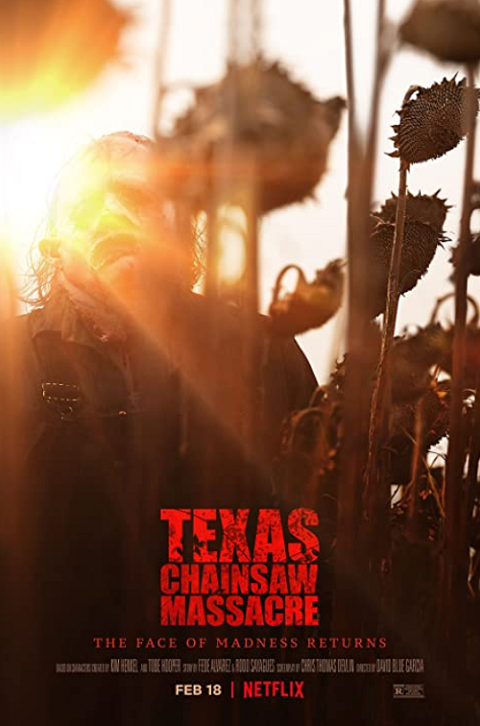 Sve u svemu: 1,5 / 5

Više o filmu: Imdb.com
Video

Nakon gotovo 50 godina skrivanja, Leatherface se vraća kako bi terorizirao grupu mladih koji slučajno poremete njegov izolirani svijet u udaljenom teksaškom gradu...
Gle čuda li čuda, novi Teksaški masakr, pa tko bi to očekivao? Trebalo je punih pet godina da dobijemo novu (a)verziju dobro poznatog horor lika i dobro poznate franšize, a kako je Netflix uspio uplesti svoje prste u produkciju samog filma, odmah je dobio i na velikoj popularnosti i dobroj medijskoj praćenosti. Netko je pomislio da bi bilo dobro dati redatelju Davidu Blue Garciji da mu ovo bude prvijenac i da se s kultnom franšizom dodatno krene zajebavati i od nje raditi kuršlus. Da se samo malo podsjetimo kronologije ove franšize: prva četiri idu redovno, zatim dobivamo dobar remake jedinice, onda dobivamo prequel originala, zatim slijedi 3D, što je druga verzija nastavka na original, onda dobivamo prequel svih prequela 2017. godine i sada sve to poništavamo osim originala i nastavljamo direktno na njega, 50 godina poslije. Moram reći da prilično ne razumijem timeline jer bi ovdje Leatherface trebao imati oko 75 godina, a lik trči s tom motornom pilom k'o sumanut i melje i kolje jače nego ikad prije. Kill count je ovdje stvarno masovan, a sve počinje tako što se filmska ekipa odluči snimati film u zabiti u Teksasu i tako razbiju privatnost Leatherfacea. Sve to uspije nekako čuti i njegova odbjegla žrtva iz originala koja će se suočiti s njime (Halloween 2018., anybody?). Ovo je film koji je toliko jeftino sniman, što se tiče montaže, lokacija, većina toga je odrađena na filmskom setu i toliko je puno gorea, a tako je malo pameti...blesavi likovi, blesava radnja, a reakcije kada netko umre od drugih likova su neprocjenjive. Iskreno se čudim kada netko da zeleno svjetlo ovakvim filmovima, pogotovo kad je riječ o velikim produkcijskim kućama i streaming platformama. Vrijedno spomena je svakako Leatherface kao i u gotovo svakom nastavku, a moram spomenuti ultra bizarnu koljačinu koja je bila u busu u obliku krvavog partyja, gdje Leatherfacea žrtve u nastajanju snimaju live mobitelima...ma e. Već sam nekoliko puta napisao da Texas Chainsaw serijal pratim zato što sam pogledao sve dosad, pa eto, jedva čekam što će nam novoga donijeti i koliko će se puta još Tobe Hooper okrenuti u grobu.


Scream (2022)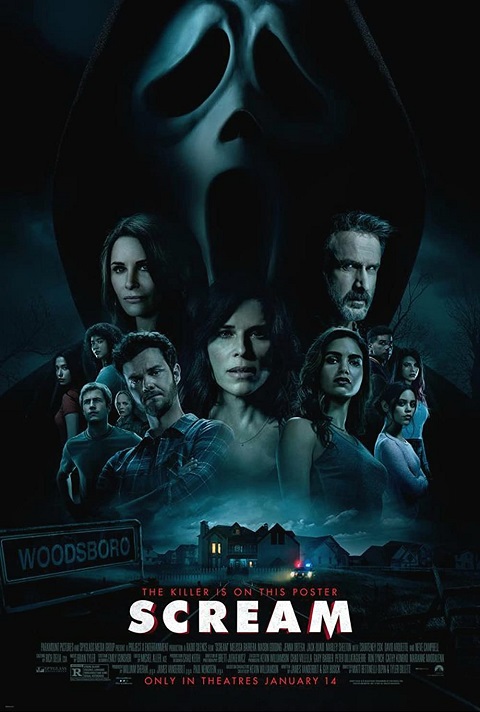 Sve u svemu: 3,5 / 5

Više o filmu: Imdb.com
Video

25 godina nakon što je niz brutalnih ubojstava šokirao gradić Woodsboro u Kaliforniji, novi ubojica navlači masku Ghostfacea i počinje ciljati grupu tinejdžera kako bi otkrio rane iz smrtonosne prošlosti tog mjesta...
Radio Silence redatelji (Tyler Gillet i Matt Bettinelli-Olpin) iza sebe imaju V/H/S film, Southbound i Ready or Not. Uhvatiti se u koštac s ovim kultnim serijalom nije baš bezazlena stvar, pogotovo kada u njemu imate vrlo dobre i većinski solidne nastavke. Scream 4 sam sebi zamjeram što mi nikako nije sjeo, velikoj većini ljudi jest, ali jednostavno mi nije bio dobar moderni prikaz Scream serijala putem društvenih mreža i mobilnih uređaja. Sada smo dobili peti dio koji je direktan nastavak na četvorku, dobro nam poznata ekipa ponavlja svoje uloge, 25 godina poslije prvih Woodsboro ubojstava, što je svakako obećavalo da će se ozbiljno pristupiti i ovom novom materijalu. Moram reći kako se odmah od početka vidi znatno poštivanje ostavštine Wesa Cravena, budući da je ovo njegov prvi film kojeg nije sam režirao. Odličan hommage dao mu se na početku, a tijekom trajanja filma opet možemo gledati na radnju kao na "meta whodunnit" horor, s opet čestom refleksijom na Stab serijal, koji kao da u stopu prati događaje iz woodsborovske stvarnosti. To mjesto je stvarno kao Midsommer, malo, a puno svakojakih lunatika i manijaka. Odmah u glavu - Scream 5 bih stavio na treće mjesto prema uspješnosti i kvaliteti. Bolji od trojke i četvorke, slabiji od prva dva. Jako je zabavan, kvalitetno snimljen i prepun dobrog glumačkog kadra. Naravno da Scream ne bi bio Scream da tu nema blesavih postupaka i scena kao i inače, primjerice - Ghostface se javlja na telefon i razgovara, a u istoj je prostoriji kao i buduća žrtva koja ga uopće ne čuje, nitko ubojicu ne vidi usred dana, on dok se kreće po bolnici odjednom je cijeli kat ispražnjen itd. itd. To su čari slashera na koje teško možemo ostati imuni i treba ih prihvatiti takvima kakve jesu. Twistovi pri sredini i kraju filma su fora, dobro su osmišljeni i adekvatno se svojim obratima naslanjaju na moćne dijelove koje je imao original iz 1996. godine. Nema se što reći, očekivao sam manje, dobio sam dosta više. Nije ovo neko vrlo jako horor djelo, ali u manjku ovakvih, kvalitetnih hororaca, Scream 5 došao je kao pravo osvježenje. Spremaju se i nastavci, tako da idemo korak po korak.


X (2022)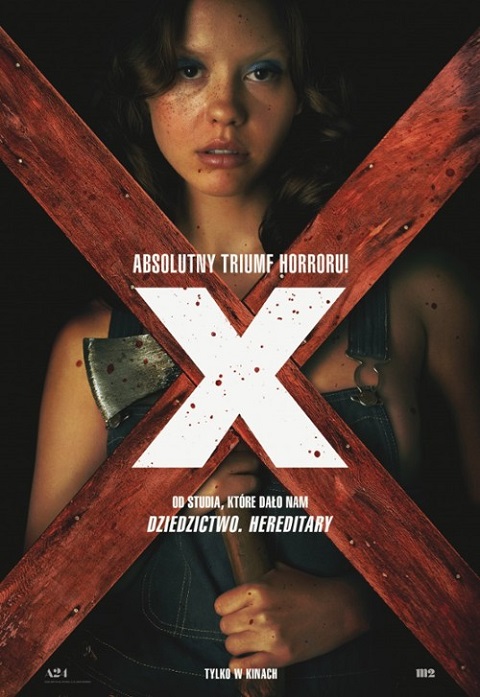 Sve u svemu: 3,5 / 5

Više o filmu: Imdb.com
Video

Godine 1979. grupa mladih filmaša krenula je snimati film za odrasle u ruralnom Teksasu, ali kada ih njihovi stariji domaćini uhvate na djelu, glumci se zateknu u neočekivanoj borbi za život...
Dosta mi je toga oko ovog filma nejasno - nejasno mi je kako nisam uopće popratio da uskoro izlazi neki Ti Westov novi film, a osim toga, film je misterija sam po sebi. Ok, nije misterija kao što su nedavni uratci Jamesa Wana ili Julie Ducournau, ali više to govorim iz perspektive gledatelja koji ovakav film od redatelja takvog stila nije očekivao. Produkcija filma je A24 (što zapravo i ima smisla nakon što ga odgledate), a radnja se događa koncem sedamdesetih i upravo tako izgleda i snimljeni i namontirani materijal: kao da gledamo slasher s početka 80-ih koji odiše takvom atmosferom i koloritetom. Ovo je stvarno toliko dobro pogođena atmosfera i toliko dobro snimljena da mi je samo taj segment toliko interesantan i primjetan, da mi je čak radnja na neki način pala u drugi plan. A što bi, po vama, mogla biti radnja slasher filma krajem sedamdesetih u nekoj zabiti? Upravo tako. Dakle, brutalna atmosfera i vizualni identitet filma obilježava ovaj ne baš brzi film, gdje se nekakva akcija počinje događati tek nakon sat vremena. Ipak, ne mogu reći da je dosadan ili predvidljiv, baš suprotno. Zato smo posljednjih 40-ak minuta dobili itekakvu dinamiku i krađu pažnje koja se uspjela razdijeliti na više frontova, što je zapravo zanimljiv scenaristički pokušaj i igranje s pričom. Gluma je dobra, likovi su većinski iritantni i blesavi upravo kakvi i trebaju biti, a ubojstva koja slijede jesu onakva na kakva smo navikli, ali sve oko njih zapravo nije nešto što smo imali prilike često viđati. Ne mogu vam reći puno oko toga jer ni sam nisam siguran što sam u nekim trenutcima primijetio i što mi se sve vrzmalo glavom što se zapravo tu događa i je li sve onako kako se čini, a paralelno me iznenadila informacija da se prequel ovog filma, naziva "Pearl", snimao istovremeno kad i ovaj film i za kojeg neće trebati dugo da izađe. Neke će gledatelje živcirati upravo ovakvi filmovi, ali mene nije uspio naživcirati niti mi stvoriti iritaciju, kao ni Malignant niti svi ti moderni filmovi koji nastoje pružiti nekakav drugačiji ugao u horor industriji, makar još uvijek ne znam je li riječ o nekakvom obratu radnje ili smo zapravo dobili prost, jednostavan slasher film na tragu nekih davnih filmova. U svakom slučaju obratite pažnju.


Choose or Die (2022)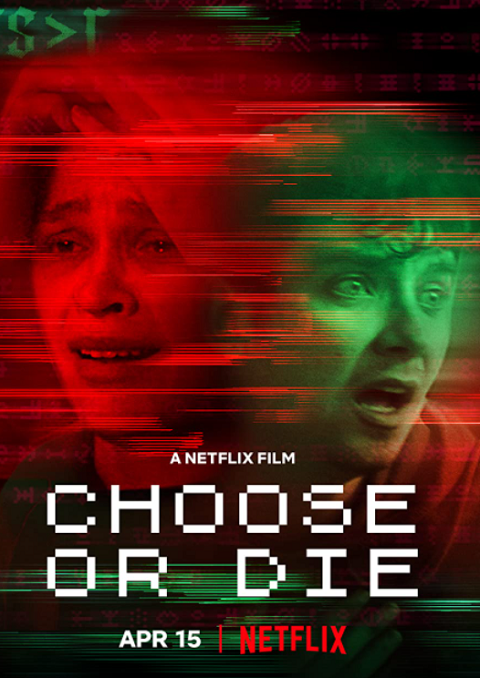 Sve u svemu: 2,5 / 5

Više o filmu: Imdb.com
Video

Nakon što je pokrenula raritetnu, zaboravljenu survival horror igru iz 80-ih, mlada programerka oslobađa skrivenu kletvu koja razdire stvarnost, prisiljavajući je da donese zastrašujuće odluke i suoči se sa smrtonosnim posljedicama...
Naletim tu i tamo na film koji ima takvu premisu i takve karakteristike da biste mogli brzo dobiti hunch kako ćemo dobiti slabašan, banalan ili jeftin uradak. Rijetko kada se uistinu nakon toliko odgledanih naslova prevarim, a takav je slučaj bio i ovdje. Redatelju Tobyju Meakinsu ovo je prvi ozbiljan projekt, ovaj projekt koji kao da je jedna užasno dugačka Black Mirror epizoda, ovaj projekt koji kao da je reboot hororca Stay Alive iz 2006. godine, ovaj projekt koji je još jedno bedasto, suvišno horor djelo koje uključuje Roberta Englunda čisto da se može uključiti horor ikonu. Ovdje vidimo i sve poznatijeg i priznatijeg Asu Butterfielda kao i Iolu Evans u glavnim ulogama. Moderna tema koja uključuje staru igricu iz osamdesetih uvlači nas u "meta-svjetove" i vidimo tu dosta krvavih trenutaka i zapleta priče, a film kao da cijelo vrijeme izmišlja u koracima što će se dalje događati. Cijelo sam vrijeme bio dojma da se film radio kronološki i da su nakon, primjerice, 25. minute kretali osmišljavati što će se dalje događati nakon pola sata filma itd. Ne vidim smisao skoro ni u čemu, sve je nešto odrađeno bezveze, zbrzano (srećom), ali na negativan način. Doduše, film od totalnog zaborava spašavaju dvije stvari, a to su pamtljive scene kada se "igraju igre" i kada dobivamo maštovite i kreativne scene ubojstava i različitih aspekata video-igrica pretočenih u stvarnost, te dobri efekti koji pokazuju da film nipošto nije low-budget ostvarenje. Kad smo već kod Englunda, ima jedno poglavlje igre koja podsjeća na jednu od Freddyjevih noćnih mora, što je, ajd, ok hommage. E i da, hommage Garyju Numanu je možda i najbolji dio filma. Makar te reference na diiiiiivno razdoblje i romantiziranje osamdesetih blablabla već polako ide na živce. Choose or Die film treba imati opciju potpunog nestanka zbog svoje irelevantnosti, tipku "Choose to Die".