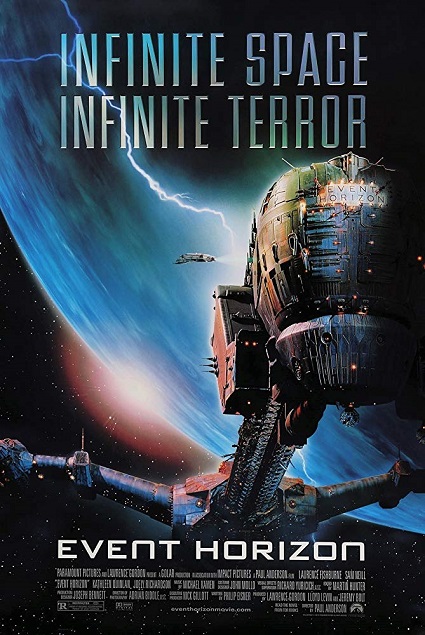 Sve u svemu: 3 / 5

Više o filmu: Imdb.com
Video

Tim za spašavanje istražuje svemirski brod koji je nestao daleko iza Jupitera u crnoj rupi i koji se sada vratio, s nekim ili nečim na njemu...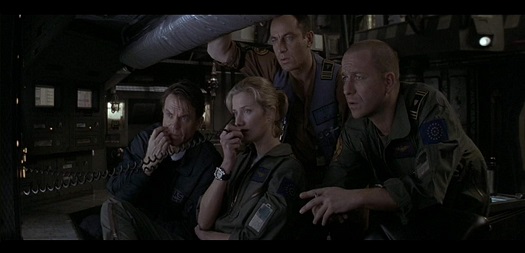 Event Horizon prilično je poznat žanrovski film unutar baze ljubitelja SF i horor filmova - gotovo svaka lista filmova iz devedesetih a koji se oslanjaju na dva spomenuta žanra sadrže i ovaj film u katalogu. Moram priznati da sam ga nedavno tek prvi puta pogledao, budući da mi nikako ne leži tematika spaceshipova i radnji u svemiru, no znam da kada krenem gledati neke od tih filmova, da uvijek ostanem manje ili više u propitivanju: zašto inače imam skepsu prema takvim filmovima? Za ovaj film zaslužan je Paul W.S. Anderson (svi Resident Evil filmovi, Alien vs Predator...), a uključuje kastu prilično poznatih glumaca, od kojih bih izdvojio primjerice Sama Neilla, Laurencea Fishburnea, Kathleen Quinlan, Jasona Isaacsa...svemirske teme, poglavito ako je riječ o tematici strave i užasa, stvarno su nepregledne te se uistinu svašta može kreirati. Prisjetimo se SF hororaca koji su, nećemo se lagati, itekako utjecali na kreaciju ovog uratka, poput Alien franšize, koja je svojim radnjama ostala zapećaćena u prepoznatljivosti kada je riječ o svemirskom horor podžanru. no i nekih nesvemirskih poput The Thinga, Hellraisera...Kad smo već kod referenci, ne mogu se oteti dojmu da je ovaj film utjecao i na brojne filmove nakon toga, poput Ghost Shipa, Cloverfield Paradoxa, Dead Space igru i još nekolicine drugih. Iako je imao poteškoće pri produkciji te je slabo zaradio na kino blagajnama, riječ je filmu koji je s godinama dobio svoj kult pratitelja te je postao kultan unutar žanra krajem devedesetih. Čak se planira i serija u doglednoj budućnosti, no tko to zna kako će biti sa svom ovom hiperprodukcijom svega.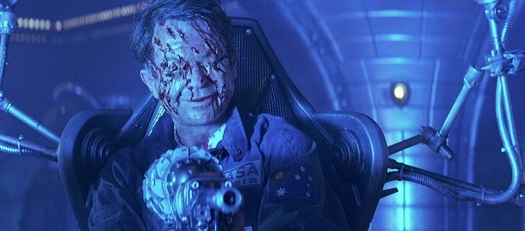 Nakon iznošenja ovako nekih fakata oko filma, ne mogu se oteti dojmu da mi je prilično teško pričati o ovom filmu na neki kritičan način, budući da bi mi mogli zamjeriti brojni oni koji ga se s nostalgijom prisjećaju jer su ga gledali ili u ranoj dobi, ili su živjeli u doba kada je ovaj film uspio pomicati neke granice što se tiče originalnosti, atmosfere itd. No, moram priznati da mi se film nije toliko svidio koliko sam očekivao, a očekivao sam dosta toga. Premisa nestalog broda koji se kasnije pronađe sam od sebe i na sebi nešto krije stvarno je dobra platforma za pravu napetu, intrigantnu i uznemirujuću atmosferu, i to je ono u čemu je ovaj film uspio - atmosfera je tijekom filma konstantno dobra, zanimljiva i nepretenciozna. S druge strane, ono što je totalni kontrast atmosferi svakako je realizacija zla koje proganja naše junake. Ne želim previše pričati o tome radi neotkrivanja radnje, no nisam zadovoljan onim što su oni na brodu "zatekli", odnosno tko je taj antagonist kojeg se svi toliko plašimo upravo zbog izgradnje dobre atmosfere. Nadalje, gluma u filmu stvarno je odlična i dorasla svakom zadatku kojeg je ova popularna ekipa imala. Isto tako mogu reći i za veliku većinu efekata, osim efekata eksplozije i onih u kojima kompjuter mora imati veliku, ako ne i jedinu ulogu, bez praktičnih efekata. Tu ima dosta pomanjkanja što i sredstava da se to ostvari, što i tehnologije koja bi adekvatno to mogla prenijeti na platno. Film ni u kojem trenutku nije dosadan ni monoton, no smatram da je zbog konstantnog pokušaja gradnje napetosti nekada u tome uspio izazvati kontraefekt pa su neke scene izgledale pretjerano, nesuvislo i navučeno. Što se posljednjih pola sata do 40 minuta filma tiče, tu se počelo događati nešto što bismo mogli barem u kratkim crtama povezati s Hellraiserom i njegovim Cenobitima, a film dobiva i određenu torture porn notu. Koliko god neki segmenti bili navučeni, slažem se s krajnjim ishodom filma i načinom kako je sve što je znalo biti kaotično na kraju zapakirano.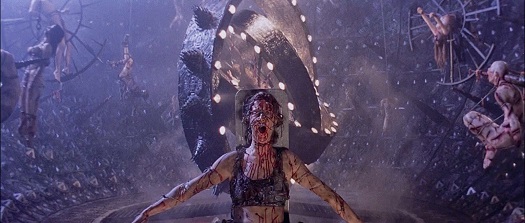 Event Horizon pati od jedne, možda i najveće boljke: kada niste sigurni u ono što bi točno antagonist trebao biti, onda krećete u dubiozu kreiranja atraktivnih scena i često se zna dogoditi da redatelj ni scenaristi ne uspiju manevrirati s napisanim i osmišljenim materijalom. To je moj osobni stav oko ove radnje i smatram da se tu moglo napraviti puno, puno više, jer je film imao ozbiljnog potencijala za to. Ipak, i dalje je riječ o dobrom SF hororcu koji je s razlogom ostao upamćen i prihvaćen kao jedan od hororaca iz gornjeg doma zlatnog doba devedesetih.