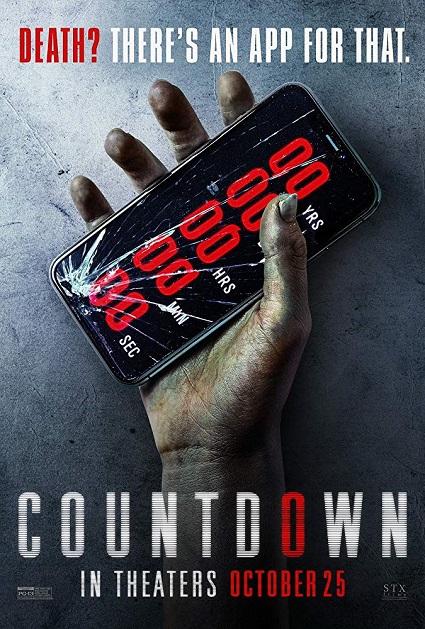 Sve u svemu: 2,5 / 5

Više o filmu: Imdb.com
Video

Medicinska sestra na prijedlog prijatelja preuzima na mobitel aplikaciju koja navodno predviđa trenutak kada ćete umrijeti, a njoj je k'o za vraga aplikacija pokazala da će umrijeti za tri dana. Uz sve to, nekakva neman ju proganja od trenutka preuzimanja aplikacije te mora naći način kako se riješiti smrti prije same smrti...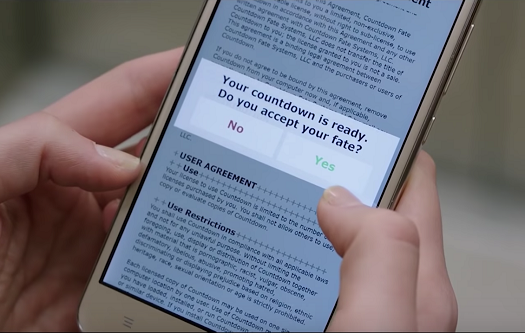 Joj, kada sam vidio prošle godine da se sprema film na temelju aplikacije koja govori kada ćete umrijeti, smatrah ja evo pojavio se novi Polaroid (fotić koji ubija odnosno duh iz njega) i zbog toga nikako ne mogu shvatiti opsesiju nekih modernih hororaca koji smatraju da će razoriti kino blagajne na temelju motiva koji u najmanju ruku služe za sprdanciju i izrugivanje. Nisam siguran kakva je politika gledanja hororaca kod mlađahne publike (onih od 7 do 17), kojima je ''u krvi'' suživot s mobilnim aplikacijama i ostalim widgetima, no činjenica je da ovakvi filmovi actually jako dobro prolaze što se novaca tiče - Countdown, film o aplikaciji koja prognozira smrt, zaradio je skoro 10 puta više od svog budžeta. Za prvi redateljski film Justina Deca stvarno sam imao nula očekivanja te sam krenuo u gledanje filma čisto, najiskrenije, da se nasmijem i otvoreno narugam, jer sam znao da ću doživjeti hrpu ali hrpu oprobanih scena i situacija, horor elemenata koji su bili inovativni prije 20 i nešto godina te blesave i nelogične scene. Mogu reći da sam se čak i ugodno iznenadio s nekim stvarima, budući da sam krenuo u film s više od 0 posto predviđanja uspješnosti, no idemo o tome nešto podrobnije.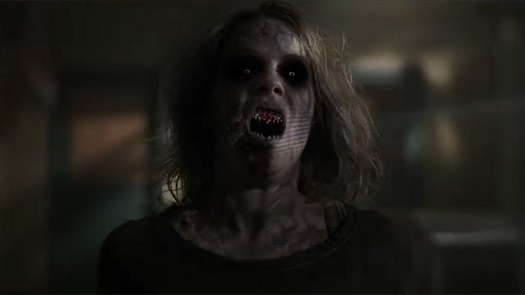 Početak filma stvarno krene ulijevati povjerenje i ugodno iznenađenje - oprobava se aplikacija među prijateljima, a nakon što jedna od njih dobije svoj trenutak smrti - svega za par sati da joj se sprema smrt - film kreće u tu nekakvu creepy atmosferu koja je zadovoljavajuće realizirana. Prvih pola sata moram priznati da sam stvarno ostao ugodno iznenađen i praktički frapiran s mišlju da sam toliko pogriješio oko nekog filma. Dalje od toga, nažalost, polako se počinju događati stvari koje sam predviđao - riječ je o mlakim, banalnim, užasno izlizanim i forsiranim scenama plašenja, predvidljivim igrama progatonistice i antagonista, ukratko, sve ono što neki moderni horor ne bi trebao posjedovati kako bi bio kvalitetan. Nema se tu što puno govoriti, imamo bazičnu naraciju koja znate u kojem će smjeru ići i za koju znate da će biti užasno navučena, pa bilo da je riječ o suzbijanju te aplikacije (razbijete mob - nema to veze, ona će jedina raditi itd.) ili o ubijanju duha koji se pojavljuje u trenutcima kada morate umrijeti...šteta, smatram da je to tako puno bolje moglo i moralo biti osmišljeno, nešto više na foru Final Destination filmova, a ne vući se na Polaroid i takve bolide od filmova. O glumi i efektima nemam što puno pričati, sve je odrađeno na nivou na kojem se moglo.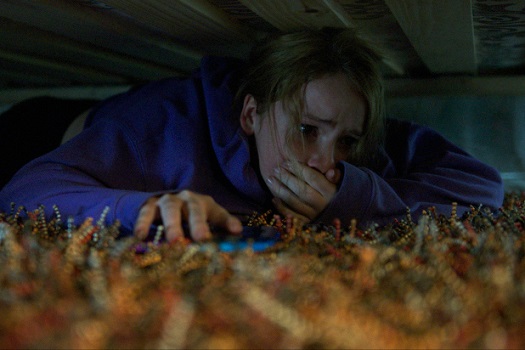 Dok s jedne strane užasno ne cijenim ovaj film i smatram ga strašno stupidnim, toliko mi je prvih otprilike pola sata bila čista uživancija. Tako da ću mu dati nešto bolju ocjenu čisto da ga izdvojim od sranja poput Bye Bye Man, Slender Man i Polaroid, toliko je barem zaslužio. Na ostalih sat vremena lagano sam zasuzio.