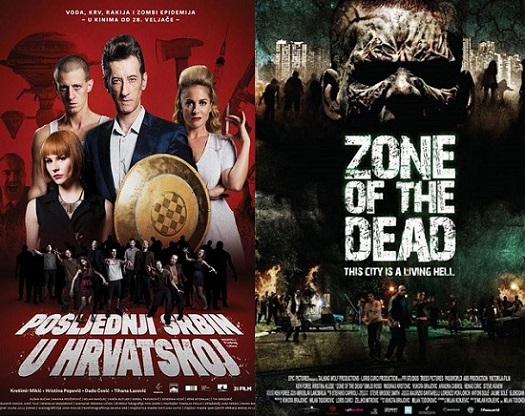 A sada, nešto sasvim drugačije!

Nije da počinjem pisati o Monty Pythonu, no ima veze s oblicima funny skečeva i laprdanja - naime, kolega Dorian Sabo, kojega znam iz ere HorrorHR foruma (nekad, a i danas najrelevantnijeg hrvatskog horor foruma) pod nickom Drugsbunny i moja malenkost pokrenuli smo podcast pod nazivom "Kužimo filmove?". O čemu se točno radi?

Dva filmska (poglavito horor) entuzijasta odlučila su pričat o filmovima u formi podcasta koja je sve više prihvaćena kao univerzalan format slobodnog razgovora i diskuje oko neke tematike. Koncept će nam se slagati oko jednog do dva filma kojega ćemo prokomentirati kroz pola sata trajanja, otprilike u jednomjesečnim epizodama.

Za prvi put, odlučili smo diskutirati o aktualnom, PRVOM hrvatskom zombie filmu "Posljednji Srbin u Hrvatskoj" te o prvom srpskom zombie filmu "Zona Mrtvih" aka Zone of the Dead aka Apocalypse of the Dead iz 2009. godine. Usporedbe radi, filmovi nemaju neke dodirne točke osim što je riječ o zombijima i što je riječ o prvim žanrovskim filmovima na našim prostorima takve podžanrovske tematike.

Inače će ovo vrlo rijetko biti praksa, no kako stvarno nemam vremena pisati tekstove o ova dva filma, odlučih najjednostavnije priložiti video link pa tko ima želju, neka pogleda o čemu je riječ u nastavku:

I naravno, sve što uz to ide - like, share, subscribe etc.