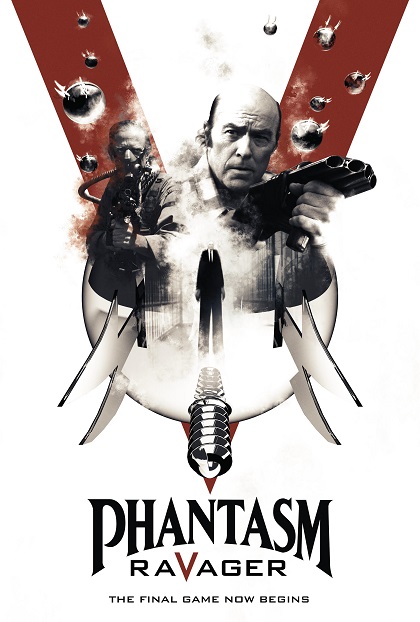 Sve u svemu: 3 / 5

Više o filmu: Imdb.com
Video

Peti i posljednji put gledamo borbu između Tall Mana i naših junaka...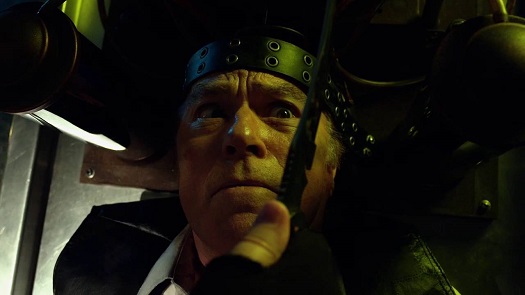 18 godina poslije izašao je dugo najavljivani, posljednji dio franšize Phantasma, naziva Ravager. Zbog produkcijskih i inih problema film je bio planiran već 2008. godine, no slijedom okolnosti izašao je tek prije tri godine. Opet vidimo ista lica, iste glumce - Angus Scrimm kao Tall Man sada ima gotovo 89 godina (odlično se drži), Reggie i dalje luta bespućima Amerike da pronađe Mikea i stane na kraj Tall Manu...jelda kako cijeli serijal ima zapravo jednoličnu radnju, osim prvog dijela? Nekima će to biti odbojno, no štovateljima žanra i serijala takva stagnacija može nastavcima ići u nedogled. Po prvi put ne vidimo Dona Coscarellija kao redatelja, no tu je kao ko-scenarist i producent, a režije se prihvatio David Hartman. Od početka filma vidimo kako je petica prilično amaterskije snimljena nego preostali nastavci, no to mu umjesto trasha više daje neku art notu, sve ovisi o percepciji promatranja. Recimo, film u suštini njeguje sve odlike prethodnih dijelova i činilo mi se kako će nakon toliko godina i porastom tehnologije film uvelike promijeniti tijek i finale franšize, međutim (i na sreću) nije ispalo tako - najveća odlika Phantasma V i ekipe koja je radila na njemu je ta što su do kraja ispoštovali ono što se stvaralo prije čak 37 godina, pa nadalje - odanost atmosferi serijala i potpunu privrženost old-school motivima i načinu snimanja.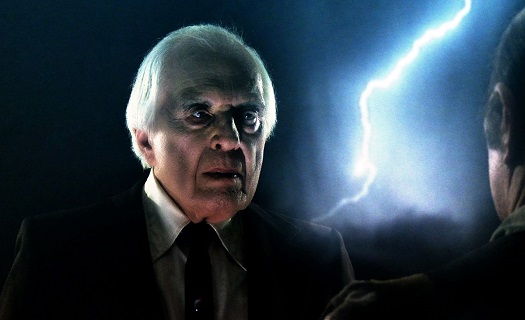 Sve odmah počinje iznenađujućom dinamikom, splatterajem i s dosta krvi, što ga odlikuje do samoga kraja. Reggie je od početka u glavnoj ulozi i za razliku od četvrtog dijela, ovdje je ultra dobro karakteriziran i užitak ga je pratiti u krvavim avanturama. Kad smo već kod njega - gledamo ga u različitim životnim periodima te se tijekom gledanja može dogoditi određena konfuzija s previše izmiješanih radnji odjednom (Reggieja lupaju halucinacije, vizije i demencija), stoga se događa previše izmiješanih narativa. No, to ne umanjuje zabavu i posvećenost interesantnim scenama. Dojam mogu narušiti prilično slabašni efekti, možda i najslabiji dosad, a i sam film po sebi izgleda dosta amaterski snimljen (vjerojatno je zbog budžeta većinski sniman po danu). No i dalje ti čudni potezi kamerom mogu kvalitetno podsjetiti na ostatak serijala, sjetimo se samo kakve je sve kadrove i rakurse imao original. Ima čak i pozitivnih efekata, pretežito CGI prirode - cijeli pakao odnosno demonski svijet Tall Mana prikazan je, iako poluamaterski, prilično dojmljivo i u skladu s duhom Phantasma - uvijek to naglašavam, jer važno je napraviti razliku između amaterskih loših efekata i ciljano slabašnijeg CGI-ja. Uz brojne zanimljive trenutke, koji uključuju čak i povratnike manje važnih likova u serijal - Rocky iz trećeg dijela, film obiluje morbidnom zabavom, čak i u nešto većem omjeru nego prije. Iako je sam kraj dojmljiv, ostaje gorak okus što se tiče prelaganog rješavanja zla i finalnog svršetka angatonista.




Zanimljivo je bilo vidjeti ista lica nakon toliko dugo vremena te sam zaključio nakon svih pet pogledanih u kraćem roku, da će mi Phantasm serijal ipak ostati u lijepom sjećanju i kao izrazito simpatična horor franšiza. Nije da je tome kumovao peti dio, ili barem ne u cijelosti, no podosta je zaslužan za nekakav zanimljiv wrap-up cjelokupne priče i serijala. Tall Man aka Angus Scrimm - počivao u miru, kao i cijeli Phantasm. Bila je to jedna uglavnom ugodna vožnja.