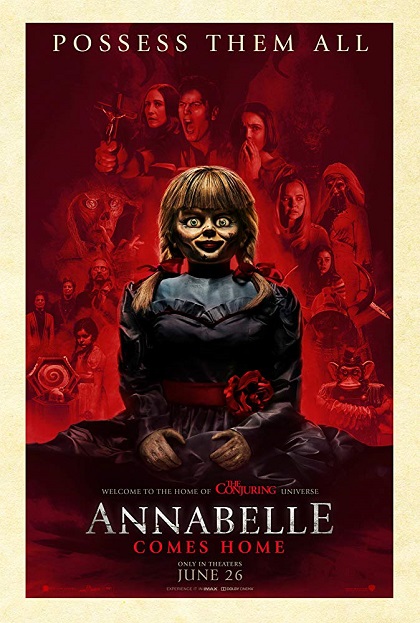 Sve u svemu: 3 / 5

Više o filmu: Imdb.com
Video

Ed i Lorraine Warren, bračni par koji se bavi temama okultnog, ostavlja svoju kćer na čuvanju mladoj babysitterici i njenoj prijateljici. Iako su bili upozoravani da ništa ne diraju i ne idu u posebnu sobu s antiknim predmetima, djevojke su se naravno oglušile te su, otvarajući izlog s jezivom lutkom Annabelle, u kući otvorili i "vrata pakla"...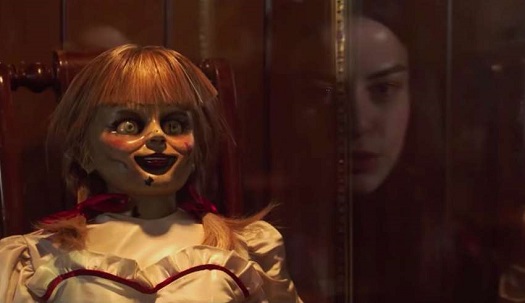 Annabelle Comes Home treći je nastavak o zlokobnoj lutki te ujedno i sedmi dio Conjuring univerzuma. 2019. godine čak je objavljeno dva filma iz univerzuma, a o drugom, The Curse of La Llorona, ne bih trošio previše riječi ovdje. Po radnji je smješten između prvog Conjuringa i La Llorone, a riječ je o redateljskom prvijencu Garyja Daubermana, napravljen po priči Jamesa Wana. Gledamo dobro nam znane Eda (Patrick Wilson) i Lorraine (Vera Farmiga) Warren kako preuzimaju lutku Annabelle koja je navodno ukleta te je odvode k svojoj kući da je zapečate. Nakon što utjecaji lutke skoro ubiju Eda, odluče je zauvijek zaključati u izložni ormar u prostoriji s ostalim demonskim predmetima u svojoj kući. Godinu dana poslije, kako je u plotlineu najavljeno, klinci se krenu vrzmati po kući čuvajući njihovu kćer i tu kreću nevolje, nakon što se iz te prostorije oslobode kojekakvi demoni i manifestacije zla. Kao što sam navodio u recenzijama za prvi i drugi dio, Annabelle serijal nikad mi nije bio ništa posebno. Riječ je o lutki dobrog i creepy izgleda kako oko sebe ima hordu demonskih pomagača koji čine nevolje protagonistima, no prvi dio bio je blijedo realiziran makar nije toliko loš film, drugi dio je malo bolji, no i dalje mu je nedostajalo autentičnosti, a za treći se dio nisam uopće pripremao niti sam išta očekivao, pa je lako moguće da mi je upravo iz tog razloga i najbolje sjeo. Pojasnit ću kasnije zašto je to tako, no odmah da napomenem, ovo je prilično subjektivna recenzija (kao i sve uostalom), tako da se vjerojatno većina vas neće složiti sa mnom, no moram napomenuti da mi je u trenutnom raspoloženju baš odgovarao ovakav film, gdje se ništa ne mora razmišljati, gdje ništa nije praktički linearno, ovdje zapravo nije ni riječ o filmu kao takvom - ovo je jedan repertoar sačinjen od hrpe scary i jump scena koje su toliko nelogično povezane i realizirane da sam jednostavno odlučio uživati u površnosti ove radnje - kao da ste došli u muzej jump scareova, gdje vas na svakom koraku po kući plaše druga čudovišta, demoni i kreature, a da pritom nitko s drugog kraja kuće vas ne čuje, ma genijalno.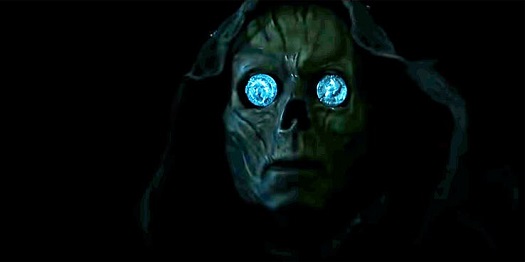 Film započinje stvarno dobro i standardno creepy, a kada krenu dolaziti djeca i mladi u prvi plan, s time opada i atmosfera filma iz one creepy u onu polu-komičnu. E sad, da sam bio nešto namršteniji ili slabije raspoložen vjerojatno bih popljuvao film od glave do pete osim nekih elemenata, no s obzirom da sam više bio raspoložen za gledati nekakav manifest nabacanih scareova koji čine baš zanimljive horor sekvence, moram reći kako mi je ovo ispao čak i najbolji Annabelle do sada, upravo zbog toga. Znam da se mnogi neće složiti sa mnom oko toga, no kada bi gledali količinu napetih scena i creepy situacija te hrpu easter eggova i referenci na neke prošle/buduće filmove, riječ je o svakako najkompletnijem Annabelle filmu, neovisno o brojnim pogreškama, nelogičnostima i rupama. Naravno, blesava djevojka otvara lutkin izlog i tu kreću nevolje jer se kroz kuću i oko nje počinju kretati prilično zajebane kreature - krvava žena u bijelom i njena ukleta vjenčanica, Black Shock - krvožedni vukodlak pas, sablasni samuraj i najbolji od svih - misteriozni Ferryman, odnosno splavar, koji je pretpostavljam napravljen prema mitološkom liku Charonu, i o kojem bih najrađe volio vidjeti zaseban Conjuring film. Vjerujem da će zbog pozitivnih kritika na tog lika filma vjerojatno i biti. Antagonisti i sve te kreature definitivno su najbolji segment filma, a pošto ih sam po sebi nema puno, vjerujem da će se većini taj dio najviše svidjeti. Također, film je odlično snimljen, ima odlične poteze kamerom te također i super glumu, no isto ne bih rekao za scenarij, koji je ujedno i najgori dio filma - Ed i Lorraine Warren ostave ključeve loše skrivene od te prostorije prije nego odu, njihova kćer premalo se plaši na sve jump scene, kao da je od stijene, a najveći je problem što se film i njegova priča slažu prema jump-scareovima, umjesto da je obrnuto, tako da se može reći da smo dobili jedan "fast-food" horor.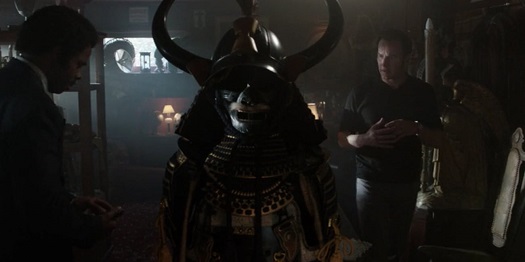 Annabelle 3 film je bez pravilne naracije, prepun solidnih cimalica i vjerojatno najscary u serijalu do sada, no najveći problem je što je pri vrhu mediokritetnih horor filmova današnjice, koji je uz neke puno gore naslove jedan od uzroka zašto žanr kvalitetom sadržaja klizi prema dolje. No, dokle god odlično zarađuju, tko nas gledatelje j...? No, vrijeme je da krenu na druge kreature, Annabelle su isilovali već i previše. Prije nego se dogodi film Annabelle Goes to Space, stanite.