Sve u svemu: 4,5 / 5

Više o filmu: Imdb.com
Video


Na poziv prijatelja koji je porijeklom iz Švedske, mladi par i nekoliko prijatelja odlaze u malo švedsko mjesto prisustvovati ljetnom festivalu koji se održava svakih 90 godina. Ono što počinje kao bezbrižno i bajkovito putovanje polako će se pretvoriti u borbu za život usprskos nasilnom i bizarnom tamošnjem kultu...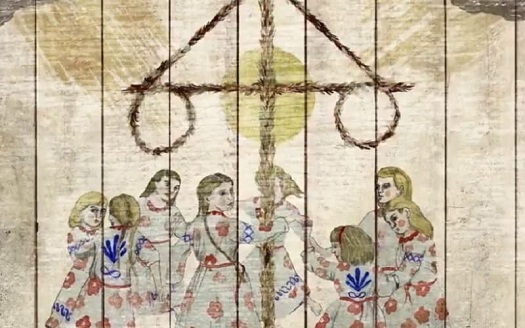 Ari Aster uz A24 produkciju se nakon samo godinu dana vraća s novim uratkom - riječ je o filmu ljetne atmosfere - Midsommar. Prošle smo godine imali priliku svjedočiti jednom od najkompletnijih i najboljih horora 21. stoljeća - jezivom Hereditaryju, a ove godine, kada sam vidio da Aster ponovno želi snimati horor - Midsommar jednostavno nisam mogao dočekati. S nešto skromnijim marketingom nego što je to imao njegov redateljski prvijenac, ovaj film nije pompozno s brojnim trailerima dolazio do gledatelja unaprijed, već sam dojma kako je publika sama od sebe, na temelju prethodnika, popularizirala i ovaj uradak. Trailer vam, na svu sreću, ne da ne otkriva ništa, već nije čak zagrebao ni površinu onoga što ćete tijekom dva i pol sata imati priliku vidjeti. Da, film traje dva i pol sata, i mada sam uvjerenja da je mogao trajati barem pola sata kraće - Aster ima viziju kako postepenom gradnjom napetosti, straha, oduživanja određenih scena, može stvoriti pravu jezu i uznemirenost. Je li u tome uspio i ovaj put? Definitivno jest - Midsommar je je*eno jak, moćan, furiozan, iznimno uznemirujuć i pametan film. Ovaj ću osvrt podijeliti u nekoliko segmenata, čisto zato što bih o filmu mogao jako, jako puno pisati, pa da na ovaj način bude nekako preglednije, stoga ću se posebno osvrnuti na tehničke aspekte filma, radnju i poruku te na zaključak. Prije toga, popričajmo o samoj radnji.

Radnja, scenarij, poruka

Sve počinje s užasima već na početku, djevojka doživi tragediju u obitelji nakon koje se uistinu teško može oporaviti, no unatoč tomu dobije poziv od dečka da s njegovom ekipom zajedno odu u Švedsku, djelomično kako bi svoje semestralne radove mogli tamo napisati, jer se bave antropologijom i proučavanjem tradicija i običaja manjih naroda. Upoznajemo se s likovima, pratimo ih do festivala, a tada stvari lagano kreću u totalno drugom smjeru. Primjetan je redateljev pečat u njegovim hororima - prvih sat vremena postoji taj laganiji tempo, a preostalih sat, sat i pol dobivamo pravi festival neugode, nelagode i napetosti. Scenarij i dijalozi su odlično napisani i konstruirani, dok sama premisa festivala implicira na pojedine segmente nordijske mitologije, kao i (neću spoilati) načini ubojstava i rituali, što je odlična poveznica. Tako ovdje imamo stvarno brutalnih scena, morbidnih običaja, prinošenja žrtava, što je tipično za kultivističke filmove...uistinu svega i svačega. Ono što mi se kod Asterova dva hororca sviđa jest ono što sam i napisao u osvrtu za Hereditary - neočekivanost. S Hereditaryjem naprosto niste mogli znati na čemu ste i što ćete sve moći vidjeti (a šokira vas mnogo puta), dok smo ipak s Midsommarom u vrlo malim količinama izgubili tu razinu napetosti jer smo mogli očekivati da će nam redatelj ponuditi brojne šokantne trenutke. I taman kad ste mislili da ste se pripremili kako treba - opet ćete se grdno prevariti jer ni u snu nećete moći zamisliti što se sve ovdje može vidjeti. Another thing koja mi se kod Asterova dva filma sviđa jest to što vas ne može ostaviti ravnodušnim - izmjenjuju vam se emocije tuge, prijezira, straha, uznemirenosti, ljutnje i tek u promilima neke pozitivnosti, što je pravi i istinski redateljski pečat. Što se dinamike radnje tiče, mora se reći kako je film u nekim trenutcima preusporen i pretežak za gledati ne samo u smislu gađenja, već i u smislu prevelikog oduživanja nekih scena i kadrova. Ok je to napraviti nekoliko puta, no s konstantnijim recikliranjem može se desiti blaga monotonija, koliko god vas film držao zainteresiranima.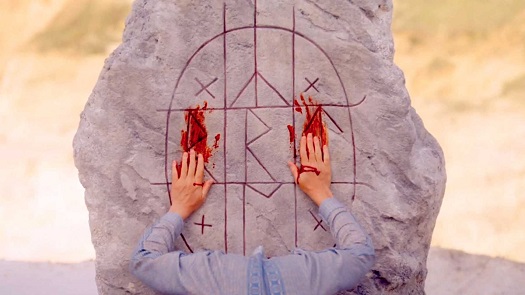 Prije no što odem na tehničke aspekte filma, moram reći kako film samo na prvu ima za zadatak prenijeti vam fokus na film o kultu i ritualnim okupljanjima i poganim običajima. Ari Aster sam je izjavio kako mu nije bila namjera raditi film o religijskim kultovima, već napraviti svojevrsnu krvavu operetu o ljudskim odnosima, prvenstveno o vezi mladog para, kako se postepeno gubi, razdvaja, srozava do razine opora i nepodnošljivosti. Tako je i Hereditary bio zamišljen kao obiteljska drama, satkana od brojnih horor okultnih elemenata.

Audiovizualni aspekti

Midsommar je vizualno prelijep film. Gotovo u potpunosti je sniman po danu, što predstavlja direktan kontrast na prethodnika, koji je skoro pa cijeli mračan, niktofiličan. Moram napomenuti kako su igre svjetla i sjena odlično izvedene, a dojmljivi efekti toliko su nekad suptilni da jednostavno uživati u simpliciranosti izvedbe, gledano na način snimanja, kut kamere, pokrete...ekipa stvarno zna svoj posao. Je li Ari Aster novi Kubrick u nekom smislu? Sami prosudite i stvorite dojam, no mogu reći kako me u nekoliko navrata na njega podsjetio, kao i određeni segmenti na neke druge, starije kultne filmove. Prelijepa priroda, jarke boje, bjelina, toplina - namijenjeni su kako bi prikazali da užas može savršeno funkcionirati i u takvom ambijentu. Scene kada su naši protagonisti drogirani, svojevoljno ili ne, stvaraju određenu vizualnu tripoidnost i dodatno naglašavaju nemir, nepovoljan tijek događaja i razarajuće ishode. Što se tiče zvučne podloge i soundtracka - i tu sam naprosto oduševljen. Neki tradicionalni napjevi, zborno pjevanje, ženske partiture, savršeno su izmiksane s ritmikom i harmonijom cijelog filma. Od samog početka pa nadalje do kraja glazba je jedan važan segment cijele priče te se puno pažnje njoj posvetilo. Vidi se da se o svemu pedantno i znalački promišljalo.

Kraj filma i zaključak

I mada očekujete neočekivano, opet će vas kraj razoriti, na pozitivan ili negativan način. Ipak, moram napomenuti da je nakon dobrih dva sata silovanja gledatelja u mozak zadnjih pola sata pomalo prolazilo u čekanju kraja. Ne mislim ništa loše u smislu kvalitete, već po tome što su tortura uma i sami zapleti, šokantne scene i sve tomu slično dosegnuli svoj maksimum po meni već dosta prije samog kraja, pa me samo gledanje kraja i nije toliko zaintrigiralo. Tomu dodatno pogoduje i pasivnost likova, koji su toliko izvan svoje svijesti i u nekoj drugoj dimenziji da se jednostavno više i ne možete asocirati ili povezati s njima.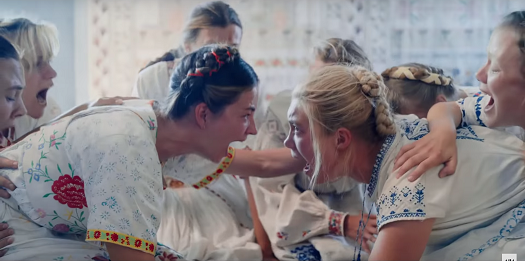 Na neki uvrnut način, ovo je film o obitelji, ovo je film o oslobođenju od rutina, navika, loših osoba, ovo je film sa sretnim krajem?, ovo je film na kojeg se može gledati iz toliko aspekata da vam bude uživancija komentirati ga s nekim tko ga je pogledao, svidio mu se ili ne. Midsommar je dosad definitivno najbolji i najkompletniji horor svih vremena po tematici kulta, to vam osobno garantiram, no svačije preference su drugačije, pa mnogima nije odgovarao Hereditary, tako da ne vjerujem da će i ovaj uradak. S druge strane, meni je Hereditary ipak bolji film od ovoga, no svejedno bih volio da Aster nastavi sa snimanjem horor filmova, jer će se uz Jordana Peelea potvrditi kao najbolji horor redatelj u dugo, dugo vremena, sa snimanjem hororaca onakvih kakvi trebaju biti u 21. stoljeću i nakon svega već viđenog. Nažalost, pročitao sam informaciju da više neće snimati horore. Nema veze, svijetu je ponudio dva unikatna horor filma, koji su mnogo toga gledano na žanrove, nipošto ne samo horor. Midsommar svima toplo preporučujem.