Paranormal Activity: Next of Kin (2021)




Sve u svemu: 2,5 / 5

Više o filmu: Imdb.com
Video

Margot je djevojka koju je majka napustila kao bebu i koja putuje u osamljenu zajednicu Amiša s ekipom da snime dokumentarni film, tražeći odgovore o svojoj majci i široj obitelji...
Čovjek se zbilja ponada u životu da neće više doživljavati loše stvari koje se ponavljaju. Čitam nedavno svoju recenziju tada posljednjeg Paranormal Activity filma: Ghost Dimension iz 2015. godine i gdje sam nakon odgledanog sam sebi napisao: ovo je posljednji PA film kojega gledam, bio on zadnji ili ne. Međutim, tada je serijal i stao. Naravno, naivac kao što sam ja pomislio je da će to biti kraj for good, međutim šest godina kasnije, odnosno pet (pandemija je usporila proces), dolazi nam novi PA, naslovljen Next of Kin. Redatelj William Eubank i scenarist Christoper Landon (zaslužan i za off-spin dio The Marked Ones), napravili su film o djevojci koja je u potrazi za biološkom obitelji, a koji je spojio religijski kult, ruralnu sredinu i found footage stil snimanja. Mnogo toga može poći po zlu, mnogo toga može biti kvalitetno napravljeno - kreativnog potencijala bilo je mnogo. Nakon što pronađu naizgled amišku obitelj, koja živi bez moderne tehnologije i živi od poljoprivrede i stočarstva i budu ugodno primljeni, započinju neobični događaji i klupko misterije počinje se odmotavati. Na početku protagonisti mogu raditi što hoće, snimati gdje žele, kuća bude nekad puna, nekad prazna ljudima, a kada stvari krenu nizbrdo, tako se i manevarski prostor za bijeg počinje rapidno smanjivati. FF stil snimanja ovdje nije iskorišten loše, ali je u dosta situacija neopravdan i bezveze upotrijebljen, kao da su kreatori filma zaboravili da ne može osoba u ponekim trenutcima držati kameru, a kamoli da ima razloga išta snimati. Ima dobrih, sadržajnih scare scena, koje se duže razvijaju, koje su brze i efektivne, ima tu klišejastih trenutaka, glupih odluka junaka, slow motion poteza kamerom....kada bih sve morao sumirati, mogu reći da se PA: Next of Kin odmiče od dosadašnjih filmova, pamtit ću ga zbog dobre i uznemirujuće atmosfere na snježnom imanju s hrpom čudaka i po dinamičnih zadnjih 40-ak minuta. Ima jako blesav kraj, ali barem ću mu priznati da je uvelike bolji od šestog dijela, svoga prethodnika. Kako to očito biva, svoju ću riječ o negledanju više tog serijala vjerojatno opet pregaziti pa je neću ovoga puta ni izgovarati, jer ovaj je dio ipak pokazao da ne mora svaki 7.8.9. nastavak biti potpuno negledljivo smeće.


The Night House (2020)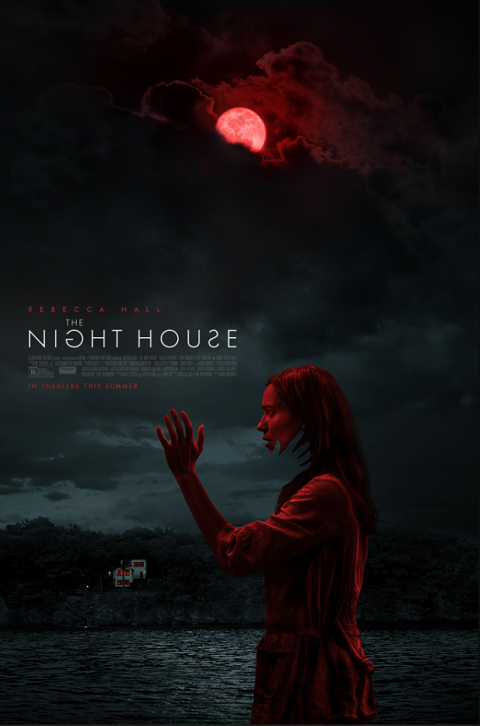 Sve u svemu: 4 / 5

Više o filmu: Imdb.com
Video

Udovica Beth počinje otkrivati uznemirujuće tajne svog nedavno preminulog muža...
David Bruckner redatelj je čijim se filmovima počinjem sve više radovati kako budu najavljivani. Iza njega stoje intrigantni i dobri naslovi poput "The Ritual", "Southbound", prvi "V/H/S"...u svakom tom filmu pridodaje u naizgled bazičnoj i već viđenoj radnji dašak originalnosti i dosad neviđenih spletova radnje. Rebecca Hall glumi mladu udovicu koja je na neočekivan način izgubila muža koji se upucao u glavu. Odmah ću reći kako je Rebeca Hall odradila maestralan posao i da bespogovorno zaslužuje titulu nositeljice cijelog filma, apsolutno je u svakoj sceni krala pažnju i kvalitetno prenosila emocije, od jeze i straha do smijeha, ljutnje i suza. Film nam ne objašnjava mnogo nego nam postupno pojašnjava specifičnosti priče koje smo mogli ranije doživjeti, što se čini adekvatan koncept scenarija za ovakav tip filma, a i gledatelju pruža osjećaj neizvjesnosti, tjerajući ga da nakon samostalnih zaključaka nastavi spajati puzle kako bi se dobila kompletna slika radnje. Napete scene i uznemirujući događaji dok je Beth sama u kući zapravo najviše ostaju urezani u pamćenje, nismo sigurni doživljavamo li s glavnim likom halucinacije ili ne, znamo li jednako kao i ona ili smo svi u nedoumici što se zapravo događa...to su čari koje ovaj film čine kreativnim, zanimljivim i napetim. Moram priznati da nisam očekivao da će mi zapravo Night House biti možda i najnapetiji naslov ove godine, sa savršenim igrama zvuka, svjetla i vizualnih pojava, možda je stvar osobnog dojma, ali ne sjećam se kada sam se na pojedine scene uspio nelagodno osjećati kao ovdje, možda čak još od Midsommara (nemaju nikakvih poveznica, uspoređuju se količine napetosti). Krajnje objašnjenje filma možda malo narušava cjelokupni dojam, ali kada se glavna priča uokviri, stvari na dojmljiv način budu pojašnjene i nema događaja koji ostanu visiti u zraku, što je znak da je scenaristički tim točno znao što radi. Ima tu svakojakih elemenata iz različitih horor podžanrova, od voodooa, do nadnaravnog, okultnog, ljudskog faktora...svega pomalo. Mislim da će ljubitelji horora pronaći dosta zadovoljavajućih stvari u ovom filmu, meni je osobno baš legao i stavljam ga definitivno u TOP 3 naslova 2021. godine.

Old (2021)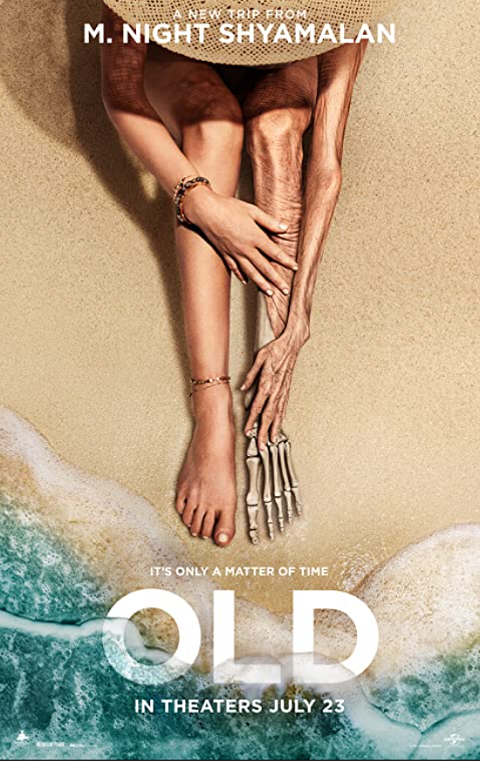 Sve u svemu: 2 / 5

Više o filmu: Imdb.com
Video

Obitelj na odmoru otkriva da osamljena plaža na kojoj se opuštaju nekoliko sati na neki način uzrokuje ubrzano starenje, svodeći cijeli njihov život u jedan dan...
Rad, lik i djelo M. Night Shyamalana jednostavno ili cijenite ili ne cijenite. Kroz 20 i nešto godina koliko vjerno pratim njegove naslove kako izlaze, doživljavao sam ushićenja, teška razočarenja, zabavu, intrigu, kvalitetu, filmove ispod razine...ali teško da je nešto bilo prosjek ili mlako. Čovjeku jednostavno dajte dvije rečenice radnje i on će od toga pokušati napraviti po nekakvoj svojoj viziji dugometražni film. Ponavljam, nekada to uspije, nekada ne, naročito kad su filmovi s podžanrom horora u igri. "Old" predstavlja prilično intrigantnu radnju gdje likovi u nekoliko sati naglo ostare i bore se s tim fenomenom na izoliranom otoku s kojega više ne mogu pobjeći. Daje se naslutiti kako je sve to dio nekog većeg "eksperimenta" i da je tu nešto nadnaravno u pitanju, ali nećete to moći znati sve do zadnjih pola sata filma. Biti kreativan oko samog procesa naglog starenja niti malo nije lagan zadatak i u tom se slučaju toliko lako poskliznuti na neke nepredviđene greške i propuste u scenariju, da je potrebno pratiti gomilu detalja i razvijati ih postupno sa starenjem, od djece, do sredovječnih ljudi, pa i ovih najstarijih. I u tome Shyamalan nažalost nije uspio. Ne samo u procesu starenja, već se ovdje izgubilo mnogo više toga: likovi su izgubili svoj smisao negdje usput, svi su usredotočeni uvijek u jednog, maksimalno dva lika u trenutku, previše je tu gubljenja niti kako se radnja prebrzo odvija...fino sam se nasmijao u par trenutaka, a ne vjerujem da je taj prefiks glupavosti bio nit vodilja ekipe koja je radila na filmu. Moram priznati, ima tu dvije scene koje zadrže pažnju i koje su interesantno odrađene, ali porivi likova, njihove odluke, nešto kod njih stari, nešto ne, glupost se očito s godinama povećava, sve je to s mog kuta gledanja odrađeno blago rečeno katastrofa. Nisam iskreno nešto ni očekivao više nakon što sam vidio što je bazična radnja, znao sam da se i prije Shyamalan na tako zahtjevnim radnjama znao uvući u mulj, a tako se dogodilo i ovdje. Nije bio lagan zalogaj, tako se i ispostavilo. Kakogod, ne vjerujem da će nekome ovaj film biti prosječan ili mediokritetan, vjerujem da će biti ili izvor genijalnosti ili ovaj moj ishod, "što sam ja to uopće gledao", ili bolje pitanje, "zašto"? Zato. Zbog Shyamalana. I tako će biti i u budućnosti. Želim mu u budućnosti što manje ovakvih pothvata.


Last Night in Soho (2021)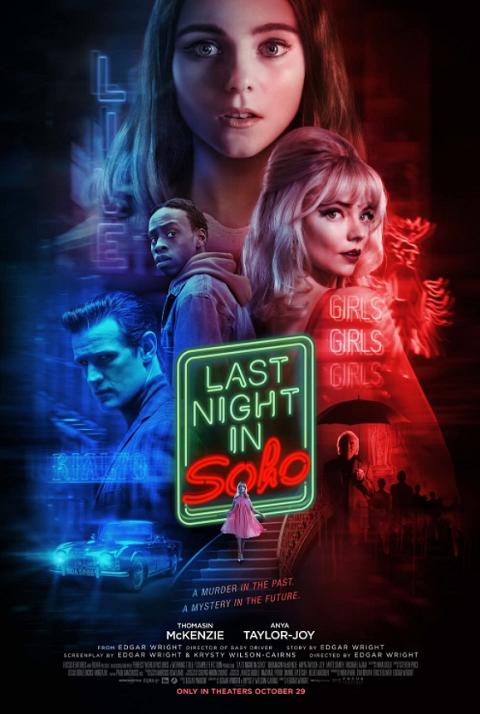 Sve u svemu: 3,5 / 5

Više o filmu: Imdb.com
Video

Ambiciozna modna dizajnerica seli se iz omanjeg mjesta u London kako bi studirala modni dizajn. Unajmljuje apartman i upoznaje nove ljude. Nekim misterioznim putem uspijeva otići u šezdesete godine prošlog stoljeća gdje susreće wannabe pjevača i putem njega započinje karijeru. Ali glamur nije sve što se čini i snovi iz prošlosti počinju pucati i raspadati se u nešto mračnije...
Ovo je primjer naslova koji se dosta dugo i rano najavljuje i koji ima solidnu medijsku i marketinšku praćenost do svog izlaska. Naravno, tu su i neka all-star imena: zvijezda u usponu, odlična Anna Taylor-Joy, Thomasin McKenziem Matt Smith, a ovo je ujedno i posljednji film legendarne Diane Rigg. Redatelj Edgar Wright svakako je pompozno ime koje iza sebe ima odlične redateljske naslove poput Shaun of the Dead, Hot Fuzz i Baby Driver. Dvoumio sam se trebam li komentirati uopće ovaj film na blogu, budući da sam znao da ovo neće biti tipičan horor naslov, više u maniri nekog psihološkog trilera, što se i pokazalo prvih sat vremena, gdje nije bilo ni H od horora, ali drugih sat vremena stvari počnu ići u tom nekom uznemirujućem i jezivijem smjeru. Ovaj prilično unikatan film s odličnim soundtrackom, zanimljivim bojama, pokretima kamere, igrama svjetla, dojmljivim efektima svakako je vizualni bombončić za svakog ljubitelja kinematografije. Odličan je i setting kada se prebacimo u 60-e godine 20. stoljeća, a ne smijem zaboraviti napomenuti ni stvarno vrhunsku glumu svih navedenih i šire. Radnja kreće malo sporije, ali taj lagani tempo nimalo nije stvorio dojam zamora ili monotonije, budući da ste svjesni da vas čeka shitstorm kako minute budu prolazile. London uvijek krije nekakva sranja, a ovdje nema smisla da išta dodatno pišem osim bazične radnje koja je napisana u uvodu, sve što vas dalje čeka je zanimljivo, fun-to-watch, ponekad i napeto, sve u svemu vizualno dojmljivo. Kad krene dodatna razrada i dogodi se prvo ubojstvo, malo se priča počinje razvodnjavati, ali to nipošto ne utječe na krajnji dojam i rasplet, mali twistovi koji se događaju tijekom posljednjih pola sata dobro su tempirani i prema osobnom dojmu, kvalitetno odrađeni. Da ne duljim previše, svakako dajte priliku filmu, ima dosta unikatnih stvari koje sigurno prije niste mogli vidjeti i kod mene je dobio nategnutu četvorku, odnosno malo ispod nje, s velikim prostorom za potencijal kojega je film imao, ali ga možda nije u potpunosti iskoristio. Kakogod, bacite oko.