Novi paket od četiri osvrta, mahom novijih filmskih naslova...pa da vidimo što tu imamo, osim četiri potpuno različita hororca...


Watcher (2022)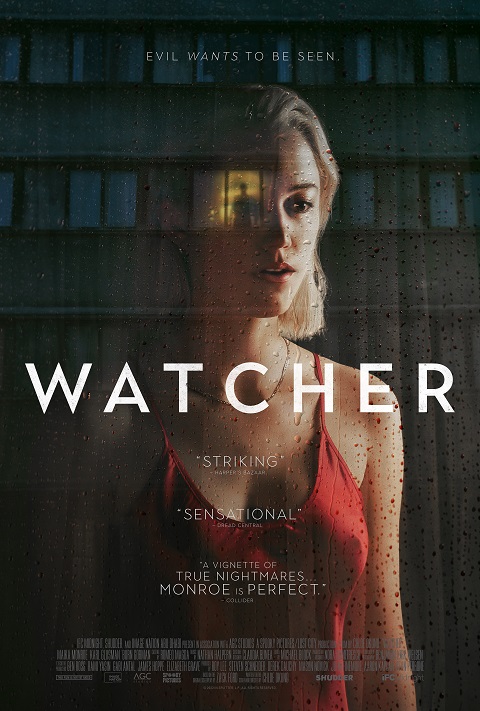 Sve u svemu: 2,5 / 5

Više o filmu: Imdb.com
Video

Mlada Amerikanka seli se sa suprugom u Bukurešt i počinje sumnjati da bi stranac koji je promatra iz stambene zgrade prekoputa mogao biti lokalni serijski ubojica...
Radove redateljice Chloe Okuno sve do ovog naslova nismo mogli vidjeti, osim segmenta "Storm Drain" u četvrtom dijelu V/H/S franšize. Daklem, radnja je poprilično jasna i straightforward, prekoputa zgrade u Rumunjskoj, novu stanarku, našu protagonisticu Juliu (Maika Monroe) prati i promatra silueta iz zgrade prekoputa, dok je ona dosta zatvorena prema svom dečku oko te teme. Dečko naporno radi svaki dan, ona se smara u apartmanu, ali uz ovakvo voajerstvo joj nipošto nije dosadno. Ubrzo se pročulo kako je cura iz susjedstva ubijena, a tu počinju teže paranoje. Moram priznati da iako je trajao samo sat i pol vremena, uspio sam se razočarati i svesti na monotoniju prikazanog materijala. Prvih pola sata imamo samo lagane scene s nekim polu-uznemirujućim pogledima, ma prvih 50-ak minuta skoro pa se nikoji vrag ne događa, zatim kad se krene nešto odvijati dobivamo podosta rupa u scenariju, koje ne mogu pokriti čak ni nemali broj iskorištenih hičkokijanskih forica, referenci na Rear Window, Disturbia itd...S tehničke strane film je dosta dobro snimljen i dosta se pažnje obraćalo na dobre pokrete kamerom i stvaranje prikladnih kutova snimanja, autentičnih za stvaranje odgovarajuće napetosti, međutim, ovo je zapravo film od sat i pol kojega biste lagano mogli u narednih pola godine zaboraviti da ste ga ikada gledali. Naprosto ne nosi ništa posebno, drugačije, novo, uzbudljivo. Prošao je nekako ispod radara, objektivno i zasluženo.


The Innocents (2021)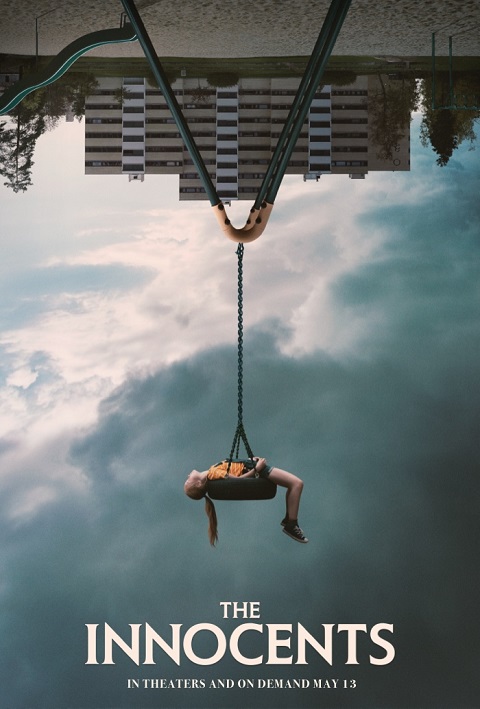 Sve u svemu: 3 / 5

Više o filmu: Imdb.com
Video

Tijekom nordijskog ljeta, skupina djece otkriva svoje mračne i misteriozne moći bez prisustva roditelja. Vrijeme za igru ubrzo poprima opasan zaokret...
Ne bih baš ovaj film okarakterizirao tipičnim hororom, ali ima nešto uznemirujuće u ovom psihološkom trileru što ga može po segmentima približiti tom žanru. Redatelj Eskil Vogt veliku je inspiraciju povukao iz filmova poput kultnih Village of the Damned, Don't Look Now ili L'enfance Nue, a objavljen je 60 godina nakon istoimenog horor hita iz 1962., makar nema nikakve poveznice. Pratimo skupinu djece "iz kvarta" kako s upoznavanjem i umnim povezivanjem otkrivaju svoje natprirodne sposobnosti, pritom ništa od toga ne govoreći svojim roditeljima ili skrbnicima. Ovo je atipičan film upravo po tome što ovdje djecu ne gledamo kao anđelčiće koji će svoje supermoći upotrijebiti za "više cvijeća, manje smeća" svijet, već će, kao i sva djeca što znaju biti okrutna jedna prema drugima u toj dobi, svoje sposobnosti iskoristiti na uvrnut, dječji način. Film povlači mnogo socioloških i odgojnih problematika i na neki način vjerodostojno obrađuje otuđenost roditelja od vlastite djece, gdje je zapravo otuđenje djece od roditelja samo posljedica. Ova se djeca stoga umrežavaju radi dobrog ili lošeg, ovisno o njihovim karakterima i pozadinama. Takav zanimljivi koncept moram priznati da mi je malo pokvarila konstantna kišna i turobna atmosfera, kao da su ti naši glumci jedini na tom svijetu, u svoj šarolikosti dječjeg igrališta osjeti se zapravo strašna klaustrofobija. Pri tome je film i dosta spor, a u takvoj dinamici nažalost nije uspio u svim segmentima prenijeti poantu, niti gledatelju na uvijek adekvatan način prenijeti emociju, reakciju ili smisao. Zadnjih pola sata filma je pomalo dinamičnije i brže, a lijepo je vidjeti i kako se od malo efekata može dobiti dosta toga. Kroz cijeli film može se vidjeti nevjerojatna količina talenta kod dječjih glumica i glumaca, poglavito što im je ovo svima prva filmska uloga. Iako je ovo jedan poseban nordijski film koji će pronaći svoje mjesto u posebnosti i inovaciji po scenariju, ima tu nekoliko ključnih elemenata koji su mi film unazadili i nažalost ga usporili da postane malo zabavniji ili za neku veću preporuku ljubiteljima psiholoških filmova. Makar, možda nije zgorega dati priliku, taman je ocjena za solidan film, ali ništa više ni manje od toga.


The Sadness (2021)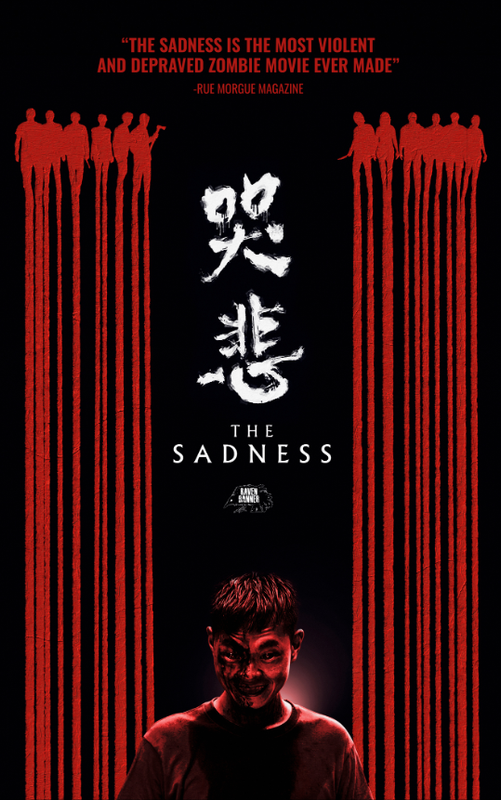 Sve u svemu: 3,5 / 5

Više o filmu: Imdb.com
Video


Mladi par pokušava se ponovno ujediniti u gradu poharanim virusom koji svoje žrtve pretvara u poremećene, krvožedne sadiste...
A sad...ako se neki film ne može zaboraviti, onda je to ovaj tajvanski body horor debi kanadskog redatelja Roba Jabbaza. Naveliko inspiriran stripom Crossed, svjedočimo najezdi "brzih" zombija kao onima iz 28 Days Later, samo što ovi nisu tu samo da jedu, već da nanose bol i sadizam, mučenje i silovanje. Nemam čak previše toga komentirati za ovakav tip filma, onaj tko je obožavatelj splattera, gorea i body horora, ovaj film ne da će mu biti šlag na torti, već potpuno punjenje baterija i ispunjenje svih mogućih očekivanja. Mislim da od cijelog filma možda ima 10% koji prolazi u nekom nekrvavom kontekstu, sve ostalo je nakupina masakra, ubojstava, brzih scena, bježanja, kasapljenja, mučenja, sadizma, silovanja, ekplozija dijelova tijela...ma sve što filmovima ovakvog podžanra treba. Ne znam nužno je li meni trebalo jer me prilično overwhelmao film, ali uz neku blagu humorističnu notu koju nosi, društveno-političke reference i stvarno kvalitetan materijal, došao je na tu razinu da bih ga više nego sigurno preporučio ljubiteljima ovakvih filmova, a i svima onima malo jačeg želudca. Siguran sam da nećete pogriješiti ako upravo tražite ovakvo nešto. Ponavljam, film je jako, jako dobro snimljen, što bi rekao jedan kolega recenzent horora - Train to Busan na steroidima. Preporuka.


The Black Phone (2021)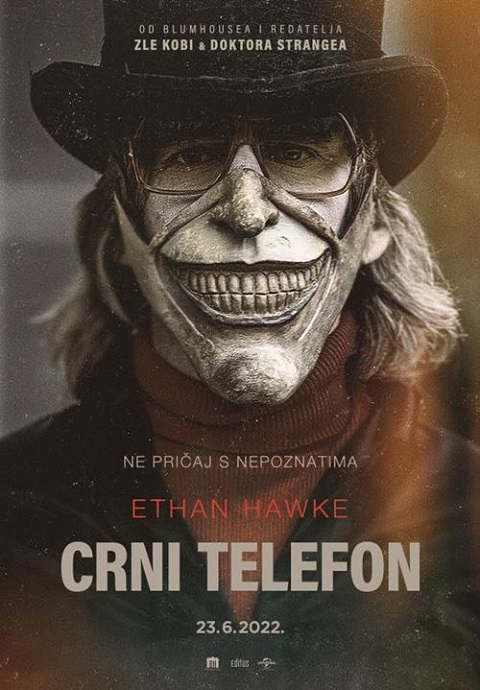 Sve u svemu: 3,5 / 5

Više o filmu: Imdb.com
Video

Nakon što ga je ubojica djece oteo i zaključao u zvučno izolirani podrum, 13-godišnji dječak počinje primati pozive na isključeni telefon od ubojičinih prethodnih žrtava...
Naveliko se pričalo i najavljivalo ovaj novi uradak Scotta Derricksona (man behind Sinister, Deliver Us From Evil, Exorcism of Emily Rose...), istovremeno i adaptaciju istoimene kratke priče iz 2014. Joea Hilla, sina Stephena Kinga. Zanimljiva stvar je da je Derrickson trebao snimati Doctor Strange 2, međutim nastavio je pohoditi svoju dugogodišnju želju i posvetiti se kompletno ovom trileru-hororu. Dakle, Ethan Hawke glumi The Grabbera, serijskog ubojicu i otmičara djece koji sa svojim crnim kombijem i prerušen u mađioničara namamljuje klince i zatim se o njima više ništa ne čuje. Referencirano dosta na Teda Bundyja, film je smješten u period 70-ih godina čiju je atmosferu savršeno prenio, još kao i hommage Halloweenu i još ponekim kultnim filmovima. Za masku ubojice zaslužan je tko drugi nego kreator najpoznatijih horor maski na svijetu Tom Savini, koji i dalje ima odlične ideje u svojim sedamdesetima. Maska The Grabbera je toliko kompleksna i dobro razrađena, a osim toga i odlično prezentirana u svim najavama i plakatima filmova, da će ostati kao jedna od upamćenijih modernih maski iz svijeta horora. Ethan Hawke je odlično odigrao svoju ulogu iako nikada njegovo lice ne vidimo u kompletu. Još je jezivije pitanje zašto bi si serijski ubojica radio više različitih maski koje govore njegove emocije te na taj način dodatno prestrašivao svoje žrtve...jedna odlična osovina koju mnogi gledatelji ne promatraju. Prvih 40-ak minuta filma gledamo još jedan otmičarski film, a zatim počinjemo dobivati i supernatural stvari koje po meni uopće nisu višak u filmu i jako su bile dobar dodatak, što se određenom djelu gledatelja i nije svidjelo. Očekivali smo svi koji nismo čitali priču down-to-earth film, međutim fore sa telefonskim pozivima prethodnih žrtava, osim što su jezive i jako dobro realizirane, zapravo su okosnica zapleta i raspleta cijele priče. Oteti i zarobljeni dječak, glavni mladi glumac Mason Thames je apsolutno najveća faca filma i odličan glumac u nastajanju. Način na koji je taj klinjo iznio emocije su podigle film za barem jednu ocjenu. Uz dobre jump-scareove i dosta napete scene u par situacija, moram priznati da sam odlučio ignorirati neke očite kontinuirane pogreške u filmu, barem što se tiče slobodne ophodnje ubojice po ulicama s crnim kombijem i s crnim balonima, ali to su neke stvari kojima se ovaj film uopće nije odlučio baviti jer je ekipa vjerojatno zaključila da nema vremena dodatno pojašnjavati ubojičine metode hvatanja, kada je sve to i više nego teoretski moguće izvesti. Kakve sve bedastoće izlaze u posljednje vrijeme, ovo je sasvim dobar, napet i zabavan moderan triler horor i još jedan dobro posložen uradak Scotta Derricksona. Ponavljam, ima svojih mana, ali ne mogu uistinu reći da sam ih vidio previše. The Black Phone je po meni opravdao sav hype kojeg je imao, kao i pristojnu kino zaradu.