Uvodna riječ:

S obzirom na manjak vremena, autor bloga Groblje horora po prvi se puta odlučuje na drastične rezove, kao i sve balkanske države: filmove što sam pogledao u prethodnom periodu, iako su neki od njih i zaslužili zasebne duže osvrte, prokomentirat ću u kratkom formatu u jednom članku. I dalje ćete ih moći vidjeti kao zasebne naslove u izborniku filmova sa strane, ali jednostavno im ne mogu posvetiti toliko pažnje pa da o svakom napravim posebni osvrt. No, znamo i da se ponekad s manje teksta može reći jednako ili više. Tko zna, možda ova forma i zaživi dugoročno, ako se skupi dovoljan broj pogledanih filmova.

VFW (2019)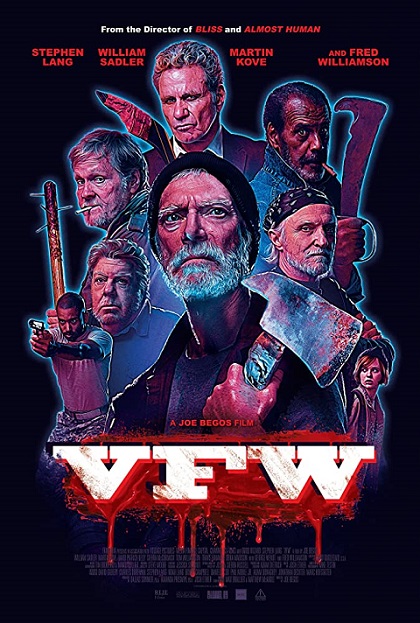 Sve u svemu: 3 / 5

Više o filmu: Imdb.com
Video

Skupina američkih ratnih veterana prisiljena je braniti svoju postaju, nakon što pruže utočište djevojci koja bježi od nasilnih i naoružanih punkera kojima upravlja lokalni drug lord.
Ja sam jednostavan čovjek - ako vidim akcijetinu nabijenu splatter scenama u trajanju od sat i pol, moram to upaliti - ne oduzme mi previše vremena, a znam da će, ako ništa drugo, biti zabavno i brzo pogledano. VFW (Veterans of Foreign Affairs) je film u režiji Joea Begosa čije filmove nisam dosad upratio, a ovdje se osjeti dašak filmova iz 80-ih s podosta karpenterovskog štiha, ponajprije tematski gledano na Assault on Precinct 13. U ovoj mindless zabavi pojavljuje se delegat solidno poznatih starih aktera poput Stephena Langa, Williama Sadlera, Martina Kovea i drugih, a ukratko, mišljenje? Mozak na pašu i upalite, ne znam što bih drugo mogao reći - ima komičnih elemenata, povremeno bedastih, hrpu nasilja i akcije, podsjećaju djelomično i na Green Room. Sadrži klasične obrate i razvoj događaja s pojačanim heavy soundtrackom koji uz dojmljiv koloritet filmu daje dodatno nabrijanu atmosferu. Da je pametan, nije, da je zabavan, jest.


1BR (2019)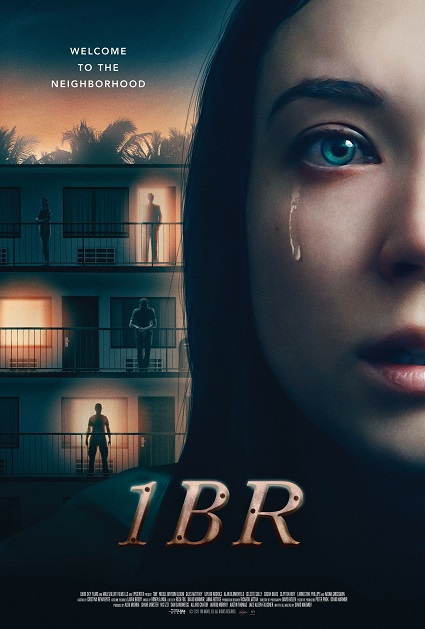 Sve u svemu: 2,5 / 5

Više o filmu: Imdb.com
Video

Sarah pokušava započeti novi život u LA-ju, ali će joj njeni novi stanari u kompleksu stvoriti mnogo, mnogo problema...
Prvi dugometražni film Davida Marmora predstavlja nam naizgled jednostavnu radnju djevojke koja pokušava svoj smisao pronaći u Los Angelesu, kao i mnogi naivci, a usputno se upetlja u mnoge mračne tajne koje krije njeno susjedstvo. Zanimljiva ideja stvara vrlo brze tenzije među likovima, kako se radnja otkriva, tako spoznajete pravu jezivost koju krije kompleks apartmana i njegovi stanari. Ovakvom niskobudžetnijem filmu puno bi više pasalo da je segment u nekom omnibusu, budući da ovako imam dojam da je radnja u dosta dijelova prenategnuta, samo da se stvori ''kvota'' dugometražnog filma. Prebrzo se stvari počnu otkrivati, prebrzo se sve nešto događa, a kad razmislite koliko zapravo malo toga se ima za ispričati, shvatite da bilo potrebno scenarističko čudo da se razduži napetost i neizvjesnost u događajima. Ipak, puno se tu trikova moglo napraviti koji bi puno adekvatnije upotpunili priču umjesto bezveznog nasilja i gore scena. Prema kraju možemo primijetiti i blagi twist, a sveukupan dojam je nekako nažalost premlak i iznimno prosječan. Imam dojam da se zanimljiva ideja mogla puno bolje razraditi i da su likovi mogli biti još raznovrsniji, tako bismo dobili na kompleksnosti radnje i dodatnoj gradnji atmosfere. Moguć je i neki nastavak, ali sudeći kako će ovaj film proći, dosta teško.

I See You (2019)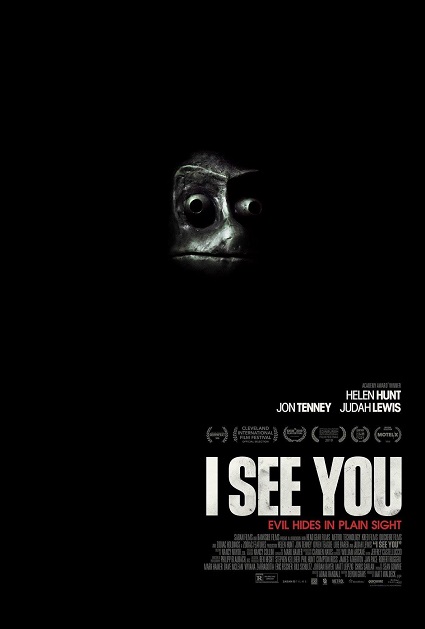 Sve u svemu: 4 / 5

Više o filmu: Imdb.com
Video

Neobični događaji okupiraju detektiva omanjeg mjesta nakon što jedno dijete nestane, a njegova se obitelj nađe u neposrednom kontaktu s čudnim okolnostima...
Nestanak dječaka, neobične okolnosti unutar familije detektiva koji radi na slučaju, prepričavanja u "slomljenoj" obitelji...I See You je film od kojeg sam očekivao apsolutno supernatural atmosferu. Nisam imao nikakve ranije predodžbe, a kako nisam ljubitelj trailera, nisam ni mogao točno znati što očekivati. Redatelju Adamu Randallu ovo je prvi dugometražni pa se ni od njega nije znalo što se može očekivati, no kakogod, mislio sam da će biti riječ o još jednom ghost ili supernatural modernom hororcu. Oh kako mi je drago što sam se prevario - I See You sve je samo ne običan triler horor film - od nekih oprobanih metoda gradnje napetosti kasnije dobivamo užasno intrigantan, pametan, dobro detaljiziran i vješto izgrađen film. Ne smijem ništa spoilati, ali da itko od vas može anticipirati radnju unaprijed - nema šanse. Tako dobrih i pametnih 2-3-4 twista da će vam se doslovno zavrtjeti u glavi. Ok, naravno da ima svoje greške u koracima i neke manje logične sekvence, ali u globalu, totalno neočekivan i ugodno iznenađenje. Ove godine manjka ponuda u apsolutno svemu, ali prvi film koji bi mi pao na pamet kao iznenađenje godine svakako bi bio ovaj. Tople preporuke.


You Should Have Left (2020)




Sve u svemu: 2,5 / 5

Više o filmu: Imdb.com
Video

Muž bankar, žena glumica i njihova kćer odlaze na odmor u velške doline, u jednu posebno dizajniranu modernu kuću za iznajmljivanje, gdje će se početi događati neobične i pogubne stvari...
David Koepp već je imao običaj angažirati odličnog Kevina Bacona i to u jako poznatom hororcu, dragulju sa svih polica videoteka - Stir of Echoes. Vraća se u horor vode s Baconom 20 godina poslije, u filmu slične atmosfere, ali potpuno drugačijeg intenziteta i značaja, pa 1000% i utjecaja. Cijelo me vrijeme kopkalo razmišljanje kako je ovo pravi primjerak užasno stereotipiziranog američkog hororca, kojemu nedostaje puno stvari da bi ono što je kvalitetno i dobro uopće isplivalo na površinu. Ovdje možete vidjeti (ne)namjerne reference na Shinning, Hide and Seek te još poneke psihološke horor trilere, a sve je odrađeno pod nekim misterioznim velom tajne, a cijelo vrijeme kao da vam se uopće ne nameće da se dovoljno uživite u zainteresiranost prema krajnjem raspletu priče. Vrijeme se mijenja, brzo teče pa polako, malfunkcije u kući, kuća s vlastitim pravilima i geometrijom...previše tu ima neobjašnjivosti koje bi možda i ispale interesantne, da na kraju nisu ispale tooooliko očekivane, generične i slabašne. Twist nije loš, ali i on uz sve ostale pozitivne stvari uspije potpasti pod mlakost cjelokupnog dojma. Glumačka ekipa je dobra i vizualno je film sasvim ok, sve ostalo je baš oveći promašaj.