Sve u svemu: 2 / 5

Više o filmu: Imdb.com
Video

Stariji radnik prilikom odlaska s gradilišta uočava bijelu tvar kako izlazi iz Zemlje i stvara mjehuriće. Iz nekog razloga on je tu tvar probao i strašno mu se svidjela, što je s vremenom izazvalo epidemiju i ovisnost populacije za tvari iz zemlje nazvanoj "The Stuff"...no, nitko nije pretpostavljao da ta tvar pretvara ljude u ovisne kreature koji ne prezaju ni pred čim da se domognu željenog deserta...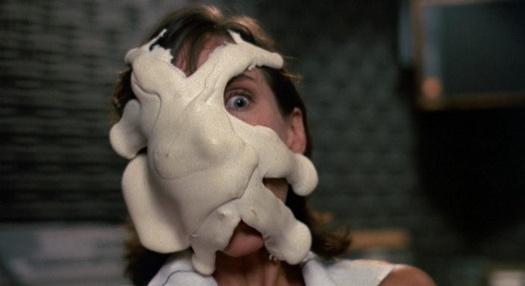 The Stuff je znanstveno-fantastični horor film baziran prema idejama Larryja Cohena, redatelja koji nam se u horor svijetu predstavio putem filmova It's Alive (cijelog serijala), God Told Me To, Return To Salem's Lot...međutim, nekako se ovaj film najviše isprofilirao i doprio do najvećeg broja publike, možda zbog ere u kojemu je nastao, kao i zbog načina snimanja koji se potpuno prilagođava osamdesetima. Pratimo dakle desert koji se super prodaje i koji u sebi ima "ono nešto" zbog čega populacija jednostavno ludi, onda se tu pokreću silne medijske kampanje, reklame, jingleovi, billboardovi s logoima "The Stuff" produkcije...podsjeti vas to kolektivno ludilo na filmove iz te ere poput Terrorvisiona, Videodromea, Street Trasha...uglavnom, sva ta pomahnitalost stvorila je "Stuffiese", ljude koji ne doslovno ne mogu bez tog deserta i traže stalno još i još, budući da desert ima u sebi nutritivne vrijednosti koje mogu osigurati čovjeku da ne jede ništa drugo - prilično zajebana situacija. Međutim, "Bijeli Blob" kako sam ga odmilice nazvao, ustvari je velika bijela tvar koja se može transformirati u bilo koje oblike i napadati poveću količinu ljudi, proždirući ih izvana ili izlazeći iznutra nakon što je se pojede. Kako to izgleda na filmu? Mogu reći prilično bedasto i isprazno, prepuno nelogičnosti i glupih scena, uz tu i tamo dobra rješenja s praktičnim efektima, iako su oni računalni potpuno podbacili. Nije me nekako ovaj flick predstavio osamdesete u svom punom sjaju, kako su to napravili njegovi prethodnici i sljedbenici, dobili smo nažalost neku vrstu blijede komedije s over-the-top scenama.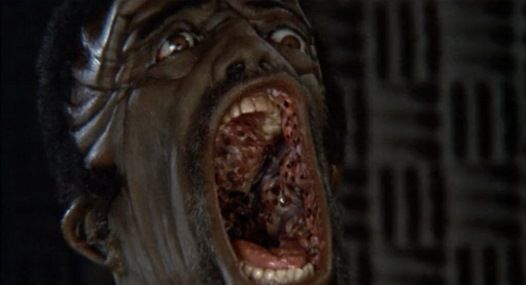 No, film ima i pozitivnih strana: valjalo bi ovdje spomenuti zanimljivog Michaela Moriartyja koji je utjelovio Davida 'Moa' Rutherforda, simpatičnog lika koji sve zna, sve može, nasmješniji je i najpametnije poteze radi...to je nešto što treba ovakvim filmovima kojima je jedina snaga ustvari snaga njegovih likova, budući da im je antagonist sam po sebi preslab (tekućina iz zemlje), ne može se tu puno toga napraviti i osmisliti a da ne izgleda prebedasto. Također, neki praktični efekti oko ubojstava klasično su simpatično odrađena, gdje vidimo pucanje glava, rastvaranja čeljusti, eksplozije raznorazne, gutanja žrtava...ima tu kolokvijalnih situacija koje se mogu zapamtiti, no nažalost, ne se njima i vratiti. Film je pomalo i statičan po pitanju akcije, gotovo se svakih 20 minuta dogodi jedno ubojstvo, što nije nimalo dobra statistika, prvo se, sa psom, zanimljivo ubojstvo dogodi oko 20. minute, da bi mu se drugo pridružilo tek nakon 43. minute filma, da bi nakon toga sve na sreću krenulo dinamičnije. Razlog otkrivanja štetnosti tog deserta krije se u dječaku Jasonu kojemu se pričinilo da vidi kretnju te tvari i koji automatski krene u trgovinama rušiti sve iste proizvode i praviti nezgode misleći da sve zna...može li dalekosežnije? Tu onda imamo i vojsku umiješanu na najgluplji mogući način te još nekih nelogičnosti koje nisu uspjele izvući ni previše humorističnog, a ponajmanje horor dijela cijelog filma. Upravo te uistinu glupe situacije, plus neki dijaloški idiotizmi, stvorili su film nažalost potpuno drugačije vrste od recimo uistinu zabavnog i smiješnog Killer Klowns from Outer Space.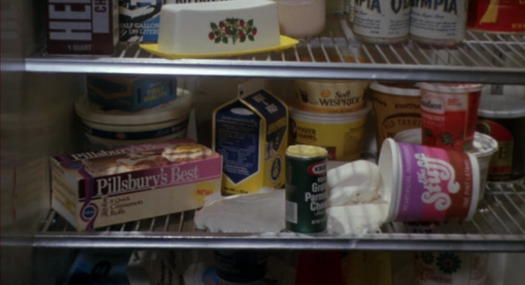 The Stuff je bedast film s napadajućim sladoledom, koji nije humorom i praktičnim efektima uspio izvući kvalitetu na površinu, budući da je bila u veoma rijetkim i slabim intenzitetima. Može se slobodno reći kako je ovo primjer horora iz osamdesetih kako ne može uvijek sve poći od ruke ako trash atmosferi pridodate i dozu humora. Ne mogu to ipak svi filmmakeri, niti svi filmovi u konačnici.