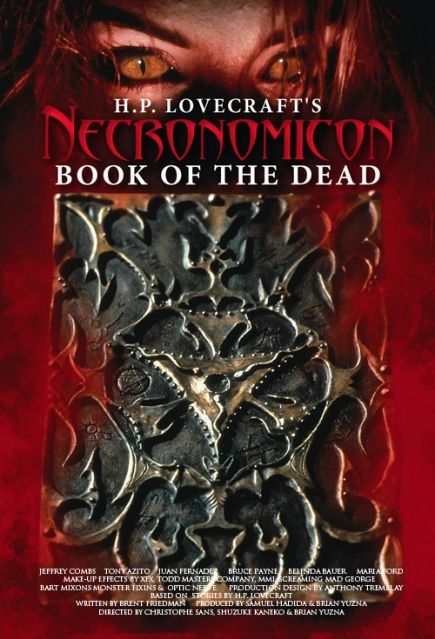 Sve u svemu: 4 / 5

Više o filmu: Imdb.com
Video

H.P. Lovecraft, poznati horor pisac u svojim kasnim tridesetima upućuje se u potragu za drevnom knjigom 'Necronomicon', gdje se navodno nalaze sve tajne svijeta. Pronalazeći knjigu u jednoj od starih knjižnica koju čuvaju monasi, Lovecraft kreće čitati knjigu i startaju priče koje susreće u njoj...




Više elemenata horor kulture ovdje je upotrijebljeno - nekoliko kratkih priča najboljeg horor književnika 20. stoljeća H.P. Lovecrafta (kojega u ovom filmu glumi Re-Animator Jeffrey Combs), uz redatelje kao što su Christophe Gans (Silent Hill prvi dio), Shűsuke Kaneko i legendarni Brian Yuzna (tvorac dva nastavka Re-Animatora, Dentista oba dijela, Fausta...), koji je o u ovom omnibusu zaslužan za main story oko knjižnice i za treći segment - priču Whispers. Također, imamo ovdje i prizvuka Evil Dead serijala, poglavito zbog knjige Necronomicon (koja je izvorno Lovecraftov izum), a putem metode nastanka ovih priča, možemo vidjeti i filmove poput Dagona, From Beyond i sličnih filmova Stuarta Gordona, pri čemu možemo zaključiti kako smo uistinu dobili jedan horor splet načinjen u jednom filmu simboličkog naziva, koji je donekle i opravdao težinu ekraniziranja Lovecraftovih maestralno napisanih djela. Nakon uvoda tko što gdje kako i zašto, vrijeme je da se posvetimo samom filmu: antologijski film (prema kojima uvijek osjećam pozitivu i prije gledanja) vrti se oko tri priče u trajanju od oko 20-ak minuta, koje su bazirane na Lovecraftovim kratkim pričama iz različitih perioda književne karijere.
Prvi segment nazvan The Drowned baziran je na Lovecraftovoj Rats In The Wall, a govori o Edwardu De LaPoeru, čovjeku koji nasljeđuje stari obiteljski hotel. Otvara ujakovo pismo gdje počinje čitati kako je došlo do tragičnih događaja njega, njegove žene i djeteta. Zanimljivost oko ovih priča je što su dvije sazdane od načina snimanja "priča unutar priče", pa tako u više navrata slušamo ono što se dogodilo prije nečega što će se tek dogoditi. Vraćajući se s putovanja na brodu i nakon oluje koja je usmrtila ženu i dijete, Edwardov ujak u pismu piše kako mu je na vrata došao ribar monstruoznog izgleda i ponudio mu Necronomicon kako bi oživio svoje najmilije. Oživljavanje nije išlo kako je trebalo, budući da su preživjeli dobili krakove u ustima i zelene oči, dalje priču znate...pročitavši pismo, Edward odlučuje oživjeti svoju ženu iz prometne nesreće, no susreće se s istim problemom, a i zlom koje obitava ispod obiteljskog hotela...prilično dugo i opsežno za objasniti, no nisam mogao kraće i bez nekoliko spoilera, no sve u svemu, ukleta kuća ispričana na kreativan način, odličan izgled čudovišta (Cthulhu), obredi i druge ludorije...veoma zabavna priča s efektnim dijelovima, baš nešto što možemo viđati u hororima osamdesetih.





Druga priča zove se The Cold, a bazirana je na priči Cool Air. Reporter dolazi u kuću za koju misli da se u njoj nalazi zloglasni ubojica koji je zaslužan za neobična ubojstva i nestanke u Bostonu posljednjih desetljeća. Susreće se sa ženom i hladnoćom u stanu, zbog koje žena tvrdi da pati od rijetke kožne bolesti gdje mora biti konstantno u hladnoj prostoriji. Nakon što ju reporter ganja da ispriča realnu priču o ubojici, ona počinje pričati priču o zloglasnom dr. Maddenu. Druga priča nešto sporije kreće, ali ubrzo se pretvara u festival krvi, splattera i praktičnih efekata koje možemo viđati kod Briana Yuzne, no u ovom slučaju, kod drugog redatelja koji je povukao neku inspiraciju iz osamdesetih. Priča je kompleksna i govori ukratko o uskrsnuću i nemogućnosti umiranja putem konstantnog hlađenja tijela, a sve se tajne zagrobnog života kriju standardno u Necronomiconu. Doktora glumi David Warner, poznata britanska faca iz Omena i Titanica, a sveukupno, riječ je o najslabijem, ali opet solidnom segmentu.
Treća i posljednja priča nazvana Whispers bazirana je na The Whisperer in Darkness, no ovdje je riječ o dvoje policajaca koji su ljubavni par i koji se svađaju u autu dok su u potjeri za tajanstvenim ubojicom zvanim The Butcher. Doživljavaju prometnu nesreću, a netko odvlači Paula iz auta i ostavlja policajku Sarah samu u autu. Nakon što je izašla, upućuje se u zgradu gdje ju vode tragovi krvi i gdje se susreće s čudnih dvoje stanara, šišmišima izvanzemaljcima i ostalim ultra-neobičnim stvarima...da ne idem u dužinu, treća priča Briana Yuzne otkriva svu ljepotu horora osamdesetih - bezbroj krvi, splattera, raznoraznih slabijih i odličnih efekata, bizarnosti, koljaže...ono što je zanimljivo jest da su u svakom segmentu postojana različita čudovišta veoma simpatičnog izgleda, neobične kreature koje obilježavaju Lovecraftov svijet...i to prilično vjerodostojno. Treća priča je naprosto dobra koliko je bizarna, a to je podosta.
Sve završava s Lovecraftom koji završava čitanje Necronomicona, a kojega glavni monah zaustavlja i gdje počinje završna borba između njih dvojice i čudovišta u podzemlju.





Veoma cjelovit film, prepun zabavnog sadržaja za ljubitelje horora, pregršt praktičnih efekata i zanimljivih ekranizacija priča svima nam dragog književnika...veoma dobar i zabavan horor omnibus, preporuke svima, unatoč i nekim slabim efektima, nelogičnostima i rupama koje su jednostavno tu kao i u većini takvih horora.