Sve u svemu: 3,5 / 5

Više o filmu: Imdb.com
Video

Neuki i netalentirani konobar Walter u umjetničkom baru postaje prepoznati umjetnik nakon što je svima pokazao voštanu mačku, gdje ljudi nisu ni slutili da je riječ o pravoj mrtvoj mački ispod površine. Želja za sve većim priznanjem naginje Waltera da pređe i na veće skulpture, ovoga puta ljudskog oblika...




Roger Corman, legendarni redatelj i producent horor komedija baziranih na parodiji žanra i određenog povijesno-kulturološkog razdoblja, redatelj je i filma Bucket of Blood, prvog od tri u suradnji sa scenaristom Charlesom Griffithom (ostala dva su Little Shop of Horrors i Creature from the Haunted Sea). Ovaj film, nastao krajem pedesetih, na britak i satiričan način opisuje beatnik kulturu pedesetih, a osim toga, reference koje sadrži jako vuku na filmove Mystery of the Wax Museum i House of Wax, a neki potezi napravljeni su točno po tim smjernicama, kao i referencirani u samome filmu. Jednostavnost priče i low-budget atmosfera stvorili su prilično simpatičan film koji može sa svojim crnim humorom pokriti brojne gluposti koje ovdje možemo vidjeti, a osim toga, film traje svega sat vremena, a dosta se toga može vidjeti, različitih scena, malo zahtjevnijih prizora i onih lakših, a sve se to snimilo u samo pet dana. Jednostavnost radnje očituje se u ekspresivnosti dolaženja do zapleta, gdje se glavni protagonist i osoba za žaljenje ubrzo pretvara u čak i iritirajućeg antagonistu, koji je od neuglednog potrčka u Bohemian Cafeu postaje ugledni umjetnik kojemu svi počinju pridavati pažnju. Bucket of Blood je nesumnjivo simpatičan, na trenutke komičan horor film koji ne bježi od svoje jeftinije atmosfere i povremeno lošeg pristupanja određenim stavkama, ovo je film kojega možete pogledati jednom i dobro će vam se urezati u pamćenje, ne toliko zbog radnje, koliko zbog interesantnih scena za ono vrijeme viđenih na filmskom platnu (primjerice pušenje marihuane).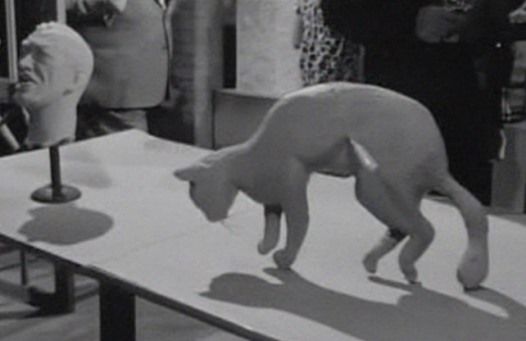 Dick Miller dobro je utjelovio autističnog konobara, a sami dijalozi u scenariju su neprihvatljivi u nekoliko slučajeva, u nekima su savršeno prikladni. Pretjerivajućih scena ima podosta, no ponavljam, valja uzeti u obzir namjeru filmske ekipe i konačni motiv, a to je da se publika paralelno podsjeti da gleda horor film i da tu publiku konačno i nasmije. Naravno, kontekst vremena bitna je stvar, stoga niti humor niti ''strašne'' scene neće biti ni do koljena današnjim filmskim stremljenjima, no za ono vrijeme, moram priznati da sam se ugodno iznenadio na rješenja nekih kadrova, scena, a i bilo je potrebno napraviti dostojan jednosatni film sa samo 50 000 dolara budžeta. Žrtve su pomno odabrane i stavljene na listu otpisanih, a skoro pa savršeni (pretjerano pretjerano savršeni) voštani prikazi silueta žrtava počinju odavati svoju tajnu jednom kada se dio voska počne skidati. Poznat je i remake ovog filma, iz 1995. godine, gdje glumi i tada nepoznati Will Ferrell, no sudeći po svim reakcijama dosad, film će me žešće pričekati, možda i zauvijek.




Ukratko, Bucket of Blood zgodan je filmić s kraja pedesetih godina, kada drugačije razdoblje filma dolazi, a nekako se sve i nazire s ovim Cormanovim uratkom. Nećete umirati od straha, a bogami ni od smijeha, ali ima neki poseban štih koji ga jednostavno uspješno kod mene brani te mu daje pozitivne konotacije, koje je većinom i zaslužio.