Sve u svemu: 3,5 / 5

Više o filmu: Imdb.com
Video

Novi vlasnik misteriozne kuće ulazi u koštac sa sličnim problemima kao i prethodni vlasnik, no ovoga puta vidjet ćemo leševe iz westerna i ostale prastare nemani i čudovišta koji se bore za mističnu astečku lubanju...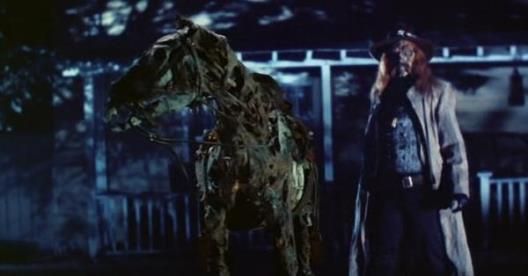 Ethan Wiley, scenarist prvog filma, donosi nam scenarij i za drugu instalaciju ove humoristične horor franšize. House je i u svom originalu nastojao spriječiti horor atmosferu povremenim trashy smiješnim trenutcima, no u drugom nastavku to nastojanje potpuno je eskaliralo - drugi dio je puno humorističniji od prvog i veoma lagan za probaviti, nešto kao Army of Darkness u Evil Dead trilogiji, samo dakako, mnogo manje kvalitetom usporediv. Nekome će više odgovarati ovakav koncept snimanja i atmosfere, nekome će više odgovarati atmosfera prvog dijela, no sigurno je kako je House serijal imao potencijala krenuti u pravom smjeru miksanjem dva dijametralno suprotna žanra, no, od drugog nastavka nadalje situacija se promijenila nagore. Nebitno to sad, vratimo se na House drugi dio...ponovno imamo svakojake kreature ovdje prisutne, nekoliko glavnih likova koji su toliko blesavi ali simpatični da im jednostavno moraš progledati kroz prste (sve je s namjerom napravljeno), različitih mjesta radnji, a ono što je najvažije za spomenuti, za razliku od prvog dijela, ovdje se spajamo s jednim od mrtvaca koji je predstavljen kao protagonist i koji je nevjerojatno simpatičan (pijani deda kauboj - opis sve govori). Glavni antagonist također je zombi ispao s Divljeg Zapada, a svi su u potrazi za kristalnom lubanjom (bio je i Indiana Jones u potrazi za njom 2007. godine) koja ima određene moći. Okosnica radnje je jednostavna kao i cijeli film, ali simpatičnost je prevladala te se ovom filmu jednostavno mora dati ocjena iznad trojke koliko je poseban u svom trashu i u svojim scenarističkim ludorijama i glupostima.




Odlična šminka prisutna je i u ovom dijelu te su te stvari ustvari suština ovog serijala - odlični i kreativni monstrumi koji vas ili mogu nasmijati (u 80% slučajeva) ili na prvu uplašiti. Pterodaktil, pas gusjenica, div iz kamenog doma, kauboji zombiji...savršenstvo B produkcije. S druge strane, zamjeram filmu što je u potpunosti izgubio na svojoj hororičnosti i tako se izbacila sva krv koja je ovdje čak bila i potrebita, neke stvari su ispale humoristične, a možda bi bolje pasale da su drugačije tematike, tako da se ljubitelji prvog dijela možda i neće previše zadovoljiti ovim nastavkom, iako situacija može biti i obrnuta. Međutim, humoristične scene su većinski dobre i kvalitetne, ima naravno i gluposti od kojih se zijeva, no ima i istinski smiješnih scena, kojima je poglavito nositelj zombi deda, koje čine ovaj film potpuno neozbiljnim hororcem. Kvalitetom snimanja, bojama, glumom i vizualnim efektima film ne odmiče puno od prethodnika, naglašen je taj fantasy svijet te je potpuno solidno razmišljanje da nastavak prati original po načinu snimanja i ostalim aspektima. Vidjet ćemo kako se na to izvukao treći dio.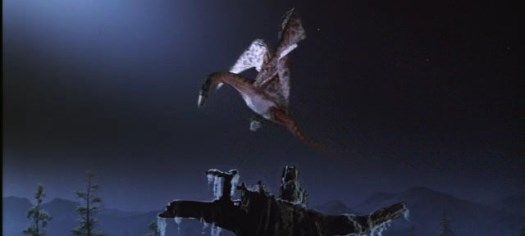 Da ne duljim puno, House II potpuni je zaokret serijala na humorističnu notu, zadovoljan sam viđenim utoliko koliko sam se nasmijao i zabavio i pustio mozak na pašu, no nemojte od ovoga očekivati ikakav horor film, naglašavam da se pripremite na potpuni trash koji obiluje urnebesnim scenama s raznim kreaturama, no od horora, nažalost, ni H. Ljubitelji osamdesetih, dobru zabavu želim!