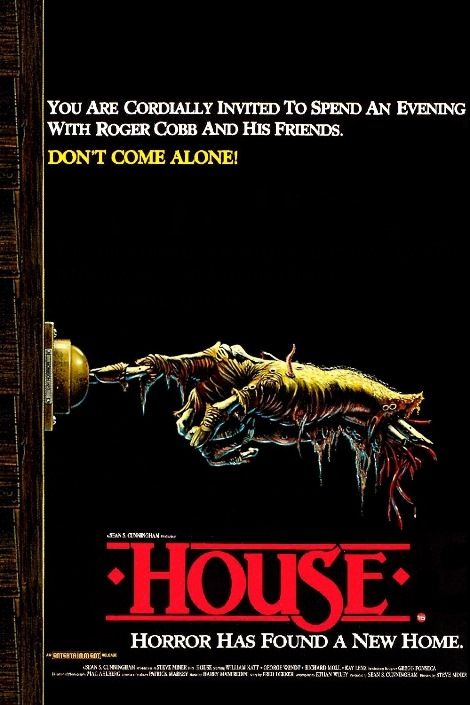 Sve u svemu: 4 / 5

Više o filmu: Imdb.com
Video

Pisac s manjkom inspiracije za svoju novu horor priču odlazi u naslijeđenu staru kuću od svoje preminule rođakinje kako bi u miru mogao raditi i stvarati. Nevolje počinju kada shvati kako u kući nije sam...





Ovaj neodoljivo simpatičan horor film, jedna od uzdanica filmova osamdesetih, djelo je redatelja Stevea Minera, koji je svojim hororcima i nastavcima poznatih slashera ipak obilježio određeno horor razdoblje i stil snimanja. Ukleta kuća koja ne obiluje duhovima, već potpuno drugačijim demonima i nemanima prava je poslastica za ljubitelje hororaca osamdesetih, a meni je na drugo gledanje ostao i dalje besprijekoran predstavnik određene ere i jedan od standardnih zabavnih polu-splatter i polu-humorističnih horor filmova. Iako, valja naglasiti kako u ovoj prvoj instalaciji serijala od čak četiri filma ni nema nešto previše humora, više se možete nasmijati na kreature koje možemo vidjeti, nego na dijaloge i na pojedine scene, kao što to možemo doživjeti u potpunoj komediji House II: The Second Story. Što je možda i bolje, ovo je nekako usporedivo s Evil Dead trilogijom, gdje se ustvari sve više ide prema urnebesu kako nastavci napreduju, no, Evil Dead je po svemu ostalom neusporediv, osim po detaljčićima iz ovog filma koji mogu upućivati na njega sa svojim fantasy elementima i gruesome scenama. Dakle, pisac kojemu fali lova i inspiracija dolazi u kuću pri čemu ga odmah počinju opsjedati halucinacije i sjećanja, kao i vrlo skora pojava demona koji će ga opsjedati kroz cijeli film. Ujna mu se objesila, a on unatoč svim nevoljama ipak nastavlja boraviti u kući, iako bi svaka normalna osoba već napustila ne taj prostor, nego kontinent. No, te sitnice nisu uopće bitne, kada pogledate kako je film snimljen i kakvog je stila, neke rupe u scenariju postat će vam najmanje važne. House je klasik osamdesetih koji je trebao i puno ranije biti spomenut na ovom blogu, no nikada nije kasno.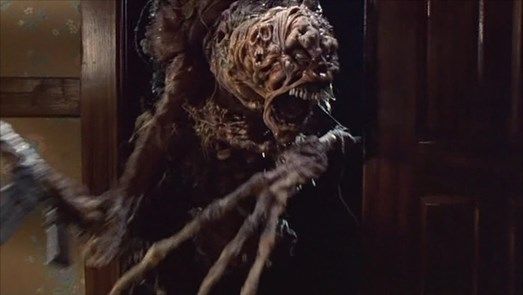 Najsvjetlija točka cijelog filma definitivno su monstrumi koji izgledaju - brutalno. I ne, ne mislim na odlične specijalne efekte i na odlične praktične efekte, nego na simpliciranost oko izrade kostima, šminke i sprava pomoću kojih se neki monstrumi kreću. Potpuni horor fantasy ovdje možemo vidjeti, s onim klasičnim genijalno loše odrađenim maskama i kreaturama, no to je upravo ono što dodaje taj trashy element cijelom konceptu. Kreature kao što su debela monstruozna žena, riba pribijena uza zid, čudovište iza vrata, mrtvi narednik, samo su neki od urnebesnih prikaza s kojima se pisac, inače opsjednut Vijetnamskim ratom u svojim halucinacijama, mora suočavati. Film je jako dobro zaradio, što je i omogućilo izradu nastavaka, a i tematika drugog dijela ponešto je bogatija i raznovrsnija nego u ovom dijelu, no ono što je poanta prvijenca jest da se gotovo cijela radnja odvija u ukletoj kući, tako da je trebalo puno scenarističkih kreativnih stavki kako bi se uspjela zadržati pozornost gledatelja i konstanta u dinamičnosti.




Ljudi koji čitaju blog vjerojatno znaju za ovaj film, a za vas koji ne znate, pogledajte House definitivno ako ste ljubitelj tog razdoblja horor filma, njegova jednostavnost i efektnost neće vas ostaviti ravnodušnima. Teški dah osamdesetih ovdje je prisutan, bez ikakvog odmaka od stvaranja još jednog kvalitetnog žanrovskog predstavnika.