Sve u svemu: 2,5 / 5

Više o filmu: Imdb.com
Video

Misteriozna kuća za iznajmljivanje u Velikoj Britaniji stvara nam četiri priče vezane u antologijski horor film...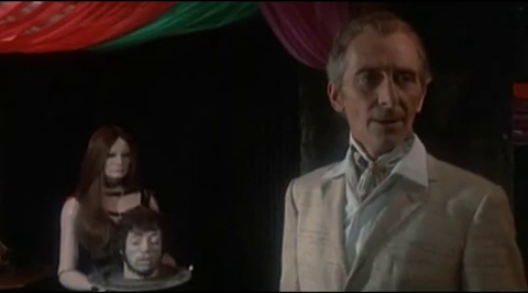 The House That Dripped Blood jedan je od horor omnibusa iz Amicus produkcije, koji na sličan, a opet drugačiji način prepričava četiri ili pet kratkih horor priča zaokruženih u neku cjelinu i oko nekog događaja ili osobe. Od poznatih horor faca ovdje možemo vidjeti Christophera Leeja i Petera Cushinga koji se pojavljuju u određenim pričama, a da sada puno ne duljim, valja znati kako se sve odvije oko jedne starinske velike kuće u kojoj se zbijaju nevolje svakom onom tko u nju privremeno useli, ali doslovno samo privremeno. Okosnica radnje je na inspektoru Hollowayu koji mora otkriti misterioznost oko umorstva glumca Paula Hendersona, a pri čemu mu agent za nekretnine ispriča priču oko četvorice stanara koji su u njoj prije živjeli.

1. priča: Method For Murder

Horor pisac useljava se u kuću sa svojom ženom u nadi da će pronaći inspiraciju za svoj novi roman. Pri pisanju stvara svog horor lika Dominica, poludjelog ubojicu koji mu se počinje ukazivati i u stvarnosti...Ovo je segment koji ima fini obrat na kraju i koji nas sasvim solidno uvodi u cijeli koncept filma. Dobra gluma, antagonist neinventivnog, čak i lošeg izgleda, sve u svemu - solidnjak.




2. priča: Waxworks

Peter Cushing i Joss Ackland dva su prijatelja koji su posjetili neobičan i njima nepoznat muzej voštanih figura, u kojemu nailaze na voštanu figuru žene koju su izgleda obojica prije poznavali...nisam previše oduševljen ovim dijelom, previše se referira na neke starije i poznatije filmove i općenito, što je i negativna strana cijelog ovog filma, ne polazi za inventivnim scenarističkim rješenjima, već se utapa u bezbroj slično koncipiranih djela. Ništa posebno ili dojmljivo.

3. priča: Sweets to the Sweet

Privatni učitelj a.k.a. Christopher Lee dolazi podučavati malu kćer naizgled normalne udovice, no stvari se ubrzo pokažu potpuno suprotnima i neugodnima po učitelja...ovo je zanimljivo osmišljena priča koja je mogla biti i bolje realizirana, ali krije zanimljive dijelove i može se reći kako je ovo od boljih, ako ne i najbolje ispričan dio.

4. priča: The Cloak

Filmski horor glumac Paul Henderson useljava se u kući u ulozi vampira za film koji se snima u blizini. Kupuje crni plašt od nepoznatog prodavača i ubrzo otkriva kako plašt ima vlastitu volju i planove za sve koji ga odjenu...segment koji ima najviše praktičnih efekata i dobre šminke, a dotičemo se i vampirske tematike koja je bila skoro pa neizostavan dio u cjelokupnom konceptu. Priča pomalo s tom kupnjom neobičnog predmeta aludira na Amicusov budući film From Beyond the Grave, a kako sam već i rekao, brojne situacije u ovom su filmu općenito imale svoje vidno uporište na prošlim horor naslovima.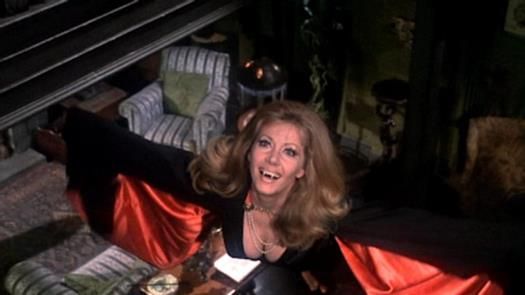 The House That Dripped Blood među slabijim je Amicusovim horor omnibusima, ustvari, jedini slabiji je njihov prvi Dr. Terror's House of Horrors iz 1965. godine. Slabiji ne znači nužno i loš ili nedovoljan, ali za razliku od drugih sličnih filmova, nije za neku pretjeranu usporedbu. Ima ok segmenata, no bili bi zanimljiviji da nisam prije toga pogledao hrpu takvih sličnih scenarija. Moglo je puno bolje, ali opet, moglo je i puno gore.