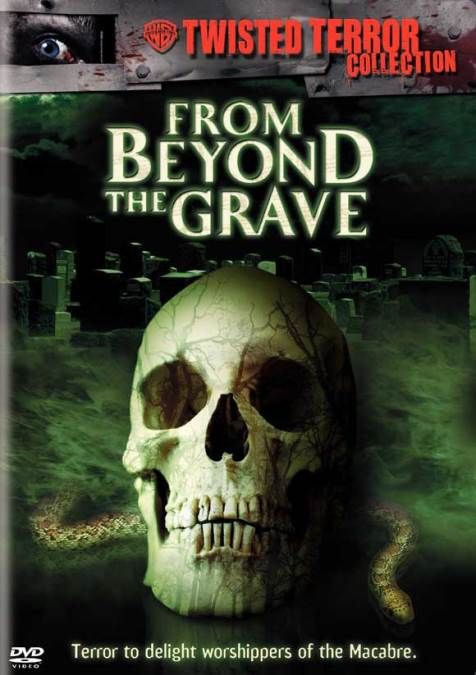 Sve u svemu: 3,5 / 5

Više o filmu: Imdb.com
Video

Antologijski film od četiri kratke horor priče koje se bave britanskom antikvarnicom i njenim misterioznim vlasnikom, kojemu kupci dolaze i svatko od njih k sebi uzme ili kupi naizgled običan predmet...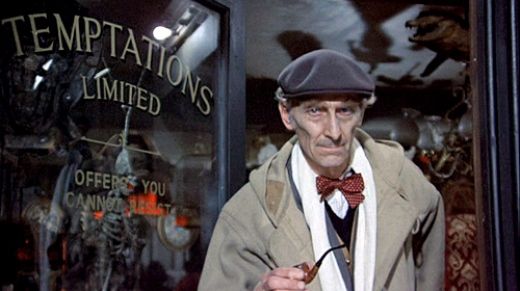 From Beyond the Grave još je jedan horor omnibus, a ujedno i posljednji takav kojega je kreirala Amicus produkcijska kuća, a koja nam je iznjedrila horore kao što su Tales from the Crypt, Vault of Horror, Asylum, Dr. Terror's House of Horrors....pogledao sam gotovo sve Amicusove omnibuse, a ovaj simpatičan film stavio bih negdje u prosjek između ovih stvarno dobrih omnibusa koje smo dobivali šezdesetih i sedamdesetih godina. Peter Cushing, nimalo nepoznato lice u hororima, glumi prodavača antikviteta kojemu dolazi četiri kupca, gdje počinjemo pratiti njihove priče. Ovakav koncept podsjeća me na jednog lika iz Dylan Dog serijala, a riječ je o prodavaču Hamlinu koji ima svoju prodavaonicu umjetnina i antiknih rijetkih predmeta Safara, gdje se također kupcima počnu događati bizarne i smrtonosne stvari. Krenimo redom po pričama:

1. priča: The Gatecrasher

Edward Charlton (David Warner) ulazi u prodavaonicu i uvjerava prodavača kako je ogromno zrcalo ustvari ne toliko vrijedna replika. Donoseći je u stan, i pod nagovorom prijatelja, pravi seansu u kojoj pozivaju duhove, a u kojoj se stvori misteriozan lik iza ogledala koje od Edwarda počne tražiti ljude kao priložene žrtve...segment je kao i svi slični segmenti u tim filmovima, šarmantan i korektan, no ne može se puno više reći za njega. Osim dobrog izgleda duha i pokoje dobre scene i Warnerove glume, ovaj segment nije nešto posebno pamtljiv i napet.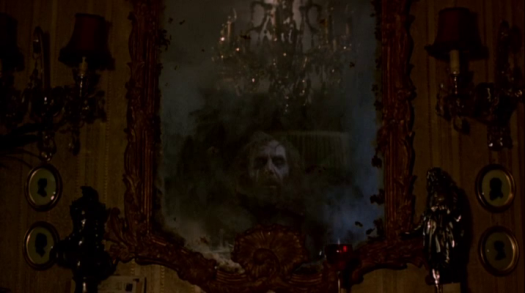 2. priča: An Act of Kindness

Christopher Lowe vodi neskladan život sa svojom ženom i traumatiziranim sinom. Na ulici susreće umirovljenog vojnika koji zarađuje za preživjeti, a Lowe ga krene impresionirati kako je i on bio odlikovani vojnik. Odlazi u antikvarnicu ukrasti vojničku medalju te se vraća hvaliti starcu na ulici, zbog čega ga ovaj pozove u svoju kuću na upoznavanje sa svojom misterioznom kćerkom koja mu izradi lutku njegove žene i nagovara ga da ju izbode...ovo je slojevit segment koji vas u nekoliko navrata obrati na drugačiji tijek radnje, u ulozi starog vojnika vidimo Donalda Pleasancea koji uvjerljivo nosi ulogu, a i sam twist na kraju segmenta odaje kreativnost kakvu nećemo vidjeti u ostalim segmentima filma, tako da možemo čak reći da je ovaj segment i najkvalitetnije realiziran.

3. priča: The Elemental

Reggie Warren pompozni je biznismen koji u prodavaonici mijenja cijene bez nadzora prodavača i uzima tabakeru po jefinijoj cijeni. Vozeći se vlakom kući, sjedi sa ženom koja tvrdi da je vidovnjakinja i da Warren ima demona na svom lijevom ramenu. Nakon što i u prisustvu žene primijeti kako ju je nešto gušilo bez njegove moći i u njegovoj blizini, zove vidovnjakinju da mu dođe pomoći protiv nevidljive stvari koja stoji na njegovim leđima...ovo je priča koja je jednostavna za utjeloviti, ali stvara određenu atmosferu i misteriju koja je kroz simpatičnost vizualnog dojma sasvim pogodna za jedan dobar segment snimljen u ono doba i gledan kroz kontekst vremena.

4. priča: The Door

William Seaton je pisac koji kroz cjenkanje uspijeva kupiti glomazna starinska vrata u dobro nam poznatoj prodavaonici. Donoseći ih kući, žena ga upozorava kako joj se vrata nimalo ne sviđaju i kako nimalo ne pašu uz ostatak interijera, no s druge strane, Seatona jako privlače. U jednom trenutku kako se iza tih vrata nalazi plava raspuštena soba neprijateljski raspoloženog vlasnika...ovaj segment dobro je odrađen po pitanju efekata i na sasvim dobar način zatvara zaokružuje sve priče. Različita je od drugih priča po jednoj zanimljivoj niti koja će se odraziti i u raspletu filma, a po kojoj možemo zaključiti kako Peter Cushing kao prodavač ipak ne želi nauditi svim ljudima.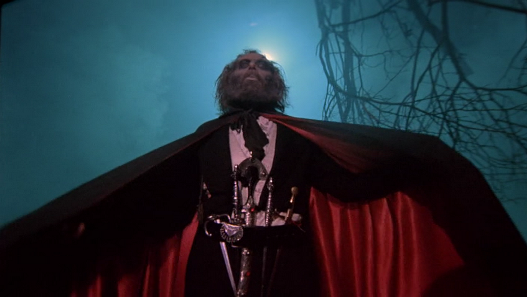 Kako je već i navedeno, posljednji Amicusov horor omnibus zabavno je odrađen film koji je super pogodak za ljubitelje žanra i one koji nemaju problema sa starijim naslovima. Zanimljive priče, par poznatih lica, sve u svemu, sasvim dovoljno iznad prosjeka.