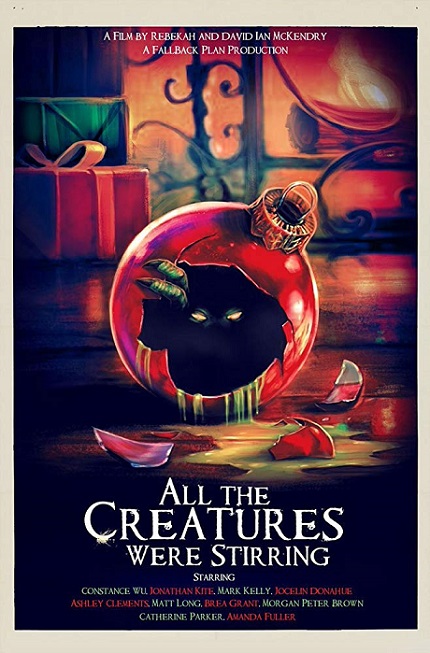 Sve u svemu: 3 / 5

Više o filmu: Imdb.com
Video

Lik i djevojka na prilično neobičnom spoju odlaze u još bizarniji teatar s malobrojnom publikom, gdje svjedoče "prepričavanju" pet užasavajućih božićnih priča...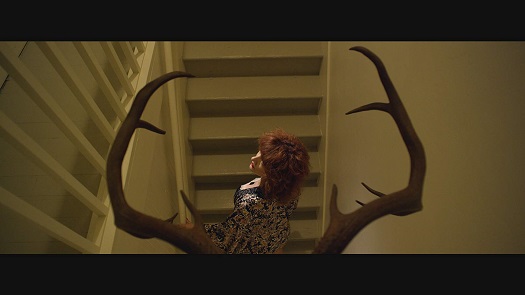 Ne smije proći godina a da pri njenom kraju ne prokomentiram neki novoizašli ili neki stariji božićni hororac. Ove godine horor nema svog pravog božićnog predstavnika, pa se alternative nalaze u niskobudžetnijim, slabo prolaznim ili distribucijski neartikuliranim filmovima, pa sam tako naišao na antologijski božićni horor All the Creatures Were Stirring. Volim gledati omnibuse, a pogotovo kada je riječ o tematskom, holiday omnibusu aka Christmas Horror Story ili Tales of Halloween. Djeluje mi kao prilično low-budget ostvarenje (ne mogu naći podatkte o financijama) koje izgleda kao da je odrađeno na nezavisnoj razini bez ijedne produkcijske kuće. Glavna premisa filma vrti se oko jednog para kako odlazi u teatar gledati naoko bizarnu predstavu gdje glumci uvode u morbidne božićne priče. Nema tu puno komplikacija, standardno za svaki oblik omnibusa, standardni motivi za svaki božićni film. No, dostavljene priče ipak su nešto drugačije od onog što smo navikli, ili su se žestoko trudile da to budu. Upravo zbog tog elementa odlučio sam pozitivno ocijeniti film, jer se vidi značajan trud da se kroz određen oblik crnog humora i jeze dočaraju nekonvencionalne blagdanske strahote.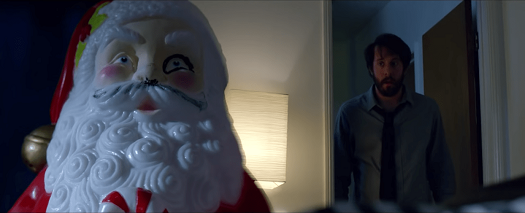 Prva štorija kreće u tipičnom poslovnom uredu gdje su se okupili zaposlenici kako bi međusobno pootvarali božićne poklone. Međutim, ubrzo saznaju kako zamka leži u otvaranju poklona i kako ih je netko zatočio u prostoriji u kojoj se pušta otrovni plin...ova pomalo "sawasta" priča gdje se ekipici obraća osoba i na kraju ih natjera da se međusobno krenu ubijati, s atraktivnim ali ubojitim poklonima nije mi ostavila dojam originalnosti, već dojam nedorečenosti, jeftino je snimljena, glumci su bezveze, sve u svemu promašaj. Zatim, druga priča vrti se oko tipa kojemu se nakon kupovine zaključa auto na parkingu zajedno s mobitelom, te pomoć pronalazi ispitivajući dvije djevojke za poziv. Upit za pomoć se na kraju ispostavlja kobnom jer djevojke imaju u planu riješiti se svoga čudovišta...ne bih baš opisivao detaljno ovu priču, no osim što je napravljena prilično šlampavo, njena premisa je interesantna i solidna, s nekoliko ok efekata. 3. priča opisuje sve samce i hejtere blagdana u vidu tipa koji namćorasto odbija sve na vratima kućnog praga, no koji po povratku u kuću doživljava svakojake halucinacije i pojavu božićnih duhova, kako bi utjecali na promjenu njegovog karaktera...i ovo je teško opisiva priča pošto su sve kratke, no ovdje je za razliku od prethodne priče ideja slaba, ali je realizacija prilično oku ugodna i zanimljivo koncipirana. Četvrta i ujedno i najkraća priča vrti se oko tipa koji je na putu kući udario i usmrtio jelena, a po povratku u kuću njemu i njegovoj ženi isti se taj jelen dolazi osvetiti...brzo(pleto), ok snimljeno, neočekivano. I na kraju, posljednja, a ujedno i najbolja priča, muškarac ne želi nikoga za Božić u svom prisustvu i kada je puni mjesec pa se taman kreće vezati lancima, kada mu u goste iznenada dolaze prijatelji, njega i njegovu djevojku raspametit će neobičnim izrazima lica, gestikulacijama i izvanzemaljskim iskustvima...ovo je jako fora, igra efektima, bojama, nešto alien tematike, sve u svemu ovo je komotno mogao biti samostalan srednjometražni film, baš sam se dobro zaintrigirao za ovakvu sekvencu, odlično!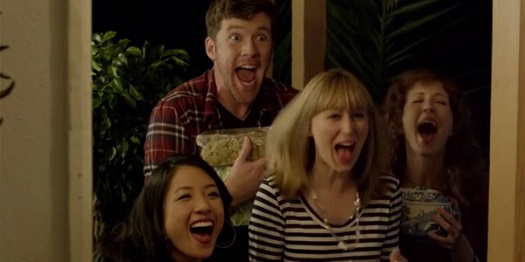 Nakon posljednje priče događa se pomalo očekivan rasplet u teatru, a mi se lagano opraštamo od svih likova. Što reći za kraj i za ovako štur opis (nisam mogao detaljnije a da ne spoilam)? ACWS je zabavan trashy i low-budget horor film s velikim predznakom (crnog) humora koji u većim dijelovima izgleda jeftino, potrošno, blesavo i rupičasto, no najveći njegov plus je trud za originalnošću i želja za nečim drugačijim, što u današnje vrijeme već isprobanih božićnih horora i horor omnibusa izuzetno cijenim. Stoga, slabašna trojka, ali je barem iznadprosječna ocjena. Vjerojatno ćete mi zamjeriti kada pogledate film, ali ovaj sam uradak gledao očigledno nešto drugačijim očima.