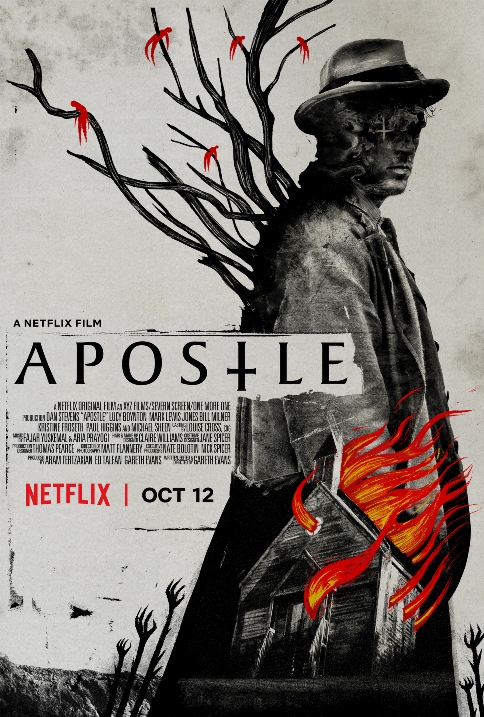 Sve u svemu: 4 / 5

Više o filmu: Imdb.com
Video

Godina je 1905. Thomas Richardson putuje na daleki skriveni otok kako bi spasio svoju sestru, otetu od strane misterioznog religijskog kulta koji traže otkupninu za njen povratak. Što se duže zadržava na otoku, počinje otkrivati jeziva djelovanja i postupke zajednice, kao i ostale zastrašujuće stvari...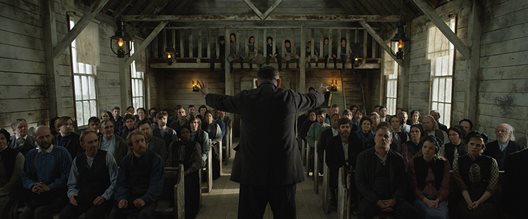 Prilično sam se veselio ovom filmu, primarno zbog jednog razloga: Gareth Evans. Čovjek je to koji je izrodio briljantne filmove Raid: Redemption i Raid: Berandal, a njegov je i najjači segment u cijelom V/H/S serijalu, Safe Haven. Apostle je nekako na tragu po motivima ovom Safe Havenu, riječ je o povijesnom folk filmu koji miješa značajke akcije, trilera, drame i suštinskog, jezivog body horor filma. Iako sam nekoliko recenzija u zaostatku, primarno sam odlučio ovaj film komentirati kako mi ne bi izblijedio budući da nisam pisao bilješke tijekom gledanja, no opet, teško da će mi ovakav film u skorije vrijeme izblijediti. Ovo je nešto potpuno neuobičajeno od onoga što smo mogli naviknuti od Evansa, a iskreno, drago mi je da nisam pogledao trailer (kao što većinom ne gledam) prije samog gledanja, budući da nisam znao što će me dočekati, više akcije i prikazivanja tuča i borbi, više jezivosti ili nečeg trećeg, no dobio sam bućkuriš svega pomalo, a najviše elemenata iznenađenja. Cijelo vrijeme mislio sam da će biti riječ o nekakvoj realnoj i ostvarivoj priči, no međutim, film me u više navrata u prvih pola sata uspio izbiti iz cipela. Kako je radnja prolazila, nisam mogao vjerovati da je film ocijenjen zasad s nižom ocjenom (6,6 na Imdb-u), a takav me osjećaj, iako malo slabiji, držao do samog kraja. Riječ je o vrlo kvalitetno snimljenom povijesno-nadrealnom i brutalnom hororu kojega u svakom slučaju preporučam.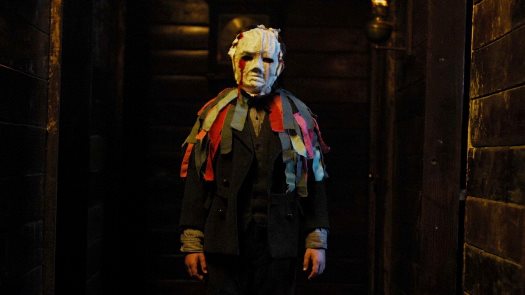 Prvo što mi je zapalo za oko briljantna je fotografija i način snimanja. Redovito impresivni kadrovi, scenografija, kostimografija, atmosfera, hladni koloritet, sve je s tehničke strane napravljeno izuzetno i vrhunski. Također, atmosferu filma upotpunjavaju mini-kadrovi koji se nastoje razlikovati od dosadašnjih, već viđenih aspekata u filmovima. Radnja je može se reći nekakva mješavina The Wicker Mana i The Sacramenta, no daleko, daleko bolesnija i nasilnija. Evans je poznat da u svojim filmovima izvršava neke nečasne radnje, scene koje se većinom baziraju na akcijskim borbama, no ovdje je grafičko nasilje i nasilje općenito odrađeno vrlo sporo, dovoljno da dubinski izazove blago gađenje na viđeni materijal. Nije sada nešto spektakularno gadno, ali je u svakom slučaju neočekivano vidjeti toliko body horora i gorea u njegovim filmovima. No, na sreću, nasilje nije najveći oslonac filma i njegovoj turobnosti, već ovdje ima stvarno svačega - odlični dijalozi (volim to staroenglesko šprehanje), gluma izvanredna, sve pohvale Danu Stevensu i ostalim glavnijim likovima, vrhunska atmosfera popraćena vrlo adekvatnim soundtrackom, a i fantasy elementi su se ovdje ispostavili kao dobrim obilježjem. Ipak, posljednjih pola sata filma možda je moglo biti bolje odrađeno i s možda manje banalnih, gotovo nemogućih instikta za preživljavanjem. Pojedine wtf scene mogu vam narušiti cjelokupan koncept priče, no sve u svemu, surprise elementi kvalitattivno i kvantitativno su pristojno ubačeni. Ono što je najbolja stvar kod filma od 130 minuta je da toliko trajanje uopće ne osjetite, dinamičan je, brzo promjenjiv i neizvjestan te ga okružuju brojne inventivne scene prije kojih jednostavno ne možete znati što će se sada dogoditi i u kojem će smjeru film ići. Spika s religijskim kultovima osobno rijetko kad bude nezanimljiva, a na vama je da otkrijete o kakvim je vjerovanjima i u što riječ.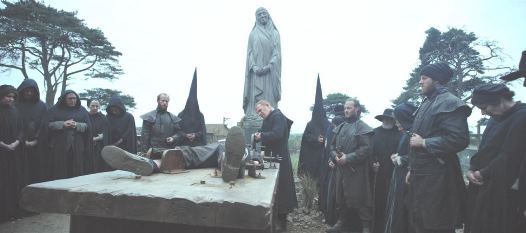 Apostle je meni ispao vrlo dobar horor film s raznoraznim iznenađenjima oko sebe. Istina, ima neke boljke koje stvaraju minorne reperkusije, no gledano na sveukupni materijal - dojam ne može biti loš. Ljubitelji nešto drugačijih horora - obavezno gledanje.