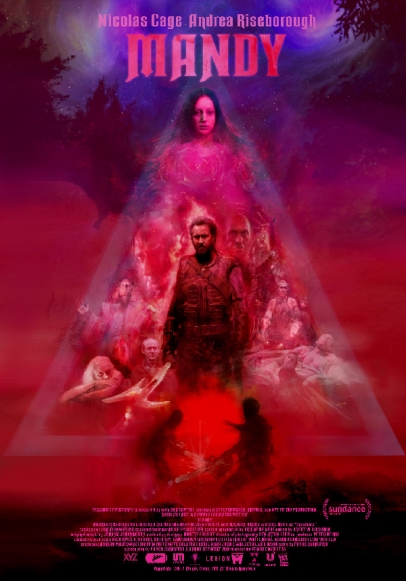 Sve u svemu: 3,5 / 5

Više o filmu: Imdb.com
Video

Životi ljubavnog para na osami u šumi postaju noćna mora jednom kada ih krenu napadati pripadnici uvrnutog i nasilnog kulta, potpomognuti demonskim motociklistima...nakon tragedije, slijedi krvava osveta...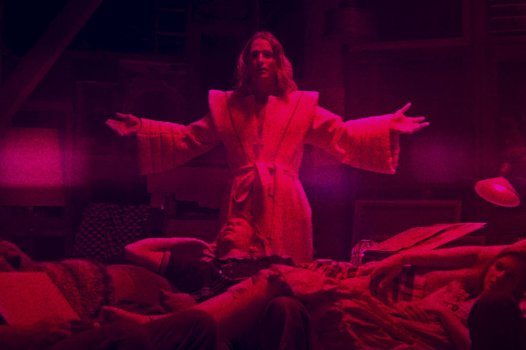 King Crimson - "Starless" otvara film - može li nešto poći po zlu? Redatelj Panos Cosmatos ima iza sebe jedan horor projekt pod nazivom "Beyond the Black Rainbow" iz 2010. godine kojega još nisam gledao, a ove se godine predstavio s okultnim i potpuno tripoidnim hororom predvođenim nezaboravnim Nicholasom Cageom. Mandy je horor pomiješan s brojnim elementima akcije, trilera i drame, s prilično zorno prikazanim krvavim pristupom i nasilnim scenama. Konačno vidimo Cagea u nekom ozbiljnijem projektu, koji je malo više zaživio među njegovim fanovima (ne računajući Mom and Dad te Pay the Ghost) i fanovima horor žanra te koji možda nije plasiran na velika platna diljem svijeta, ali će sigurno s vremenom zadržati kultni status posebnog obola žanru. Cage je ovim uratkom potvrdio da može kad hoće i može napraviti stvarno dobru glumačku epizodu, a u ovom filmu s posebnom atmosferom i upečatljivim stilom kojim je napravljen definitivno to dolazi do izražaja. Mandy je film okultne atmosfere i dojmljivog audio-vizualnog sadržaja, gdje se isprepliću raznorazne igre bojama, glazba osamdesetih, uznemirujuće sekvence s "elesdijaškim" pristupom. Stoga vam ga odmah i preporučam.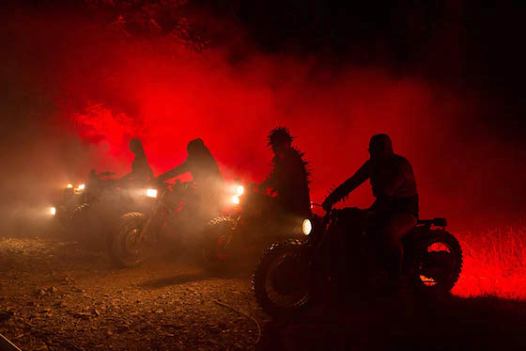 Dosta neobičnosti, osim u načinu snimanja i ostalim navedenim stvarima ima i u zanimljivim dijalozima, ponekim referencama na ostale kultne filmove (Kristalno jezero), kao i demoni na motociklima (Hellraiserovi cenobiti za sirotinju). Nakon sat vremena uvoda i zapleta te određivanja smjera u kojem će film ići, kreće preostalih sat vremena krvave osvete i makljaže, gdje Cage kreće u rampage. Mandy u svim svojim art elementima zna biti i brutalno nasilan te uznemirujuć, s nemalim brojem splatter scena i okrutnih ubojstava, no emocionalno vas film pošteno pripremi u svom prvom dijelu i tjera vas na potpuno suosjećanje s protagonistom, tako da su na taj sugestivan način nastojali ublažiti intenzivnost nasilja gađenja. Iako je film zanimljivo snimljen, zna u određenim trenutcima biti spor, tromiji i dosadniji, pa na momente taj art mashup s makljažom zna biti zamoran i težak. Kraj filma nekako je bio predvidljiv i možda, s obzirom na sve viđeno do tad, nepotrebno konvencionalan.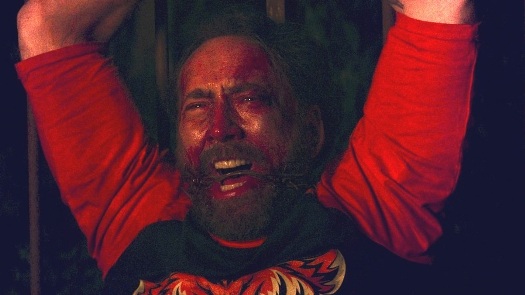 All in all, Mandy je vrlo interesantno snimljen film s odličnom glazbenom podlogom, upečatljivim prizorima i vizualnim eksperimentiranjima, podugačak i povremeno težak (u prvih sat vremena zbog sporosti, u drugih zbog gorea) okultni film. Cage već neko vrijeme nije bio ovako kvalitetan nositelj glavne uloge.