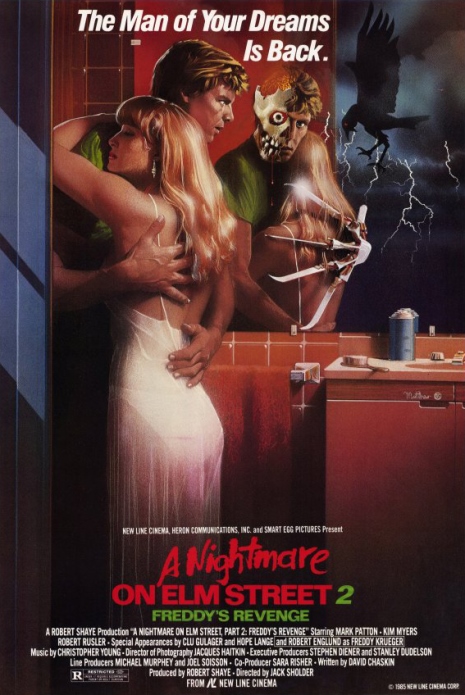 Sve u svemu: 3 / 5

Više o filmu: Imdb.com
Video

Jesse je mladić koji se sa svojom obitelji uselio u kuću u kojoj je prije nekoliko godina živjela Nancy Thompson, Freddyjeva glavna glavobolja...njega također počinju proganjati loši snovi i Freddy koji kroz njegovo tijelo pokušava nastaviti teror u stvarnom svijetu...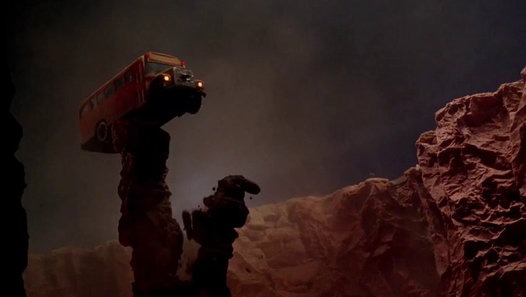 Nastavak kultnog hita uslijedio je već godinu poslije i u globalu zaradio i više nego njegov prethodnik, čemu se Wes Craven nije nimalo nadao, budući da je odustao od pomoći pri realizaciji ovog filma. Redatelja Jacka Sholdera ne možemo previše zapratiti budući da mu se karijera bazira na TV filmovima, no zaslužan je za dva vrlo dobra naslova: Alone in the Dark iz 1982. i vrlo dobar The Hidden iz 1987. NOES 2 posjeduje tu atmosferu koju smo dobili originalom, no na neki način manjka mu maštovitosti i sadržaja koji bi ga mogli približiti kvaliteti prethodnika. Nastavak je dosta slabiji, no po vlastitoj procjeni, malo previše podcijenjen i nepravedno zapostavljen - u njemu nema sad nekih elemenata koji bi ga toliko mogli srozati da mu se daje upola manja ocjena ili da se očekuje veća pljuvačina kritike, no film je i sam prolazio kroz neke kontroverzne tadašnje teme vezane uz sugestivni homoerotski sadržaj prikazan kroz prizmu glavnog lika i nekih njegovih odnosa i ponašanja tijekom filma. Da ne duljim o tome, svakako negiram podatak da je dvojka puno slabija od prethodnika jer to jednostavno nije istina; NOES 2 ima svoje određene kvalitete, i dalje je zabavan, animira te ne podliježe nekim većim oscilacijama od generalne Cravenove ideje i zamisli Kruegerovog svijeta.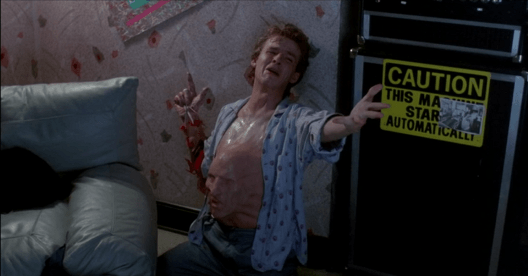 Ovo je prvi i jedini nastavak u kojemu glavnu ulogu ima muškarac, u ovom slučaju Mark Patton, koji je utjelovio nesretnog Jessieja. Njegova obitelj useljava u dobro poznatu kuću iz koje kreću sve naredne nezgodacije vezane za djecu roditelja koji su sudjelovali u Freddyjevoj smrti. Iznenađujuće za mnoge, ali otprilike u prvih pola sata filma ne viđamo niti jedno ubojstvo. Radnja je podosta blažeg intenziteta, no kasnije se stvari polako vraćaju na neku poznatu narativnu liniju. Manje je ubojstava općenito o ovom dijelu, a tome kumuje Freddyjeva želja da zaposjedne tijelo protagonista i preko njega krene ubijati u stvarnom svijetu, pritom okrećući krivnju na njega. Nekoliko snova urezalo mi se u pamćenje još od prvog gledanja prije dosta godina: pakleni autobus koji prevozi školarce i na kraju se nađe na litici okruženoj paklom i vatrom, a vozač autobusa je, naravno, Freddy (prije nego se sazna da je sve to san, Robert Englund se bez šminke pojavljuje kao vozač). Zatim, odlična scena Freddyjevog izlaženja iz Jessiejeve utrobe svakako je potvrdila kako su u drugom dijelu efekti na zavidnoj razini i da se u tom segmentu čak osjeti i poboljšanje, govorimo li o izvjesno većoj svoti sredstava za realizaciju kompliciranijih scena. Masakr i požar na bazenu gdje je hrpetina potencijalnih žrtava pred kraj filma možda je najbolji odraz dvojakosti ovog nastavka: dok su takve scene zapravo zabavne i s dobrom namjerom napravljene, kako bi potaknule dodatnu intrigantnost serijala, mnogi će za te scene, pa i sam Englund reći kako to nije pravi Freddy na kakvoga smo navikli. Tako da, kraj filma na mene nije ostavio baš dobar utisak, makar na simpatičan način nagovještava daljnje borbe i ponovni dolazak Freddyja.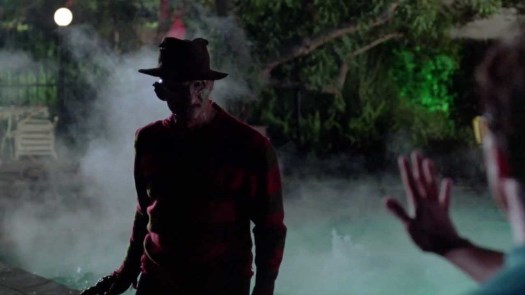 Iako je slabiji od originala, dvojka uopće nije toliko loša koliko ju je kritika (i dio publike) dočekala na nož(eve). Ima podosta više grešaka i mjesta za poboljšanje za razliku od prethodnika, no gledamo li na njega kao na zasebnu jedinku, pružit će vam solidnu količinu zabave i dobro raspoloženog Kruegera, s nekoliko dobrih ubojstava i dojmljivih scena.