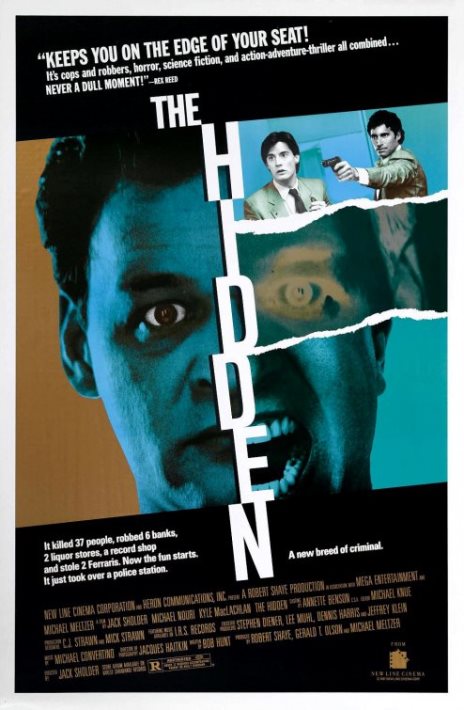 Sve u svemu: 4 / 5

Više o filmu: Imdb.com
Video

Običnu losanđelesku svakodnevicu narušavaju građani koji se čudnim spletom okolnosti pretvaraju u nasilne i natprosječno jake ubojice. Na FBI-ju je zadatak da otkriju uzrok i spriječe katastrofu...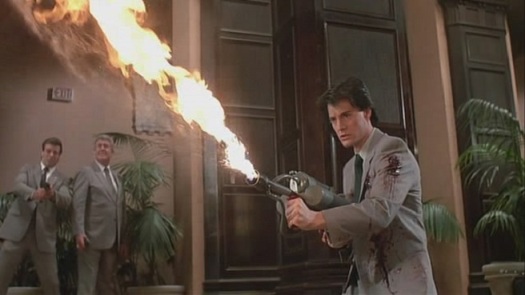 Kakav throwback može prirediti ovaj film. U potpunosti 80's horor film (osim po, logično, godini nastanka) u vama će izazvati sve one nostalgične emocije koje može prirediti nekakav horor, trash ili comedy film toga razdoblja. Usudio bih se čak reći da je The Hidden nepravedno zanemaren kada bi se govorilo o nekim poznatim žanrovskim flickovima osamdesetih, budući da se niti ja u svojim mlađim danima ne bih susreo s ovim filmom, bez da nisam provodio tada dubinsko istraživanje. Uglavnom, da krenemo o filmu: The Hidden je alienovski film prepun 80's vibea u kojem susrećemo i Kylea MacLachana, Michaela Nourija ili recimo Claudiju Christian. MacLachan je bio FBI-jevac i prije njegovog breakthrougha u Lynchovom Twin Peaksu, a ovdje susrećemo i kolegu Chrisa Mulkeya koji je također s MacLachanom glumio u spomenutoj seriji. Osim navedenog vibea, moram naglasiti kako je mjuza u filmu zbilja nešto posebno i savršeno prikladno. S obzirom da se radi o klasičnom proboju izvanzemaljaca među našu vrstu, za očekivati je brojne izmjene domaćina i brojna i brutalna ubojstva, a toga u ovom uratku bome ne nedostaje. U nastavku ćemo reći nešto više o tome.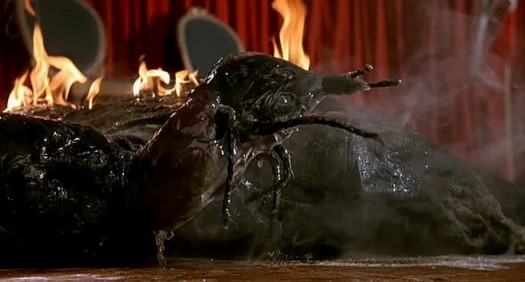 Dakle, obilna kvantitativnost ubojstava ne mora nužno značiti i da je kvaliteta na jednakoj razini, no valja spomenuti kako je ovdje situacija puno plodonosnija: sva ubojstva odrađena su veoma kreativno, nekad na humorističan, nekad na morbidan način, s ciljem da se ne gubi dinamika filma, izvanzemaljac koji traži svog ''domaćina'' u raznim žrtvama koje mu se nađu na putu neprestano je tu kako se ne bi srušila intenzivnost i akcijski aspekt filma, kojega uistinu ima dovoljno. Doduše, nešto blaža radnja događa se između dvadesete i četrdesete minute filma, no nakon toga slijedi raspašoj (neću reći epskih ipak) razmjera. Tu dinamičnost i akciju filma prate i zanimljivi efekti, koji uvelike pridonose preciznom tehniciranju osoblja okupljenog oko filma, a za napomenuti je kako se pogotovo posljednjih pola sata filma (kaos u stanici) vrlo dobro snimilo. Humora nikako ne manjka, no nema ga u onim količinama koje bi narušila ozbiljnost i naraciju filma, no kako se ne nasmijati na pojedine situacije, primjerice one kada jedan od ''domaćina'' izvanzemaljcu bude i pas? Ne može ''osamdesetnije''
Konvencionalnosti nekog SF filma ovdje možemo sresti u izobilju, tako da ne očekujte nekakav drugačiji ishod od tipičnog horor SF filma osamdesetih, no tu konvencionalnost sprječava nemali broj interesantnih i pamtljivih scena.




Ako ste ljubitelj horora osamdesetih, nipošto ne smijete propustiti ovaj naslov, Dale Cooper u borbi protiv minijaturnog, ali ubojitog izvanzemaljca? Samo to nam treba. Plus, vidim da postoji neki Hidden II iz 1993., al po svim parametrima pari na nešto ultra loše, no jednoga dana i tome će se (valjda) dati prilika.