Sve u svemu: 2,5 / 5

Više o filmu: Imdb.com
Video

Petoro studenata odlazi snimiti dokumentarni film na temu Dyatlov Pass Incidenta, događaja koji je u ruskim planinama ostao neobjašnjiv nakon smrti devetero planinara. Stvari se jako kompliciraju kada počinju shvaćati što se uistinu tamo dogodilo 50 i nešto godina prije...




Stigao je kod mene na red i ovaj found footage film rusko-američke produkcije, koji se istovremeno bavi i istinitim događajem. Da vam sada ne opisujem detaljno što se to zapravo dogodilo, ukratko, 1959. godine skupina od devetero ljudi prenoćila je kod mjesta Dyatlov Pass okruženi snijegom i planinama. Posebna je stvar što su svi pronađeni mrtvi i pod hipodermijom, no međutim, gotovo nijedna žrtva nije umrla od posljedica smrzavanja, a nekima je falio i jezik, polomljena rebra su imali, šatori su rasporeni iznutra itd...nešto više pročitajte o tome jer je stvarno zanimljiv i po mnogim teorijama neobjašnjiv incident. Dakle, imamo film koji je snimljen u obliku dokumentarnog filma, gdje u principu prvih 45 minuta nemamo ništa od horora, nego većinski upoznavanje s radnjom, uvodna snimanja i pojašnjavanja realnog incidenta, intervjuiranje likova i upoznavanje s protagonistima. Redatelj Renny Harlin nije neupoznat s horor žanrom, imao je on filmove poput četvrtog dijela Elm Streeta, Duboko modro more, remake Exorcista iz 2004., a što se tiče planinskih tematika, jedan od najpoznatijih svakako je njegov Cliffhanger sa Stalloneom. Moram priznati da sam daleko više očekivao od Harlina, kao i od same realizacije ove istinite priče, no, ispalo je nažalost da je Devil's Pass (ili Dyatlov Pass Incident, kako hoćete) zapravo meko, neizglancano i suviše banalizirano djelo koje posjeduje hrpu rupa, neadekvatne glume i bezveznih rješenja.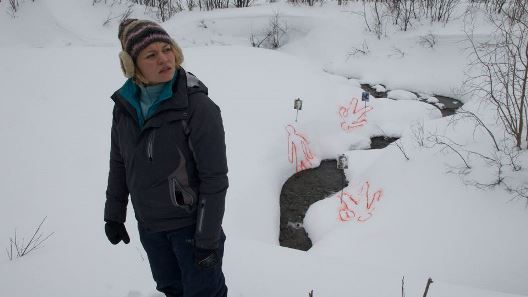 No, da ne ispadne da je sve ispod prosjeka, dotaknut ćemo se prvo pozitivnih dijelova: OK dijalozi u prvih 45 minuta stvore nam dojam prave zanimacije prema filmu i što bi se moglo dalje događati, što nećete zapravo moći pogoditi da ste ne znam kakav filmofil, što je opet dobar element iznenađenja. E sad, to što će se vidjeti kasnije, dobro je po nekoga, po nekoga ne (spadam u potonju skupinu). Stvaranje napetosti primjećivanjem tragova i laganim početkom zapleta događaja film je odlično uobličio, no, kad je vrijeme da se realizira potpuna profesionalnost u dijelovima filma koje je teže snimiti, tu sve počinje opadati. Prvo, osvrnut ću se na glumu: dok su prolazni tijekom mirnijih scena, u akcijama se primijeti slabost ekipe koja glumi, ne mogu se nositi s emocijama koje moraju ispoljiti, a scenaristički, oni prežive masivnu lavinu (?), svađaju se kad netko od njih umre i shvaćaju to jako nonšalantno (jako se osjeti krivo izražavanje), a i jedan od njih je reagirao na namještanje vanjskog prijeloma noge kao da se pecnuo na ringlu...mislim, znate i sami kako bude kada vam loši glumački potezi pokvare cjelokupan dojam filma i to ne u malim količinama. Što se efekata tiče, u akcijama nailazimo na stvarno brojne primjere kvalitetnih efekata (teleportacija je odlična), no, ni neki efekti nisu uspjeli spasiti ubojitu realizaciju nekih stvari, gdje se pritom u svemu tome gubi i horor element. Kraj film ostavlja nam dobar twist koji nažalost ne uspijeva popraviti dojam u globalu, ali, nekako su se uspjeli izvući sa svim kuršlusom kojeg su napravili pri sredini filma.




Kako je pola filma ok, pola ne (problem je što je ključan dio filma lošiji), takva je i ocjena - polovična. Devil's Pass me prilično razočarao te sam očekivao veću ozbiljnost pri izradi suštinskog dijela radnje, a ne žurbu, nonšalantnost i prebrzu realizaciju samo da se eto, pokaže što se smislilo kao ideju, a ne i kako će se ta ideja primijeniti na ekran i na gledatelje. Odlična istinita priča, ali (ispod)prosječna realizacija.