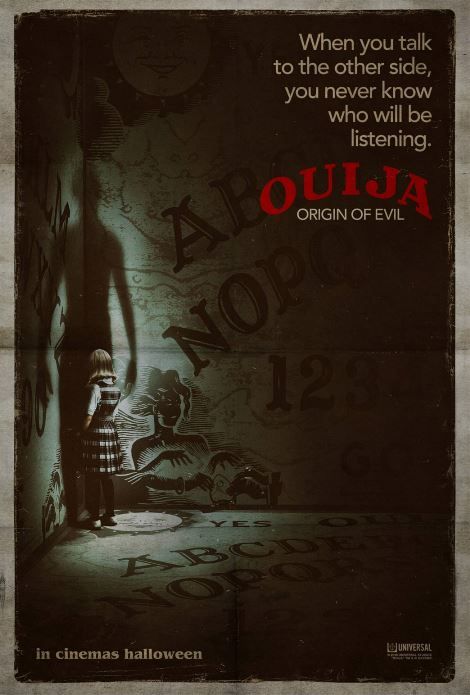 Sve u svemu: 2,5 / 5

Više o filmu: Imdb.com
Video

1967. godine u Los Angelesu majka s dvije kćeri prakticira seanse kojima omogućuju klijentima da stupe u kontakt s preminulima. Uvodeći nove metode u seansu u vidu Ouija ploče, obitelji se kreću događati nevolje kada pozovu zlo u svoju kuću...




Za ovaj prequel filma iz 2014., Ouija, zaslužan je redatelj Mike Flanagan, čovjek kojemu je 2016. godina produktivnost u vezi pravljenja horor filmova zbilja na visokom nivou. Ove nam je godine priredio Hush, Before I Wake i sada ovaj film, a svaki od njih stavljen je u preporuke za najbolje horor filmove ove godine. Je li to zato što je ova godina u hororima siromašnija ili zato što je ponudio stvarno neki novitet u vidu horor filma, prosudite sami. U svakom slučaju, zanimao me drugi dio Ouija priče, nakon gotovo pa užasnog nedjela Stilesa Whitea. Dakle, riječ je o povezana dva filma, gdje se likovi isprepliću u situacijama koje će 50 godina komplicirati stvari u obitelji Zander, a u ovom prequelu gledamo obitelj koja vara pozivima duhova klijente i na taj način zarađuje. Prilično dramatičan film u početku, koji se razvija u horor film prepun cimalica koje se gotovo ne pojavljuju u prvih 40 minuta filma. Iako film baš ne odiše nekom atmosferom i posjeduje, naravno, previše stvari koje smo već mogli vidjeti, puno je bolji nego njegov prethodnik. Flanagan ima osjećaj za napraviti poneke inovativne stvari i pomiješati ih s klasičnim horor segmentima, no ovo mu je, po meni, najslabiji uradak ove godine budući da Ouija 2 ipak ne odmiče toliko od ostalih predstavnika žanra, iako je kvalitetom snimanja vidno kvalitetniji.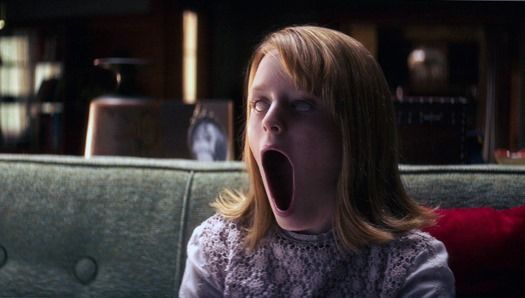 Samo povezivanje priče dostojno je napravljeno, pazilo se na neke detalje, a čak ima i dojmljivih scena koje povezuju dva filma, no ono što je izlizano jest postepeno narativno napredovanje jeze, dakle, ne postoji nikakav odmak od 'zadane' formule u stvaranju scenarija i razvitka priče. Opsjednuta djevojčica najbolja je pojava u filmu, odlično ju glumi mlada Lulu Wilson, zapravo, obje sestre odlično su pristupile ulogama, dok ih recimo scenaristički klišeji i rupe ne natjeraju da neke dijelove odglume neautentično u skladu s ozbiljnošću situacije. Film krase dobri efekti koji stvaraju raznorazne pojave, utvare i deformacije lica koje možete vidjeti na slikama te se može reći da film po tom pitanju parira s originalom, no to je nekako očekivano budući da je prvi dio režirao majstor specijalnih efekata. Postoje klasične scare fore kao što su one s ogledalom, neprestano korištenje već viđenih scena u ghost filmovima i predznanje kada će vas nešto pokušati uplašiti, no opet, ima tu i dobrih šema, tipa nekih dijelova sa svećenikom i nekih osvježavajućih prizora. Jedna stvar je možda bila presudna za moj dojam o filmu, a to je da nas se posljednjih par godina žestoko bombardira s ghost horor filmovima, pogotovo u kinima te sam mišljenja da bi Ouija 2 puno bolje prošao (među publikom, ne financijski) da je napravljen par godina prije naleta sličnih filmova.




Neočekivano praisanje kritike prema ovom filmu iznenadile su me, budući da je moj dojam nešto slabiji, iako je točno što kažu kako je puno bolji od prvoga i kako je postao član onih rijetkih filmova kojima to uspije. No, iako je bolji od prvog, i dalje imam dosta zamjerki na odrađeno. Da su oklonosti drugačije, pogotovo one vanjskog tipa, Ouija 2 ostavio bi mi još bolji dojam, ovako, riječ je o prosječnom ghost hororcu, boljim od mnogih, ali ima i boljih.