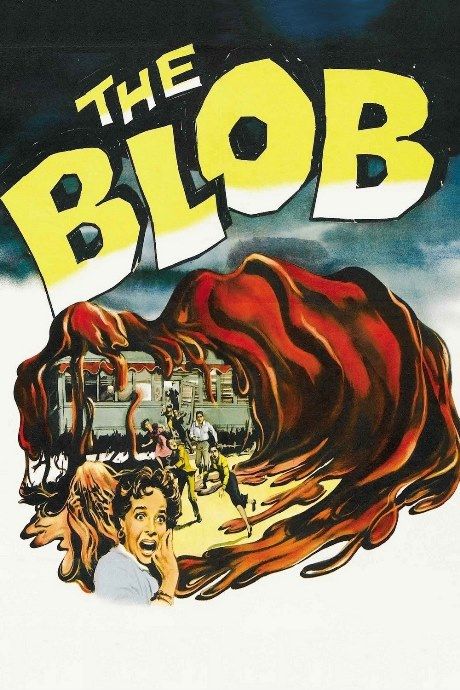 Sve u svemu: 3,5 / 5

Više o filmu: Imdb.com
Video

Bljesak na nebu strmoglavio se u šumu pored gradića, iz čijeg se meteora razvila tvar koja raste sve više i više, dok proždire sve ljude na koje naiđe...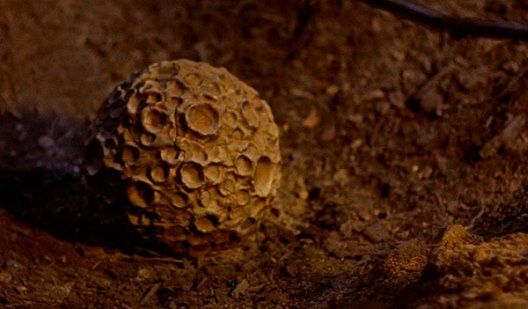 E, da...i Steve McQueen bio je jedan od onih mladih glumaca koji su svoje dugogodišnje uspješne karijere započeli u horor filmu u glavnoj ulozi. Njemu se kao 27-godišnjaku pružila prilika da glumi u filmu The Blob, horor SF-u u punokrvnom smislu, koji nam, vjerojatno ste već upoznati, predstavlja prilično neobičnog antagonista - ljubičasto-crvenu želatinu koja postaje veća s obzirom na prehranu, a taj alienovski oblik u stanju je napraviti veliki kaos te ga je jako teško ubiti, a na prvu izgleda jako sporo i bezopasno. Napravljen u ono doba i u onakvim prilikama, Blob je film koji izgleda prilično impresivno. Tvar koja predstavlja izvanzemaljca rijetko se pojavljuje u fokusu scene, no i ono malo pojavljivanja pokazuje da su tada specijalni efekti dobivali svoje prve zamahe i prve važnije korake, stoga, kapa dolje za precizno i odmjereno prikazivanje antagonista i u pravim prilikama. Mlađoj generaciji gledatelja sigurno će nešto prisniji biti istoimeni remake filma napravljen 30 godina poslije, 1988. (kao što je recimo i meni), a što se nastavaka tiče, postoji i jako slabo znani sequel iz 1972. godine pod nazivom Beware! The Blob. Original je donio mnogo publike horor žanru, jako je poznat u tim krugovima i stekao je kultni status, gdje se još i dan danas brojni umjetnički radovi referiraju na ovo djelo. Istina, za današnje standarde - niš' posebno film, ali, stavimo li film u kontekst vremena, dobit ćemo uistinu impresivan SF uradak.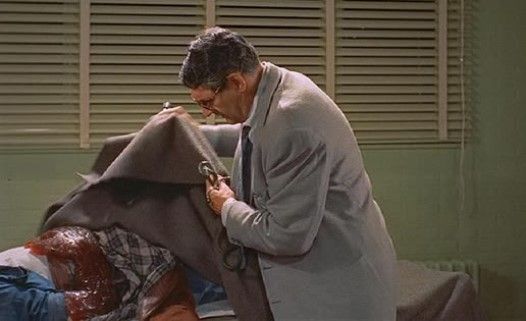 Monster i SF horori pedesetih predstavljaju jednu neobičnu masu filmova - naizgled trashy, jeftini, bez financijskih moći za nekim kvalitetnijim kadroviranjem aspekata snimanja, postali su sinonim za zabavu i opuštanje te su kinematografi tada gorjeli u potrazi za prikazivanjem takvih, naizgled B filmova u kompletu parova, pa je tako Blob išao u kombinaciji s I Married a Monster from Outer Space, a postigao je nešto puno više od dotičnog.
Steve McQueen i ostala banda glumaca i likova nisu ništa posebno, zapravo, može se reći kako su neki od tih likova, iako tipični za bilo koje horor filmove, nekako nedorečeno napravljeni i bez puno poveznica, pa stoga i McQueenov karakter pati od te boljke. Sama pojava Bloba u gradu vrlo je dobro odrađena, proždiranja žrtava nisu skoro uopće prikazana, što čini razliku između ovog filma i remakea, gdje se splatter scene serviraju skoro svakih 10-ak minuta, a što možda i više paše tematici filma nego možebitno pretjerano komuniciranje i stvaranje nekih bespotrebnih dijaloga. Da, u filmu se puno priča i na neke trenutke kao da se zaboravi na užas koji se nalazi negdje vani, a teme o kojima se govori u krajnju su ruku trivijalne i bespotrebne, no opet, postoji i određena količina intrigantnih dijaloga i nekih zanimljivih doskočica i zaključaka. Brojne zanimljive scene dižu film i omogućuje vam da se zabavite dok ga gledate, ne računajući na McQueenov mačizam dok glumi srednjoškolca s punih 27 godina. Krajnji dio filma rezultira očekivanim raspletom scenarija.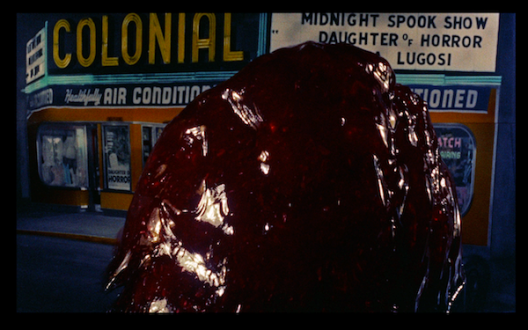 Originalni Blob je, koliko god mi bio interesantan i zabavan, slabiji prikaz od remakea. Takva vrsta SF hororca zahtijeva hrpu splatter i, ako već ne splatter, dinamičnih scena sa živinom, no ovdje to nisam dobio u očekivanoj količini. Iako, ne uspoređujući ga ni sa čim, Blob je vrlo dobar predstavnik žanra i neizostavan je za sve horor ljubitelje. E sad, tko će se laćati originala ili remakea, na njemu je. Možda najbolje da pogledate oba pa da sami prosudite, a nastavak iz 1972.? To će doći poslije, poslije, poslije...