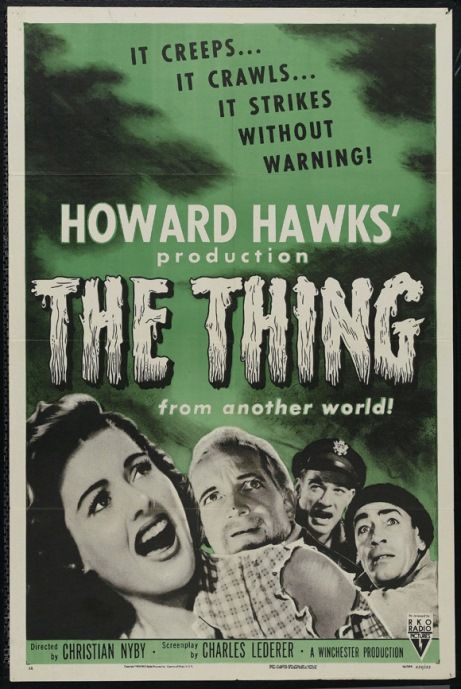 Sve u svemu: 4 / 5

Više o filmu: Imdb.com
Video

Američki znanstvenici i vojnici dobivaju poziv iz baze Sjevernog Pola, gdje primjećuju na radaru neobične kretnje "meteora". Ubrzo saznaju kako se moraju nositi s bićem koji nije s ovog planeta, a kojemu je potrebna krv kako bi preživio...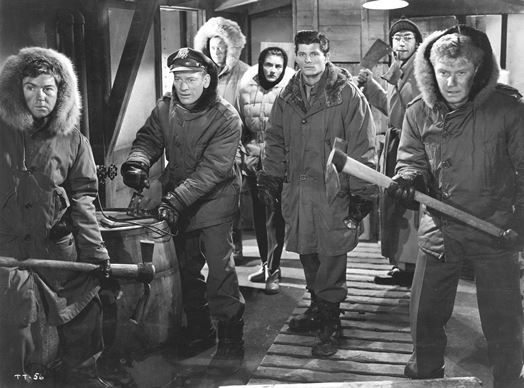 Film baziran na priči "Who Goes There" autora Johna Campbella iz 1938. godine, The Thing from Another World (dalje u tekstu TFAW) prvi je ekranizirani prikaz te novele, drugi je Horror Express iako s drugačijom izvedbom, treći daleko poznatija Carpenterova verzija The Thing iz 1982. te njegov remake iz 2011. godine. TFAW crno je bijeli film u režiji Christiana -Nybyja, no u nekim se slučajevima spominje kako je ustvari cijelim filmom dirigirao Howard Hawks, dok postoji i kolorizirana verzija, no htio sam se svakako posvetiti originalnom obliku. Odmah da napomenem, Carpenterov Thing više je približen sadržaju novele i tamo se pojavljuje, kao što znamo, stvor koji može promijenili oblik u bilo koje biće koje pojede, dok u TFAW nemamo takav primjer, već je riječ o visokom čovjekolikom organizmu kojemu je potrebna krv, a ustvari, ima sastav biljke i biljnih rodova, pa se čak i u filmu spominje termin "Super Carrot". Glumac James Arnes kaže kako mu se nije svidjelo to kako su ga napravili u kostimu aliena, a bome, to moram reći i ja koji sam običan gledatelj: alien ovdje, unatoč godini snimanja filma i svemu ostalom, najslabija je karika cijelog filma. Moglo se puno više oko njega potruditi, što od izgleda, što od njegovih akcija prema članovima posade, pogotovo kada shvatite činjenicu da skoro nijednom članu posade nije naštetio. No dobro, dosta spoilanja, važno je za reći kako je ovo bio uspješan film koji je među prvima koristio neke inovacije u svijetu filma, a koji je, na kraju krajeva, imao mnogo impresivnih trenutaka i ostao je kao takav upamćen među horor ljubiteljima.




Kako je već rečeno, čudovište se slabo pojavljuje i izgledom podsjeća na Frankensteina, nema neke veće akcije skoro 50 minuta filma (a traje sat i 20), i film se ne bazira toliko na horor elemente uopće. Ipak, dugi dijalozi i inteligentna opuštenost likova tijekom cijelog filma i njihova istraživanja stvaraju određenu napetost i uznemirenost, pogotovo kada ga gledate u crno bijeloj verziji, stoga, thumbs up za dio oko stvaranja atmosfere. Isto tako, efekti u filmu su veoma dojmljivi i snažni za taj period te se svakako može reći da se ovaj film stavlja na vrh monster attack horora pedesetih. Razlog pasivnosti tijekom većine filma nije mi poznat, možda se više pažnje posvećivalo pametnim dijalozima, koji uključuju nevjerojatnu opuštenost glumaca i mogućnost uživljavanja u stvaranje interesa o tome što ćemo točno imati priliku vidjeti u nastavku. Postoje i neke legendarne i pamtljive scene kao što je otkrivanje "okruglosti" NLO-a, paljenje aliena (inače i prvo "paljenje" stuntmana u filmu ikad) i naravno, bilo kakav let aviona ili baza na Sjevernom Polu.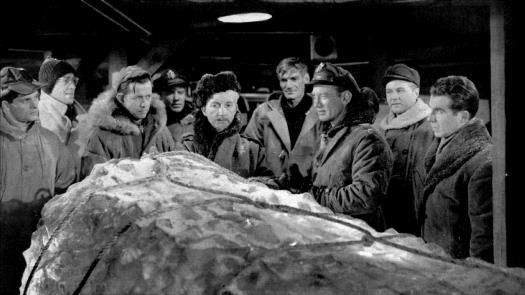 Iako za današnje parametre pomalo i smiješan, TFAW bio je snažan predstavnik žanra pedesetih, a ostao je, kako vidite, jednako jak i danas, kada dobiva svoje remasterizirane verzije i nakon 65 godina. Najjači je ipak završetak filma koji i ostavlja onaj finalni utisak, gdje novinar pučanstvu na kraju govori: "Keep watching the skies". Ljudi i dalje gledaju.