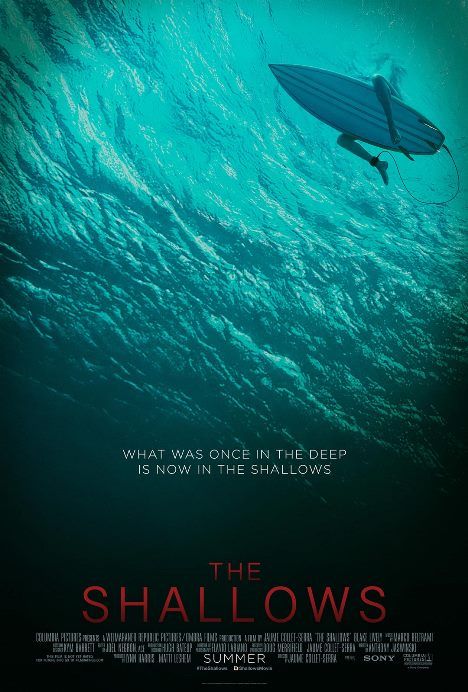 Sve u svemu: 3 / 5

Više o filmu: Imdb.com
Video

Surferica Nancy odlazi na meksičku zatomljenu plažu, gdje nema puno ljudi, ali je priroda prelijepa, kako bi uživala u krajoliku i naravno, surfala na valovima. 200-injak metara od obale bijela morska psina napada ju i ne da joj povratak na sigurnost, što će Nancyjino opuštanje pretvoriti u borbu za život ili smrt uz puno izdržljivosti...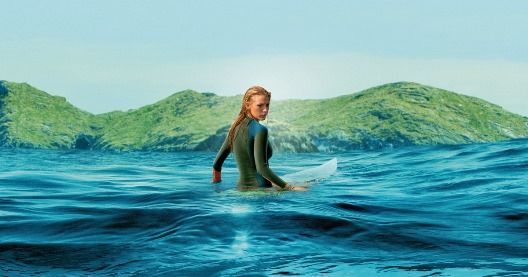 Eto nam nakon nekog vremena stagnacije shark horor filmova (govorim o onim mainstreamskijim, Asylum production uvijek će imati takve filmove na lageru), shark horor film koji je završio i u kinima. I itekako mu se isplatilo kino - zbog dobrog marketinga, a dijelom i zbog Blake Lively, mlade glumice koja je odlična protagonistica u filmu, film je zaradio brutalan iznos novaca i potpuno izvan mojih očekivanja, postao jedan od unosnijih animal attack filmova u posljednje vrijeme. To mi je očito znak da shark filmovi ne izlaze iz mode kod publike, iako moram priznati da osobno nisam naročiti ljubitelj monstruma iz vode, jezera ili oceana, prosto zato što nisam baš nailazio na kvalitetne uratke ili one koji bi kod mene ostavili snažniji dojam. Što se tiče Shallowsa, ovdje imamo pokušaj inovativnosti u ne tako tipičnom scenariju, gdje zapravo samo 200-injak metara od obale nesretnica mora izvući živu glavu, budući da ju okružuje i neprestano vreba veliki morski pas. Srećom, dotična ima medicinskih sposobnosti i fakultet medicine pa se stoga u slučaju ekstremnih situacija može ponešto bolje snaći od običnih "smrtnika". Kako je sve to ispalo? Sveukupno, nakon toliko pozitivnih komentara, ostao sam čak i pomalo razočaran. Recimo, Reef je film koji mi je ostavio bio bolji utisak, o Deep Blue Sea ne moram ni govoriti, no Shallows bih stavio tu negdje od filmova 21. stoljeća, na treće mjesto. A ispod njega bome ima puno, puno filmova.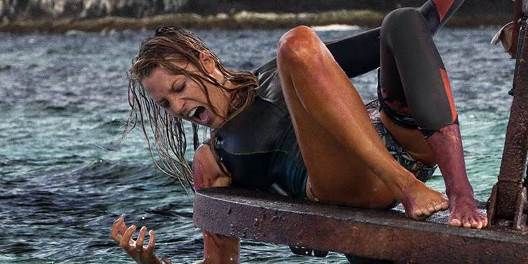 Vizualno, film je uistinu dojmljiv. Prekrasna američka priroda ni ovoga puta nije izostavljena iz kvalitete opreme koju je ekipa posjedovala, a mora se priznati ni da digitalni morski pas i ostale prikaze nisu loše napravljeni, sve je, što se vizualnog departmenta tiče, pogođeno. Nadalje, prava radnja počinje nakon nekih 20 minuta, kada Blake ostaje sama na plaži, barem sama što se ljudi tiče. Nakon toga možemo gledati ozljeđivanja, ugrize, borbe sa sunčanicom, potragu za hranom, prebacivanja s raznih grebena...i sav taj minimalizam solidno je upotpunio minutažu filma, iako se mora priznati da sam ovdje naišao na podosta 'ulickanih' trenutaka, onako, imate osjećaj kao da stvarno gledate film snimljen u bazenu, što je u nekim scenama i bio slučaj, na trenutke se možete izbaciti iz sve te napetosti, a pogotovo zato što znate kakav će ishod više manje biti u ovakvim filmovima. Blake Lilvely stvarno je impresivna ovdje, glumica puna potencijala i ljepote ovdje je maksimalno dobro odradila svoju ulogu i može se reći da kvalitetno nosi film prema svom kraju, koji je, btw, očekivaniji od debakla izbora u Hrvatskoj 2016.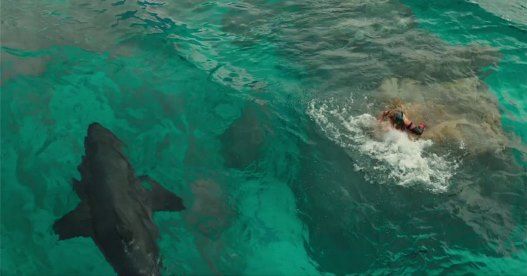 Kada bi se sve zbrojilo, The Shallows je ipak dobar film koji ima svoje mane, ali dopušta vam da se unesete u njega i tih sat i pol (i manje) dijelite sudbinu i gubljenje živaca s glavnom glumicom. A morski pas kao morski pas, ovdje se čak i slabije prikazuje nego u drugim filmovima, uvijek će biti povoljna tematika survival animal filmova, samo je stvar dokle će scenaristi imati originalne ideje. Shallows je u tom smislu negdje pogodio, negdje promašio.