Sve u svemu: 2,5 / 5

Više o filmu: Imdb.com
Video

Antologijska priča o svjetskim blagdanima i praznicima, gdje se okupilo osam redatelja koji će prepričati svoje hororične verzije određenih datuma...




Stigao nam je novi omnibus ove godine, ovdje je riječ o zanimljivoj ideji skupljanja svih poznatih i komercijalnih praznika i blagdana u jedan film, i okupilo se tu impozantnih osam priča od osam različitih redatelja. Bez neke uvodne i završne priče, mnoge će možda zbuniti ovakav koncept filma gdje se samo kreće udarno s prvom pričom, nastavlja na drugu i tako sve do kraja, bez neke priče koja povezuje sve njih skupa, na što smo navikli gledati u horor omnibusima. No, ovaj je recimo malo zastranio u vidu ABCs of Death serijala, a nudi nam osam priča kroz koje ćemo kratko proći u nastavku. Kako mi se svidio Holidays? Prilično mlak i nedorečen film. Pati od hrpe klišeja i nemogućnosti dovršavanja priča na kvalitetan način, no iako nismo naišli na kaotičnost od previše priča, omogućuje vam da kako krenete gledati novu priču, tako polako i zaboravljate dijelove pogledanih segmenata, tako da, možete pretpostaviti o čemu pričam, mlakost i nezainteresiranost redatelja da u potpunosti dočaraju priču gledateljima. Zanimljiva je stvar što od osam segmenata, u čak šest žene imaju dominantnu ulogu, pa čak i u segmentu posvećenom muškarcima, Očevom danu. Idemo redom:

1. Valentine's Day:

Prva priča projekt je dviju osoba koje su već radile zajedno na hororu Starry Eyes, a riječ je o Kevinu Kolschu i Dennisu Widmyeru. Kupačice na treningu ugnjetavaju povučenu curu koja se boji skoka u vodu, a koja je zaljubljena u njihovog trenera. Slijedi osveta klinke, a od pamtljivih scena, tu je scena na kraju sa srcem u rukama. Prilično mlak segment koji nema nikakve pozadine, smislenog konteksta i zaključka, sve je nekako predstavljeno ofrlje.

2. St. Patrick's Day

S druge strane, St. Patrick's Day nešto je posebno i potpuno drugačije. Pomalo pretjeran i previše bizaran, govori o povučenoj učenici u školi koja na dan svetog Patricka magijama učini svoju učiteljicu trudnom, koja je to toliko čekala. No, s čime je zatrudnjela, bolje vam je da sami vidite. Segment sadrži dojmljivo snimanje i ok scene, tribute Dannyju Zukou, ultra neobičan rasplet i morbidnost na max. Sve u svemu, ajd, ok, al pretjerano. Redatelj je Gary Shore, kreator Dracula Untolda.

3. Easter

Nicholas McCarthy (The Pact, At the Devil's Door) donosi nam uskršnju priču o majci koja kćeri u krevetu govori kako će joj tijekom noći doći zec i ostaviti joj poklone, na što malena počinje ispitivati skeptična pitanja. Tijekom noći odlazi popiti vode i bome će imati što vidjeti. Ovaj segment je najjači jer sadržava brutalnu kreaturu koja je pola zec, a pola Krist, a ovaj pomalo opskuran segment završava nažalost nepregledno i ne previše jasno, ali mi se svidio antagoist i ovo je možda najbolje iskorištenih 15 minuta od svih segmenata.




4. Mother's Day

Opet imamo udruženje dvaju redatelja, ovoga puta u women power Ellen Reid i Sarah Adina Smith kreiraju Majčin dan. Žena koja uvijek uspije nakon odnosa zatrudnjeti dobiva preporuku od ginekologinje da se zaputi na osamu kod žena koje su infertilne i da tamo sudjeluje u neobičnom obredu. Nije to trebala napraviti. Ovo je baš bezvezan segment kojega se najslabije sjećam. Loše.

5. Father's Day

Očev dan režirao je Anthony Scott Burns, a riječ je o prilično deprimirajućem segmentu gdje djevojka nalazi snimak u kojemu joj otac govori zašto ju je napustio i gdje ga može pronaći, nakon što pronađe ovaj snimak. Ona putuje prema njemu i sve što ćemo dalje vidjeti je prilično nejasno, konfuzno i na kraju krajeva, gdje je tu horor? Dobili smo dramu popraćenu blagom uznemirenošću, ali no, nije ovo horor priča. Dobra strana segmenta - gluma Jocelin Donahue.

6. Halloween

Najpoznatiji od ovih redatelja, Kevin Smith, dostavio nam je priču za halloween koja to uopće i nije. Tipično njegov način režije i opskuriteta dosegao je novu razinu, torture ovdje doživljavamo na visokoj razini, no, užasna kvaliteta samog segmenta i nedorečenost daje vam mogućnost da se nimalo ne uživite u njega i da se smijete svemu što vidite, slično je napravio i sa Tuskom. Pimp dolazi do svojih djevojaka koje planiraju odustati od takvog života i nakon njegovog odbitka, budi se s vibratorom zakačenim u guzici, a koji je prispojen na daljinski. Daljnje zahtjeve djevojaka neću govoriti, ali, sve u svemu, Smith je u horor svijetu ponovno razočarao, ili uspio nasmijati, kako god hoćete.

7. Christmas

Popularni Seth Green ukazuje nam se u božićnom segmentu, kojega je režirao Scott Stewart, inače redatelj s par dobrih i solidnih filmova, Dark Skies, Legion ili Priest. Ovdje glumi oca koji ne uspijeva kupiti božićni poklon sinu, naočale koje projiciraju stvarnost iz našega uma. Na prilično nehuman način ga se domogne i sve što bude dalje vidio putem naočala neće mu biti milo. Ovo je segment napravljen u nekom polu-pozitivnom tonu, no ideja me se nije previše dojmila. Valjda zato što smo se nagledali toga i prije.

8. New Year's Eve

Posljednji segment donosi nam Adam Egypt Mortimer, redatelj filma Some Kind of Hate. Ovaj dio ima čak i mali twist, koji je, iako već viđen, napravljen solidno i zabavno. Riječ je o serijskom ubojici koji putem online datinga upoznaje svoje žrtve, no, dogodit će mu se da će upoznati osobu jednaku sebi. Poanta cijelog segmenta je - nemojte dateati online!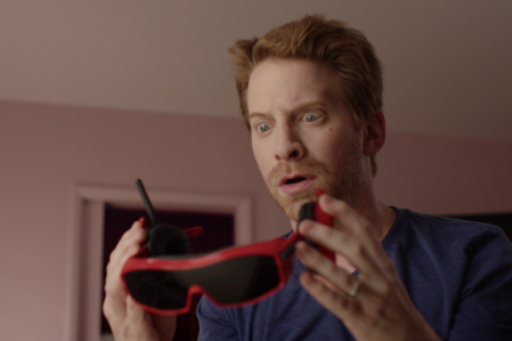 I to je to, prolete vam segmenti a da se ni ne okrenete, no, jeste li išta zapamtili, je li vas nešto dotaknulo, potreslo, je li vas se nešto dojmilo? Nažalost, dobili smo omnibus sa super idejom i s ponekim ok segmentom, ali jednostavno, Holidays je film koji nema izričaja niti stav. Moglo je biti deset tisuća puta bolje.