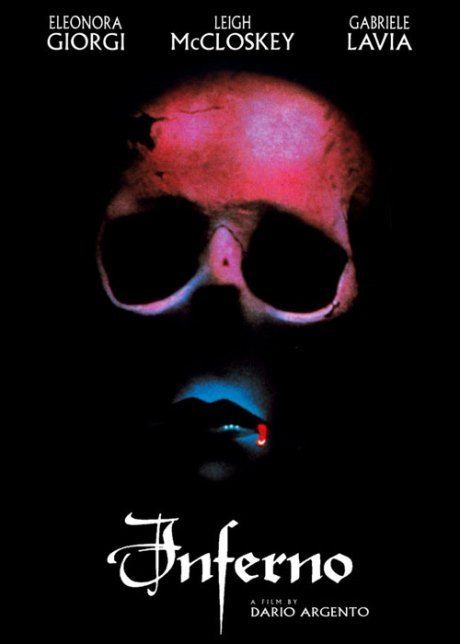 Sve u svemu: 3,5 / 5

Više o filmu: Imdb.com
Video

Američki student u Rimu i njegova sestra u New Yorku pokušavaju istražiti neobična ubojstva u njihovim mjestima, gdje se sumnja na postojanje vještica...




Može se reći kako je ovo sequel filma Suspiria, redatelja Daria Argenta, koji je odlučio posvetiti se ekraniziranju priče o trima vješticama (majkama), gdje se u ovom filmu radi o drugoj vještici, Majci Mraka (Mater Tenebrarum). No, nije sve tako jednostavno niti na papiru niti u opisu filma, sve što vam mogu reći je da su ovi filmovi nelaki za opisati, stoga se valja posvetiti toj tematici prije nego se posvetite čitanju mog komentara. Stoga, da ne radim veliki uvod, krenut ću s opisivanjem filma i stvarima oko njega. Dakle, tri godine nakon odlične Suspirie Argento se odlučio iznjedriti i drugi dio, koji, iako manjka u kvaliteti nasprem prethodnika, manjkao je podosta i na kino blagajnama, stoga je Argento doživio probleme s novcima te je morao obustaviti snimanje trećeg dijela, stoga se vratio slasherskom žanru i tako izbacio 1982. godine Tenebre, koji se osim naslova, koliko sam shvatio, nikako drugačije ne vezuje uz spomenutu trilogiju. Unatoč financijskom flopu i lošijim kritikama, Inferno je s godinama postao kultan horor film i po mnogim top listama nameće se kao konstanta. Njegov nešto "svijetliji" pristup nego kod Suspirije ponudio je automatski i ponešto drugačiju atmosferu nego u prethodniku, ali i solidne poveznice u kojima se može vidjeti suodnos među antagonistima i radnji općenito (jedan off-the-record primjer može biti isti glumac taksiste iz oba filma, kao i ogroman pljusak dok traje vožnja u taksiju), dok jedan službeni primjer nećemo navoditi jer ćemo spoilati radnju. Sve u svemu, Inferno je slabiji od Suspirije, to je istina, no i dalje je jedan zabavan i napet predstavnik filmova okultne tematike, gdje se u odličnoj atmosferi nastojala pružiti kvalitetna jeza, s povremenim nasty dijelovima i odličnim soundtrackom.





Argentovi miljenici iz art rock grupe Goblin i ovdje su pružali veliku pomoć po pitanju glazbe u filmu, no tko je tu kome pomogao u karijeri, diskutabilno je, no to je sasvim nebitno. Uz rock mjuzu, primjetna je i učestala pojava opere u raznim sekvencama filma, što dodaje nekakav poseban štimung filmu. I ovdje se može vidjeti standardno dobra Argentova pažnja za detaljima, gdje su kadrovi pažljivo snimljeni te se obraća pozornost na simboliku dijelova scene, što je svakako uvjerljivo i dosljedno napravljeno. S druge strane, iako se od početka filma naredalo podosta kvalitetnih scena, moram priznati da je film u nekim dijelovima monoton. Postoje neke neuvjerljive scene koje nisam mogao provariti tako lako, na trenutak vas natjeraju da izađete iz filmskog koncepta i da postanete svjesni kako je to sve zapravo jedna velika fikcija, a takvih scena, složit ćete se, ne smije biti ili ih barem mora biti u minimalnom broju. Akcijske scene filma slične su Suspiriji, ne toliko jasna drmanja kamere, prilazi detaljima, krupni planovi, izmjene planova i tako iznova i iznova, što izaziva određenu efektnost i jezu tijekom radnje. Primjer odlične scene koja će mi ostati upamćena svakako je mrtvo tijelo u vodi na početku filma, gdje se napetost može doslovno rezati nožem. Primjetno je da Argento voli koristiti životinje kao simboliku u svojim djelima, tako ovdje možemo vidjeti ne tako nebitne scene sa mačkama, mravima, štakorima...sve ono što može pomoći pri rješavanju ili pri približavanju otkrića zagonetke o okončavanju vještičine moći. Rasplet filma veoma je efektivan i pomaže pri poboljšanju cjelokupnog dojma o filmu, no, neću puno komentirati krajnji ishod.




Uvjerljivo slabiji od prethodnika, Inferno bi se kao jedinka mogao stvarno smatrati jako kvalitetnim uratkom kojemu nedostaje ipak nešto uvjerljivije atmosfere u nekim dijelovima, kao i eventualno nešto više dinamike, i uvjeren sam kako bi bolje prošao tada. No, to sada nije ni bitno, bitno je da sam se i dalje dobro zabavio proučavajući filmove o trima vješticama i istraživanju okultnog, filmovi kojima btw nisam nikada bio nešto oduševljen, odnosno njihovom tematikom.