Sve u svemu: 4,5 / 5

Više o filmu: Imdb.com
Video

Lionelova majka, prosječnog i običnog čovjeka, zarazila se prilikom ugriza sumeranskog majmunolikog štakora u zoološkom vrtu, nakon čijeg se ugriza njeno tijelo počelo raspadati te je nakon privremene smrti počela gristi svako živo biće koje se oko nje nalazi, izazivajući invaziju zombija...




Peter Jackson poznat je po svojim trashy hororcima krajem osamdesetih i tijekom devedestih, prije nego je postao redatelj najuspješnije i po meni najbolje filmske trilogije ikada. Tako smo 1992. godine dobili ni manje ni više nego po mnogim kritikama jednog od najzabavnijih zombie horrora ikada - Dead Alive aka Braindead. Ugrubo se uistinu mogu složiti s tom titulom, budući da smo ovdje dobili mnoštvo splatter scena, gotovo najviše ikada u horor filmu + vrludajuće zombije i raznorazne zanimljivo osmišljenje kreature. Prisutnost komedije u filmu je očigledna i crni humor Petera Jacksona povezan je s nemjerljivo ogromnom količinom krvi, organa i svakojakih alata i situacija u kojima se mnoštvo zombija kolje i gdje oni kolju, veoma jednostavna radnja prerasla je u tako ogroman projekt - upravo ono što većini horor i splatter fanova treba - dajte nekakav novi film tipa Deathgasm i definitivno ćete se dobro provesti, kao i nova Ash vs Evil Dead serija, no o tome nekom drugom prilikom. Novi Zeland je dobio još jedan od svojih crnohumornih horora, odnosno, svakako je jedan od pokretača ne toliko respektabilne, no među horor fanovima svakako poznate ''scene''. Groteskni prikaz parade koljaže i neprestane akcije duplo je dinamičnija verzija nekih od Romerovih ili Raimijevih uspješnica koji su svakako utjecali na kreativni trenutak stvaranja ovog filma. Jacksonov ponajbolji film, a definitivno najbolji horor u karijeri.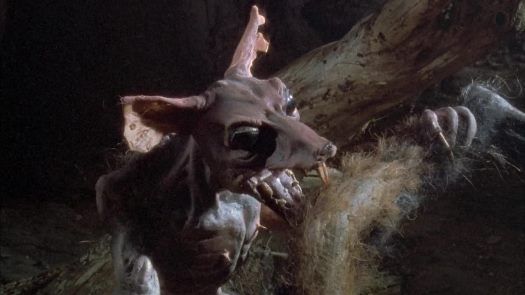 Ne vrijedi pretjerano izdvajati scene u ovom djelu, većina ih je praktički priča za sebe i o kojoj se može diskutirati izvjesno vrijeme, uz veliku dozu humora, gađenja i naizgled amaterističkog pristupa koji je upravo sam po sebi film učinio jako zanimljivijim. No, da se riječ ''amateristički'' ne shvati doslovno, valja napomenuti publici koja nije gledala film da je svaka scena veoma pomno isplanrana, upravo zbog stvaranja posebne atmosfere koja kruni ovaj film, a ta je da je gotovo svakih 3-4 minute nekakva krvava scena, napravljena na stopostotan zabavan način, toliko je jurnjava i gruesome scena da će nekima to postati čak i monotono, što sam i znao pročitati po mišljenjima određenog dijela publike, no meni je to izazvalo upravo suprotan efekt - trebao mi je film koji će me u tom trenutku neprestano podsjećati da sam išao pogledati nešto što će me natjerati da pustim mozak na pašu i da uživam u svakom pogledu viđenog. Neki shitty efekti namijenjeni su da budu takvi, a oni koji nisu, odrađeni su u veoma simpatičnom tonu, gdje se možete, ukoliko ste slabijeg želuca, pošteno namučiti da nešto iz vas ne izađe, budući da stvarno možemo vidjeti svačega, no, ponavljam, u humorističnom tonu što čini film lakšim štivom nego što bi to bili neki uistinu uznemirujući horori. Nisam siguran je li Deathgasm ili Braindead film koji je odnio pobjedu po količini krvavih i scena sakaćenja, no mislim da je čak i nemjerljivo o tome pričati, kada se po nekim trivijama film smatra najkrvavijim ikada, gdje je korišteno više od 300 litara lažne krvi.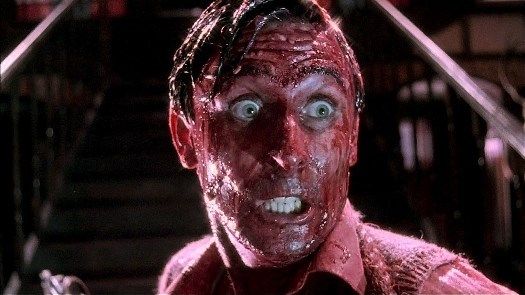 Mislim da nije potrebno otkrivati vam osobne najdraže i najupečatljivije scene, mislim da je ovdje svaka scena drugačija za svakoga i da će je svatko drugačije prokomentirati. No, mišljenja sam da se ovom djelu morate okrenuti i svakako ga pogledati, kao što sam ga ja sada drugi put, što zbog bloga + što sam se morao sjetiti nekih urnebesnih scena. Posvetite se ovom klasiku i splatter remek-djelu.