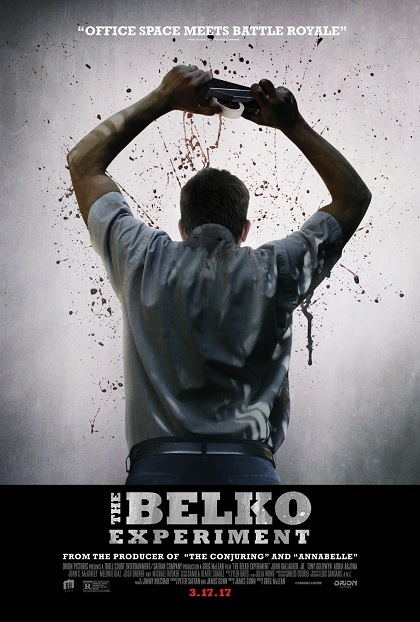 Sve u svemu: 3 / 5

Više o filmu: Imdb.com
Video

U potpuno uvrnutom društvenom eksperimentu, 80 Amerikanaca zatvoreno je u korporativnoj zgradi u Kolumbiji, gdje im je naređeno od strane nepoznatog glasa na spikerfonu da sudjeluju u smrtonosnoj igri gdje moraju ubijati ili će biti ubijeni...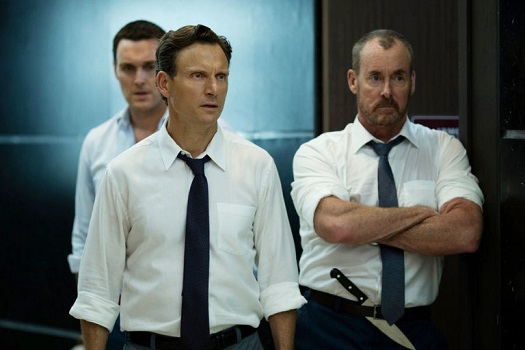 Belko Experiment djelo je Grega McLeana (The Rogue, Wolf Creek 2, Darkness iste godine) i scenarista Jamesa Gunna (Slithers, Thir13en Ghosts), a kao što je navedeno, riječ je o akcijskom triler hororcu sa zanimljivom premisom i hrpom likova (inicijalno 80 no 10-ak najreprezentativnijih), koji sasvim običan dan na poslu u korporativnoj zgradi neželjeno pretvaraju u masakr, nakon što im se javi misteriozan glas sa spikerfona koji im naređuje postepeno uklanjanje vlastitih kolega. Vjerojatno vas ova priča asocira na neke naslove poput Battle Royale, Killing Room, Exam ili Cube, a tematika ubojitog socijalnog eksperimenta uvijek može biti interesantna i kvalitetna ako se dobro odradi. Na početku se upoznajemo s nekoliko likova, a ubrzo kreće blindiranje zgrade i javljanje spikera koji naređuje postepeno ubijanje, počevši od ubojstva dvoje kolega unutar pola sata. Naravno da se na sve načine pokušavaju izvući i odbijati zadatak, a zatim shvatite da su doslovno "prisiljeni" odraditi sve zadatke, inače će i sami klikom jednog gumba biti ubijeni (detaljnije neću spoilati). Vjerojatno ćete se nakon gledanja filma pitati zašto su ljudi uopće i pristajali na takve oblike poslova, no stanje u Americi je takvo da raditi bilo kakav posao za zdravstveno osiguranje uopće nije neobično, pa tako i ovdje to poprima određeni realitet. Kako je izveden Belko Experiment? Na pola puta zadovoljavajuće, nekako kako sam i očekivao.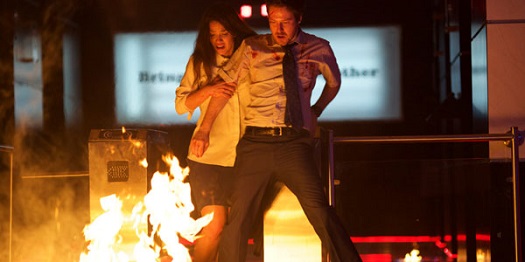 Kaos nastaje kada se broj leševa po naredbi mora povećati, a tenzije između likova rastu - dobivamo podjelu ljudi po karakterima, snazi, ludosti te se počinju dijeliti u grupice, moralisti i oni koji pod svaku cijenu planiraju preživjeti itd. Dobra akcija koja u nekim trenutcima je totalno nelogična, suluda i blesava, što se moglo i očekivati, kao i nemali broj glupih odluka pojedinih likova, makar se nalazili u nezavidnoj situaciji. Ovo po svojoj vokaciji zapravo i nije horor film, iako posjeduje brojne krvave scene i ubojstva, no kad bismo gledali suštinski, nije to nešto čega ćete se uplašiti, već više uznemiriti, no isto tako se možete uznemirite na brojne borilačke, kriminalističke filmove i serije, tako da je prefiks horor žanra ovdje stavljen čisto u funkciju same radnje i ideje da su to radili drugi ljudi ostalim ljudima. Film ovakve radnje ima bezbroj opcija da ne potone u nekakvu monotoniju, a to se ovdje uspješno i prenijelo - film je konsntatno zabavan i dinamičan te su ubojstva i neke scene ganjanja i skrivanja odrađene bez ikakve doze dosade ili manjka interesa, no isto tako hoda po klizavom terenu kada se kraj neke akcije, dijela priče ili zapleta događaja mora na adekvatan način uokviriti, tu nastaje problem koncepta i manjka ideja i kreativnosti te stoga film odlazi u prekomjernu nebulozu. Likovi i glumci su dobri te je sasvim ok odrađen taj dio, osim što Johnu Gallagheru Jr. nimalo ne pristaje uloga glavnog lika. Nažalost, film je i neslavno završio s blesavim krajem, no pohvaljujem premisu same završne scene koja može otkrivati i mogućnost nastavka, makar o tome još uvijek nema nikakve riječi.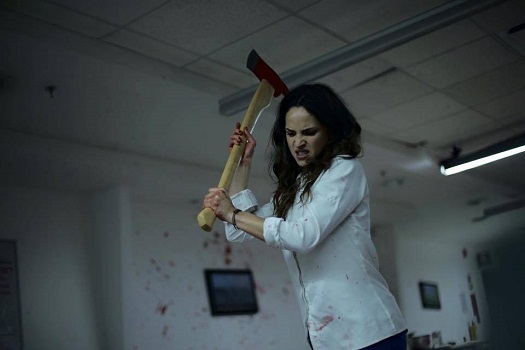 Da sumiramo, Belko Experiment je dobar i zabavan akcijski film, s naglaskom na triler puno više nego na horor, tako da zapravo nisam ni bio siguran koliko da ga komentiram ovdje (što zbog i manjka vremena), no riječ je o, ako ništa drugo, dobrom i pomalo blesavom te mindless mayhem filmu.