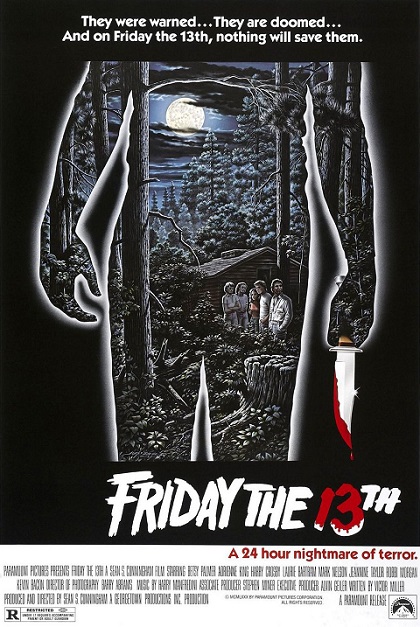 Sve u svemu: 5 / 5

Više o filmu: Imdb.com
Video

Dosta godina nakon dva ubojstva koja su se dogodila u kampu Crystal Lake nakon čega se zatvorio, mladi ljudi nastoje ga oživjeti i ponovno otvoriti za djecu i školarce. Međutim, na petak 13., leševi će se ponovno početi skupljati i nestajati jedan po jedan...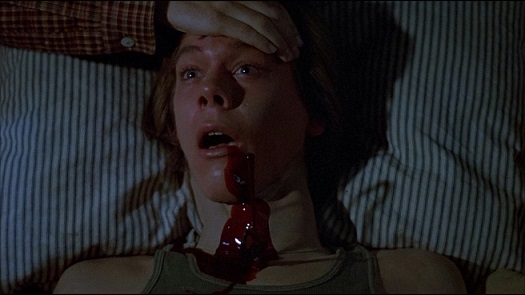 Došlo je vrijeme da revidiram recenziju kultnog hororca i da nakon 11 godina preuredim recenziju te naravno, iz velike želje nakon toliko vremena ponovno pogledam film, a možda i cijeli serijal. Friday the 13th apsolutni je klasik za kojeg zna populacija od 8 do 88 godina, neprikosnoveni car podžanra slashera i jedan od najutjecajnijih žanrovskih filmova uopće. Naravno da ne moram puno duljiti o činjenicama oko filma, dobro je poznato da je serijal od 10 nastavaka, jednog remakea i jednog spinoffa te brojnih dokumentaraca, video igara pa čak i serije iznjedrio jednog od trojice najpoznatijih predstavnika fiktivnih serijskih ubojica, Jasona Voorheesa. S obzirom da svi koji čitate ovaj blog vjerojatno znate otprilike timeline kako je ovaj serijal napredovao/nazadovao te ste sigurno upoznati s konceptom prvog filma. Dakle, ubojičin nagon za ubijanjem (u prvom dijelu je ubojica misteriozan do samog kraja filma) nikako nije bezrazložan ili bez povoda, no tijekom cijele radnje ne uspijevate dokučiti je li riječ o nekom od likova koji se tijekom filma prikazuju (a ima ih nekoliko sumnjivih) ili je riječ o sasvim desetom liku. Ovom filmu to je dalo određenu who-done-it napetost koju većina slashera zapravo i nema, pogotovo iz toga razdoblja, što je uvelike učinilo priču zanimljivijom i intrigantnijom. Ne vjerujem da vam moram puno duljiti što ja mislim o ovome filmu, dovoljno će vam reći sama ocjena i moja dječja zaluđenost serijalom, kada sam kao klinjo snimao sve nastavke s TV-a na VHS i ispregledao ih mali milijun puta.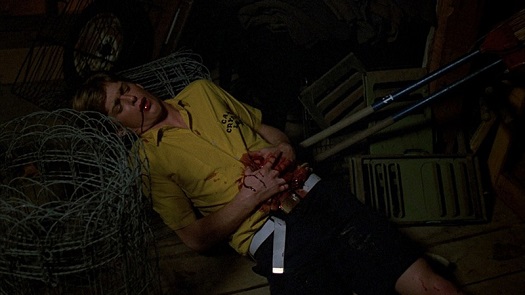 Koncept ovog slashera, iako naravno sadrži brojne dobro poznate karakteristike filma sa serijskim ubojicom, ipak se znatno razlikuje od svega što smo vidjeli prije i svega što ćemo vidjeti nakon njega. Njegova atmosfera, napetost, manjak ambijentalne glazbe i misterioznost stvaraju fantastičnu platformu punu neke blage, ali konstantne jeze, neizvjesnosti i pravog horor štiha s početka osamdesetih godina. Insipiracija za film poslužila je od strane talijanskog poznatog giallo filma "Ecologia del delitto" iliti Bay of Blood iz 1971. pod režijom Maria Bave, tako da u Petku 13. možemo vidjeti nemali broj značajki pravog talijanskog slashera, prije nego li ga je Amerika popularizirala ovim filmom. Tu su čak i ruke Toma Savinija (glavnog čovjeka za make-up u brojnim hororcima, pa tako i u ovom), što može implicirati na talijanske slashere Daria Argenta, gdje on također koristi svoje ruke kao ubojičine. Nadalje, moram pohvaliti odabir glumaca (koji su kasnije postali svjetske zvijezde poput Kevina Bacona) i razradu likova; za razliku od brojnih slashera i ostalih horor filmova iz tog razdoblja, likovi su zanimljivi, nenametljivi te im se nije dalo prostora da rade previše loših odluka tijekom sukobljavanja s ubojicom što je dodatno dalo radnji na ozbiljnosti, a nisu ni isforsirani, iritantni niti, da prostite, izdrkavaju s glupostima i nelogičnim potezima. Film je vrlo zabavan te jako brzo prođe jer se sve odvija koncizno, precizno i vješto snimljeno, bez ikakvih suvišnih zadržavanja, pretjeranog zaplitanja priče i konfuznih momenata. Uz brojne pamtljive scene, nikako se ne smije zaboraviti ona čuvena na samom kraju filma, koja nagovještava kako će se Friday the 13th otisnuti u nove filmove, sa sada već dobro poznatim antagonistom.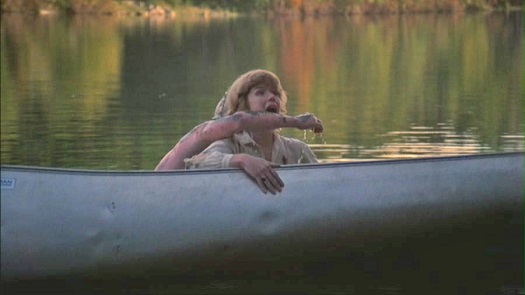 Vjerujem da takav čitatelj ovdje ne postoji, no ako slučajno da, pogledajte Friday the 13th, cijeli serijal naravno, ali obavezno barem prva tri dijela, čisto da vidite razvoj jednog od najvažnijih horor filmova uopće, a konkurencija mu baš i nije tako mala. Vjerujem da ću u svakom razdoblju života jednako uživati u ovom (za mene) ingenioznom projektu.