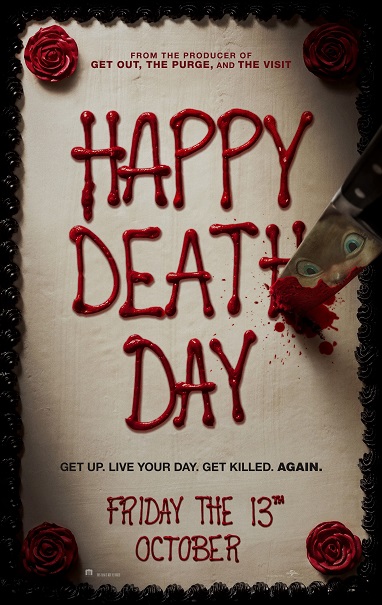 Sve u svemu: 3 / 5

Više o filmu: Imdb.com
Video

Djevojka se iz nekog razloga neprestano budi na istome mjestu na dan svog rođendana, nakon što bude na više načina ubijena. Ponavljanje njene sudbine na isti će se način događati sve dok ne otkrije identitet svoga ubojice...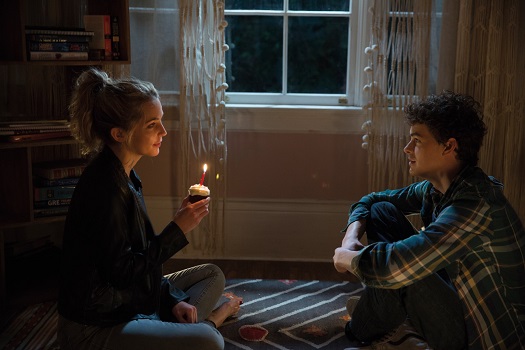 Happy Death Day, hororični ''Groundhog Day'', film je koji predstavlja tematiku time loopa, gdje se suočavamo s glavnom glumicom i neprestanim retroaktivnim radnjama, suočavanjima s istim situacijama i ishodima izvedenima drugačijom taktikom, sve dok se ona sama ne opameti i krene iskorištavati neprestano vraćanje u žive u svoju korist. Iako sam skeptik oko novih slashera i novih pokušaja prežavakavanja starijih filmova, valja priznati da se Happy Death Day uvelike trudio biti što inovativniji, zreliji i kompleksniji od tipične forme slasher filma i koncepta oko serijskog ubojice. U prilog tome ide i činjenica da je film sa skromnim budžetom od 4,8 milijuna zaradio preko 110 milijuna dolara, što je za horor film apsolutna pobjeda, a sjeda odmah uz bok velikim uspješnicama poput IT i Get Out. Unatoč velikom kino-uspjehu i pokušajima inovativnosti, moram primijetiti da mi sve manje odgovaraju miksanja dijametralno suprotnih žanrova, a to je ponovno u ovom slučaju spoj horora i komedije. Komedije u blagom obliku, ali opet komedije. Ne znam, ne mogu se pomiriti s činjenicom da sve više filmova to radi, bilo da su fantasy karaktera tipa Krampus, bilo da su remakeovi i rebootovi poput IT-a, u svakom većem hororu možemo naići na komične segmente koji po meni (ali očito ne i po većini) uništavaju onu napetost, jezu i intenzivnost horor žanra. Stoga će ta sva ponavljanja svakodnevice glavne glumice nailaziti na sve komičnije elemente, osim kada se tu krene pojavljivati ubojica i kada stvari budu malo napetije. Happy Death Day možda je intrigantan i dosad neviđen koncept horor filma, no na mene nije i dalje uspio ostaviti vrlo dobar dojam.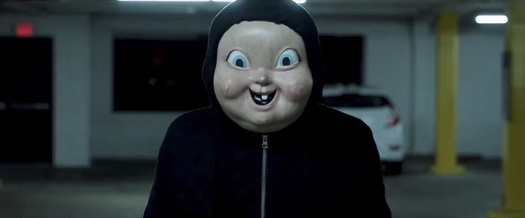 Stvari kreću prilično brzo, već nakon 10. minute filma pojavljuje se ubojica i dinamika filma raste, a valja svakako spomenuti da je izgled ubojice veliki plus, što možete vidjeti na dvije potonje slike. Jednostavna, a opet efektivna maska svakako je jedna od najcreepy maski koje smo mogli vidjeti u slasher filmovima, a ta stvar ni ne čudi s obzirom da je za istu masku zadužen Tony Gardner, koji je napravio i Ghostface masku. Interesantno je što se film i povezuje sa Scream serijalom podosta, gledajući na koncept ubojice, no šteta je što se ubojica više ne izražava i u scenama s drugim likovima, već je primarno fokusiran na jednu osobu. Horor i jezive scene prikazuju se isključivo u klasičnim cimanjima oko izletanja nekih likova ili samog ubojice, no nažalost, događaju se primarno kada se ubojica pojavljuje, a to i nije nešto prečesto, uzevši u obzir sve interakcije glavne glumice s ostalim likovima i ponavljanjima tih radnji. Da se nekako poradilo na skraćivanju tih scena, ne bismo dobili produženi Run Lola Run koncept, već bi se više pažnje posvetilo i razradi kraja. Završni ishod cijelog scenarija po meni također nije nešto zadovoljavajuć, istina, postoje određeni interesantni twistovi, no nisu me nekako pretjerano dotaknuli, niti su me natjerali da sada vraćam neke scene samo kako bih se uvjerio u njih, jednostavno sam pustio film da završi do kraja i da pređem na nešto drugo. Možda je do mene, no vjerojatno bih mu više pažnje posvetio da sam ostao vidno zadovoljan viđenim.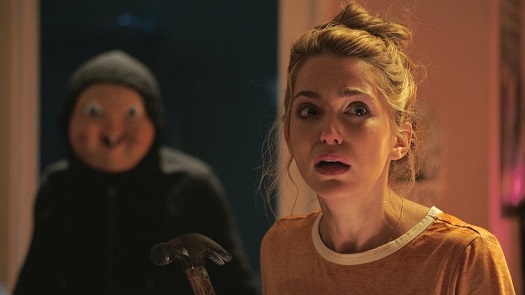 Happy Death Day valja pogledati radi kreativnosti i razrade filma na nešto drugačiji način (te stvari uvijek su pohvalne u moru sličnih filmova) i intrigantnog izgleda ubojice, no sve ostalo nekako je za zaborav i ne pretjerano odavanje pažnje. Ne mogu reći da nisam zadovoljan filmom, ali opet, nikome neću reći da sam oduševljen. Trojka je po meni zaslužena.