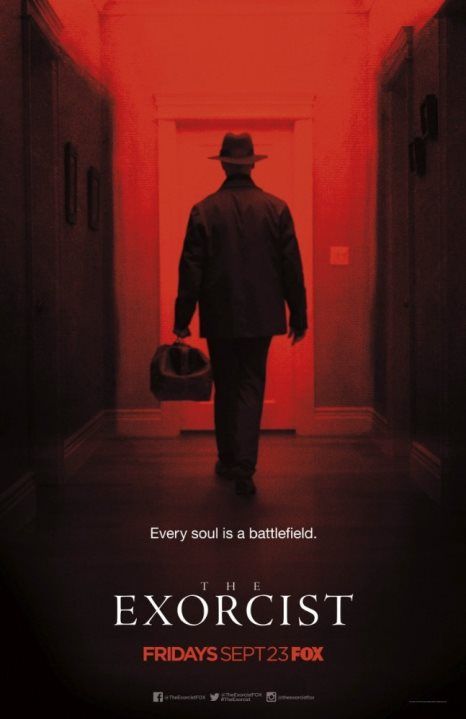 Sve u svemu: 3,5 / 5

Više o seriji: Imdb.com

Dvojica svećenika, jedan egzorcist, jedan mlad i perspektivan svećenik, nastoje spasiti obitelj od demonske prisutnosti u svojoj kući koja na kraju opsjeda njihovu kćer, a pojedini članovi obitelji kriju mračne tajne koji upućuju na neke događaje iz prošlosti...




Interesantno, no nisam očekivao da će se Exorcist pretvoriti u seriju, čisto iz razloga što mi je teško zamislivo bilo utjeloviti sezonu od desetak epizoda na temelju tako naizgled jednostavne radnje. No međutim, u posljednjih par godina mogli smo se nagledati i načuti svakojakih rebootova, sequela i remakea u obliku serija, koje masovno kupuju i produciraju velike kuće poput Foxa, Netflixa, HBO-a itd. Došlo je, očito, vrijeme i za Exorcist seriju, za koju se zauzeo Jeremy Slater, mladi scenarist i producent koji je prije ove serije imao samo scenarij za dva horor filma, The Lazarus Effect i Pet iz prošle godine. Dakle, nije se znalo što se moglo očekivati od vizualnosti te serije niti u kojem će smjeru ona otići, čak se dogledno vrijeme čuvala i premisa je li riječ o rebootu originala ili sequelu, da bi tek pri sredini prve sezone shvatili kako je serija itekako povezana s prijašnjim nastavcima, tako da je ovdje riječ ustvari o sequelu na prošle događaje, da vam ne odajem previše.
Serija sama po sebi ima dosta sličnosti s originalnim filmovima, no ona je, očekivano, moderna i dinamičnija, gdje se mijenja atmosfera originala na akcijske prizore u stilu ostalih novih serija, gdje je u cilju ionako pasivnog prosječnog gledatelja koji žudi za dinamičnošću uzbuditi i ostaviti ga zadržanim za ostatak epizoda. To definitivno nije trebalo ovakvoj tematici, koja svoju pravu jezu ustvari gradi na hladnoj, turobnoj i surovoj atmosferi, ma koliko dugačke bile neke scene. Tako da, ovdje možemo pričati o light verziji cjelokupne exorcist priče, gdje ustvari imamo premalo scareova za jedan takav poseban svijet kojega je, barem u slučaju originala, jako teško nadmašiti kvalitetom, a pogotovo alternativnim putevima. But still, zabavit ćete se. Exorcist serija dobra je serija koja je uspjela ono što je malo tko od tih horor pokušaja - napraviti nešto drugačije na staru temu, a opet imati određene korijene netaknute.




Cijela sezona od 10 epizoda broji nekoliko stvarno super dijelova koji se lako urežu u pamćenje, kroz cijelu sezonu, pogotovo kroz prvu polovicu nailazimo na dobre i kreativne dijaloge o religiju i čovjekovom moralu, o prastarim tajnama, borbama dobra i zla itd., a kroz cijelu se sezonu priređuje i dosta malih twistova koji mijenjaju kurs serije u jednu potpuno neočekivanu situaciju. Dolazak Pape, tajna društva, demoni, poludjeli na ulicama - elementi su koji seriji naspram filmova daju šarolikost i rasprostranjenost s materijalom i mogućnostima, iako je diskutabilno je li bolje atmosferu takve priče ostaviti unutar jedne kuće i na temelju nje graditi napetost, ili prebaciti seriju na širok dijapazon mjesta radnji i na temelju njih razrađivati scenarij...zahtjevnije, ali ne i neizvedivo, kao što ovdje možemo vidjeti. Tako da smo s tom otvorenošću dobili ustvari veći upliv likova, statista i očekivano, akcijskih scena koje se nerijetko događaju mimo egzorcizama i sličnih crkvenih obreda, tako da se serija, koliko god se trudila povezati, toliko se trudila i razdvojiti od čistokrvnog koncepta novele i originala.
Kroz seriju se nažalost zna pojaviti i dosta nelogičnosti, kao i rupavih dijelova koji na trenutke mogu uništiti uživljenost u ono što se gleda, no većina takvih stvari popravljena je odličnom glumom protagonista Tomasa Ortege (Alfonso Herrera) i Marcusa Keanea (Ben Daniels), kao i odlične djevojke Cassie Rance (Hannah Kasulka) i njene mame Angele Rance (Geena Davis). Također, solidni efekti dobro su upotpunili tempo serije i njenu tmurnu vizualnost, a što se same radnje tiče i njenog tijeka, možda je najbolje da o tome ne pišem previše jer ovo nije tip serije gdje se može reći nešto više, a da ostane jednako zabavno.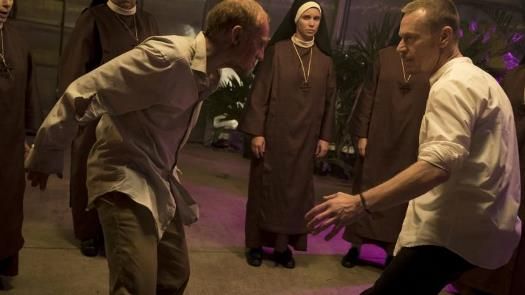 Prva sezona je dobra, zabavna i pitka za gledanje, više akcije i dinamike nego u filmovima, no slabija atmosfera s manje scare scena. Ok je za pogledati, kvalitetno je snimljena bez neke pretencioznosti, no neka ostane na jednoj sezoni kako zasad i je, mislim da ni neće biti potrebe za dalje, iako je serija prikupila određen broj fanova, no možda nedovoljan da se projekt nastavi. Ako bude, pratit ću, ako ne, neće mi biti žao, budući da je serija solidno zaokružena. Exorcist serija - dost' dobro!