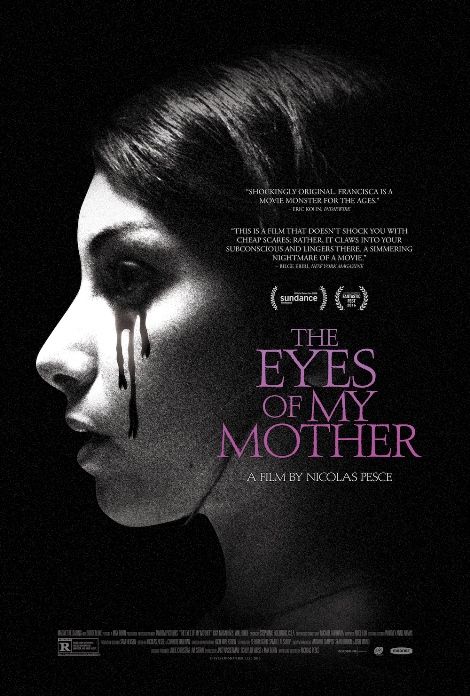 Sve u svemu: 2 / 5

Više o filmu: Imdb.com
Video

Na izoliranoj farmi daleko od civilizacije, mlada djevojka suočava se sa svojim najmračnijim željama i potrebama nakon što joj se dogodi tragičan događaj...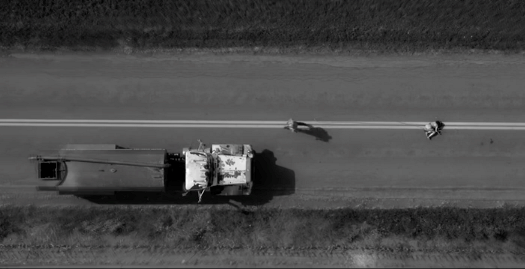 Film crno-bijele naravi, The Eyes of My Mother debitantski je horor film redatelja i scenarista Nicolasa Pescea. Postoji vjerojatno puno vidljivih i manje znanih razloga zašto se film odlučio snimati u crno-bijeloj tehnici, no mislim da je prikladan za stvaranje melankolije i turobne atmosfere koja također nastoji biti i umjetnički kanonizirana. Ovaj neuobičajen i neobičan film posjeduje i mnoge druge može se reći jedinstvene osobine, sniman je iz posebnih kutova, neuobičajenih kadrova, a predstavlja težak, dramatičan život djevojke na selu, koja svoju izolaciju od vanjskog svijeta i odgojem samo pomoću majke, koja ju je podučavala osnovama anatomije ljudskog i životinjskog tijela, prenosi na sve ljude koji se nađu u blizini njene farme, slučajno ili namjerno. Odmah moram reći da su njegova jednostavnost i tišina te kratko trajanje najbolji segmenti , upravo zato što se pokušala ovdje isfurati nekakva kvazi umjetnost (barem ja to tako osjetim), na temelju povezivanja melankolije, disfunkcionalnosti s morbidnim i bizarnim scenama, koje su apsolutno bespotrebno vizualizirane. Ovaj film po meni ne posjeduje nikakvu umjetničku crtu, budući da se osjeti isforsiranost, predstavljanje nečeg što nije, nekakvim pokušajem prikrivanja odvratnoće scenarija jeftinim pokušajima "art" crte, no na kraju krajeva, jedino što sa svojim "art" karakteristikama napravi jest da iako film traje sat i nešto sitno, da vam i dalje bude uspavljujuć i da vam neke scene budu preduge.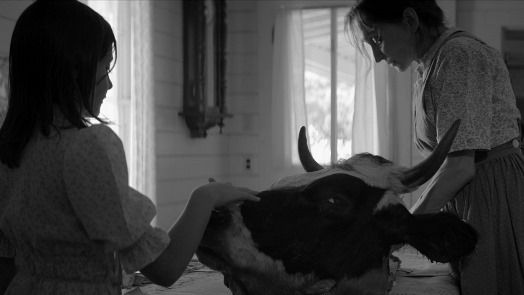 Odvojen je po segmentima tipa Mother ili Father, mogu se vidjeti nekakve poveznice s doduše puno uspješnijim The Witch iz također prošle godine, u vidu tmurnoće i country mjesta radnje, no ono što obilježava ovaj film jest, osim te žestoke psihološke igre na pojedinca, ustvari odvratnoća onog fizičkog. Mučenje, kvazi vađenje smisla iz onoga što vidimo i potpuna ludost mlade djevojke, koju, mora se priznati odlično glumi Kika Magalhaes, višak su u svim segmentima, a kada vam je višak ono što vam treba biti temelj horor filma, onda nailazimo na veliki problem. Postoje i scene koje će možda nekome biti dojmljive, a meni nikako nisu, kao što su lijeganje s očevim truplom itd., dakle, možete nadalje zaključiti sami što se sve ovdje može vidjeti, a potpuno isforsirano i bespotrebno. Pozitivna strana filma krije se u njegovoj originalnosti u nekim poljima, a valja izdvojiti i odlično baratanje kamerom i vizualnim dijelovima, iako, džaba kada se ništa konkretno nije dalo snimiti.




Ukratko, The Eyes of My Mother film je bez ikakve poante, morbidan, naporan i toliko jednostavan da je postao upravo suprotno - komplicirano zamoran. Preskočiti.