Sve u svemu: 3,5 / 5

Više o filmu: Imdb.com
Video

Adam i Clare sele se u izolirano mjesto u Irskoj, u kuću na osami, gdje se kroz nekoliko dana počinju susretati s misterioznim i neugodnim prisutnostima koje vrebaju iza drveća...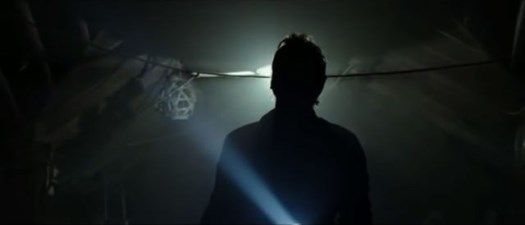 Prepričavanje irskih folklornih običaja, kao i onih škotskih i velšanskih uvelike se znaju povezati s ostalim europskim mitologijama, povijestima prepričavanja i karikiranja šumskih, planinskih i morskih legendi. U nemalom broju slučaja sve šumske vile, životinje, patuljci i ostali iz tog svijeta budu prikazani u antagonističkom profilu, pa se tako dobiva i ona "haunting" atmosfera i razna izobličenja lijepih stvorenja u mračne demone. Slučaj sa izoliranim prostorom u dubini šume, gdje se tek u daljini vidi omanji gradić nikako ne služi obitelji koja nešto želi početi iznova na dobro. No, zbog raznoraznih stvari selimo se na mjesta koja nam u tom trenutku pašu, unatoč tome što su mještani standardnim tradicionalnim spikama pokušali upozoriti bračni par da se što prije maknu od te šume, inače će ih "Hallow" progutati i postat će jedni od njih. Ne vjerujući naravno u tu priču, Adam Hitchens odlazi u šumu redovno proučavajući gljive i da prati razvoj neobičnog spoja korova i crne tekućine, koju nosi sa sobom doma. Upravo tu počinju eskalirati događaji i prema legendama, Hollow će uzeti novorođenče k sebi i odgojiti ga kao svoga ne bude li se prestala uzurpirati politika šume. Kada se dijete nađe u nevolji, na bračnom je paru da se nastoje izvući kako god znaju. Temeljna radnja upravo je navedena, a sad ću vam u nekoliko rečenica probati objasniti zašto mi se film svidio, a zašto u nekim segmentima nije.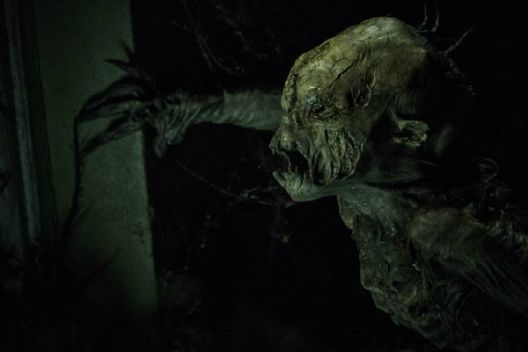 The Hallow je prije svega vizualno veoma snažan film. Što zbog mjesta radnje, što zbog nepreglednih irskih prirodnih ljepota, ekipa zaslužna za film razmišljala je o vizualnom identitetu vješto pazeći na raznorazne kutove snimanja i raspodjelu scena, gdje se može primijetiti što veći pokušaj pravljenja manjih kadrova, odnosno detaljiziranih scena, kako bi se možda izbjegla nemogućnost snimanja većih scena. Tako da, s obzirom na snimanje, imate osjećaj kao da se sve događa u veoma malom prostoru, iako je plan puno veći. Što se tiče napada demona i njihovog izgleda, mogu reći kako sam zadovoljan time što sam vidio. Iako su demoni u nebrojeno puno prilika mogli ubiti roditelje i oteti dijete, a ni roditelji nisu trebali dobiti vojničke, kung fu i ostale vještine, scene s demonima uvijek su zanimljive za vidjeti, pamtljiva je scena ova koju možete vidjeti na slici iznad, gdje žena drži otvor od tavana dok demon pokušava prodrijeti unutra. Gluma je također odlična, nisam niti u jednom trenutku primijetio nedovoljno pokazivanje emocija, ili ih se barem ne sjećam da sam upamtio neke loše, budući da sam film pogledao od pisanja ove recenzije prije tjedan i pol dana, no ako se ne sjećam toga, znači da to ni tada nisam uzimao kao nešto ozbiljno. Mora se priznati - unatoč odličnoj atmosferi i brojnim zanimljivim scenama, film pati od manjka materijala jednom kada se kraj počne približavati. Demona je sve više, spasa sve manje, no i dalje se tu stvaraju scene koje su nekako nepripadajuće i mišljenja sam da se scenarij mogao puno bolje transformirati u pravu, napetu priču u šumskoj izolaciji. O detaljima kraja neću pričati, no svakako je neobične naravi i neočekivan.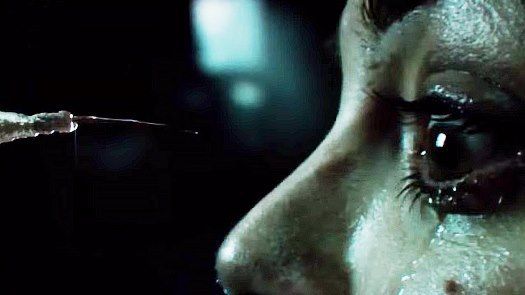 Pogledajte Hallow, ima napetih i jezivih scena, zanimljive kreature, prelijep krajolik, ali postoje stvari koje mu nedostaju. No, budući da mnogo filmova pati od svojih nelogičnosti, ne treba uzeti za zlo neke omanje gluposti koje su se pogodile. Prepustite se zimskom ugođaju i pogledajte film, give it a chance.