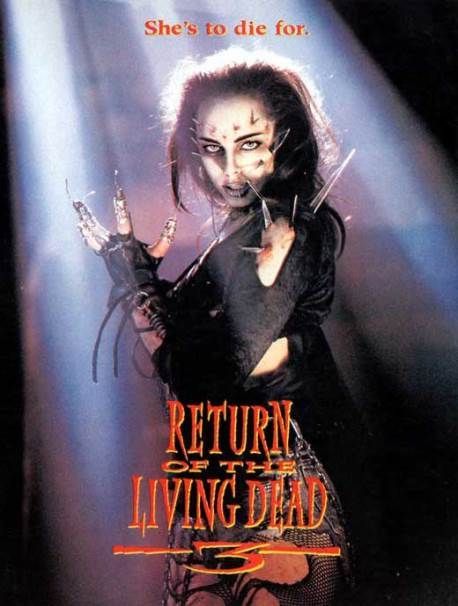 Sve u svemu: 3,5 / 5

Više o filmu: Imdb.com
Video

Mladić i njegova djevojka odlaze u vojnu bazu proučavati mladićevog oca vojnika koji sudjeluje u nekom nepoznatom projektu. Nakon što su svjedočili projektu gdje se mrtve vraća u žive, putem su doživjeli prometnu nesreću gdje je djevojka umrla, a gdje lik pokušava provesti eksperiment na njoj kako bi ju oživio...




Eto nam i trećeg dijela ovog zabavnog serijala. Pet godina nakon solidne dvojke, poznati redatelj Brian Yuzna prihvatio se trećeg filma, a slične poteze s oživljavanjem nekog serijala radio je i s filmovima Re-Animator gdje je napravio Bride of Re-Animator i Beyond Re-Animator, kao i sa četvrtim dijelom Silent Night, Deadly Night, a njegovi su i Dentisti...uglavnom, u trećem dijelu nam je osim brojnih hordi zombija odlučio ponuditi nešto siromašnju količinu zombija, s nekim zombijem koji će predstavljati ne samo zombije, već i cijeli film, a riječ je o poginuloj djevojci s uvoda, glumici Melindi Clarke koja utjelovljuje Julie Walker, rockericu koja se postepeno pretvara u mesoždernog hodajućeg leša. Koncept promjene svakako je dobro došao, vjerujem kako ćemo u četvrtom dijelu naziva Necropolis opet pažnju usmjeriti na više, a ne samo na jednoga zombija. No, kako kažem, ni ovo nije loše te je uvijek osvježavajuće, tada se od zombija Buba nije moglo pronaći toliko bitnijih zombija, a kasnije smo dobili Fidu i to bi bilo to od mog znanja sa zombie karakterima. Treći dio također je pun splattera i gruesome scena koje obiluju krvlju, a imamo i neke zanimljive dijelove koji nisu bili potrebni filmu, ali su se sasvim dobro uklopili, tipa čovjek koji živi ispod mosta i dijeli životne savjete i ispadne najveća dobričina. Moram priznati da je treći dio bolji od prvog, više sam se povezao s njim i drago mi je što je tako, budući da vjerujem kako će četvrti i peti dio biti propast filmske industrije.




Akcijskih scena ima ponešto manje, ali sve su dužeg trajanja i kvalitetnije su odrađene od prethodnog dijela. Ne pokušavam uspoređivati film s prethodnikom, budući da nije ni isti redatelj niti ima previše poveznica osim otrovnih bačvi, ali tako mi je lakše iznijeti nekome tko je pogledao i drugi dio (ne vjerujem da vas ima puno koji ne gledate redom serijale) kakve su prednosti, a kakvi su nedostatci u razvitku serijala. Ponovno prepuno boja, dobrih šminki i maski, ROTLD 3 može se pohvaliti i odličnim izgledom glavne ''zombijke'', budući da je u jednom dijelu filma sama izjavila kako joj paše samoozljeđivanje jer u tom trenutku ne misli na glad i ništa ju neće nagnati da jede ljude, stoga si je izbušila razne nakite i sječive predmete po tijelu i tako dobila genuine izgled. Što se tiče glume, mogu reći kako sam zadovoljan ponašanjem glavnih ljubavnika, budući da je ovo sve također zahtijevalo neko veće ispoljavanje emocija i suočavanje sa situacijom, a posebne pohvale idu Melindi Clarke koja je nosila cijeli film. Film također, očekivano, sadrži i mnoštvo nepotrebnih scena i one koje nisu previše smislene, ali eto, opet su tu ostavljene, što mi nije previše jasno. No, količina krvi i interesantnih bloody dijelova stvarno su napravljeni u maniri osamdesetih, pogotovo scena u izoliranoj prostoriji gdje oslobođeni zombi kolje prisutne laborante. Mnoštvo takvih scena, pogotovo pred kraj, rezultiralo je i očekivanim krajem, gdje se skupa sa invazijom sprječava i nastavak ljubavne i ustrajne tragedije.




Drago mi je da serijal ne ide nizbrdo već da sam naišao na film koji mi je bolji od prethodnoga, no sudeći po svemu, stat će na tome, no ubrzo ću se osvrnuti i na četvorku. Trojka je ispunila sva moja očekivanja te sam naletio na zabavan zombie flick.