Sve u svemu: 5 / 5

Više o filmu: Imdb.com
Video

Ash je neočekivano poslan u drugu vremensku dimenziju gdje je dospio u prošlost, u 1300. godinu, gdje mora pridobiti mještane i lokalnu vlast kako bi se borio protiv demona koji čuvaju Necronomicon, knjigu koja je Ashu potrebna da se vrati u svoj svijet...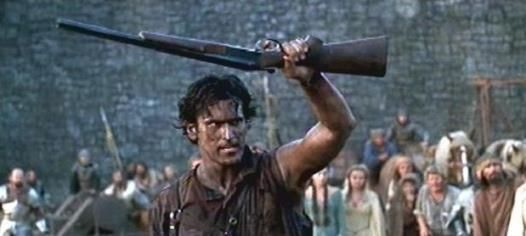 Sam Raimi direktno nastavlja priču i na trećem, a ujedno i posljednjem dijelu serijala, gdje ponovno logično susrećemo Asha (Bruce Campbell) u borbi protiv nemilosrdnih demona. Ovoga puta, više nemamo kontakta sa stvarnim svijetom, već nas je redatelj odveo u prošlost gdje se susrećemo sa srednjevjekovnom platformom i postavom likova i scenografije, gdje se u medieval šemi Ash pokušava prilagoditi tadašnjem načinu života, no ubrzo otkrivamo kako će se svi prisutni morati prilagoditi njemu. Ash je prebačen u prošlost s motornom pilom u ruci i puškom, kao i sa svojim vozilom, a to je naravno, u posvemašnjem humorističnom tonu - začudilo stanovnike i kmetove te su ga tamošnji šamani prozvali osobom koja će prema proročanstvu pasti s neba i riješiti se zla na Zemlji. Ash je to shvatio preriskantnim potezom te se samo htio vratiti kući, no kada je zlo krenulo dolaziti po svoje, Ash formira vojsku i priprema ljude na konačan obračun. Dakle, ovo je ujedno i najposebniji, a ujedno i najbogatiji dio trilogije, gdje se savršeno vidi trud oko produkcije i oko "brige" za detalje, što se u prijašnjim dijelovima nije toliko moglo primijetiti, no naravno, kako to sve biva u Evil Dead trilogiji - sve je s nekom namjerom tako kako je. Odlično prolazeći kao i prethodni dijelovi, Army of Darkness je samo dodatno potvrdio genijalnost triju filmova, konciznost, dosljednost, vještinu produkcije i režije, kao i urnebesne efekte koji su toliko loši da su ingeniozni, jednostavno, ovo je nešto što svaki ljubitelj filmova općenito mora vidjeti, protumačiti na svoj način i nikada ne zaboraviti.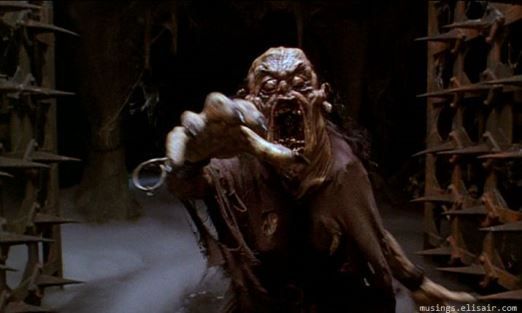 Ima nešto Lord Of The Ringsa u ovome filmu, ako dobro proučite zadnju epsku borbu, primjetit ćete, ukoliko niste ovaj film prije gledali, da ste scenu već negdje mogli vidjeti. Tako se i meni dogodilo kada sam prije 6-7 godina prvi put vidio Army of Darkness, nevjerojatno je scena podsjećala na Two Towers i borbu kod Helms Deepa, a nedavno sam pročitao da je i sam Peter Jackson pronašao inspiraciju iz te scene za potrebe filma, što je svakako interesantna informacija. I u ovom dijelu, iako u nešto manjem omjeru, imamo obilne količine krvi i splatter scena, što je naravno svaki puta poželjno jer je to nešto što je fanove najviše zadovoljilo, a to Raimi shvaća, što se može vidjeti i u odličnoj prvoj epizodi serije Ash vs Evil Dead. Po prvi puta se na odličan način prikazuje zlo kako izgleda u izvornom obliku, preko kralja kostura do same armije mrtvih kostura, a efekti su vidno bolji, produkcijski potkovaniji kadrovi i neke scene su uistinu impresivne s obzirom na pozadinsku priču cijelog serijala. Pamtljive scene u filmu svakako je bilo koja gdje je Ash u svom najboljem izdanju, totalni badass koji proživljava borbe sa samim sobom (ne ozbiljno, iz njegova se ramena izrodi drugi on), borbe s minijaturnim Ashevima i ostale maštovite kreature koje su uljepšale taj segment. U filmu nećete naići ni na kakav veći otklon (osim dojma avanturizma trećeg dijela) od prošlih dijelova pa tako možemo vidjeti mnoge reference koje su odradile svoj značaj još 1981. godine izlaskom prvijenca. Kako napraviti epski viteški film s armijom kostura i zla? Pogledajte ovaj film ukoliko to tražite.




Army of Darkness zabio je posljednji čavao u lijes (u ovom slučaju u pozitivnom smislu) Evil Dead serijalu, savršeno je uokvirio sve što se moglo dogoditi i sve što se dogodilo i uvijek će mi se biti užitak vraćati tim filmovima. Prava splatter zajebancija koja ne staje niti u jednoj sekundi, idealni filmovi za ekipu.