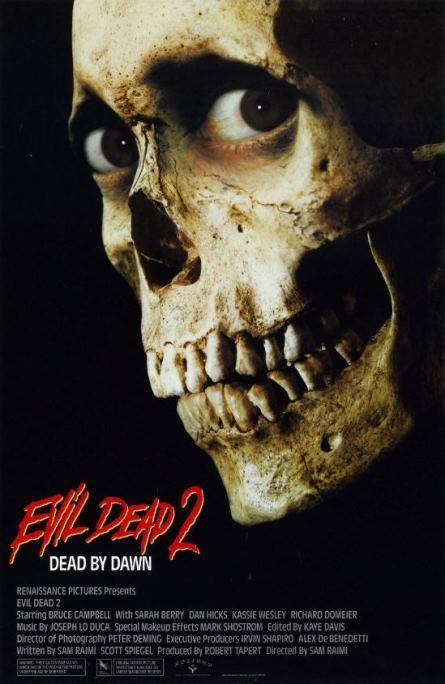 Sve u svemu: 5 / 5

Više o filmu: Imdb.com
Video

Ash nastavlja borbu s demonima direktno od događaja iz prvog dijela, samo što su ovoga puta demoni naizgled brojniji, opasniji i brutalniji, a u kolibu dolazi nova ekipa žrtava...




Davno, ali baš davno sam gledao ovaj film. Još prije bloga dogodilo mi se da po prvi put pogledam cijelu trilogiju Evil Deada, a tek sam prije tri godine prvi put recenzirao prvi dio. Vrijeme je bilo za drugi, budući da sam prije par dana baš bio u moodu za tonu makljaže, odlične kadrove i naposljetku, odličan film. Sam Raimi odlučio je veoma uspješnom prvijencu podariti praktički "brata blizanca", budući da se Evil Dead II bazira na gotovo jednakom mjestu radnje s istim protagonistom i s istim nedjelima demona. Iskonski, Evil Dead II puno je dinamičniji, raznovrsniji i bogatiji krvlju, Raimi je shvatio što ciljanu publiku zanima te je sve ono što je gledateljstvo uzelo kao odlične pothvate doslovno poduplao. Film je pun splatter scena, odličnih maski i šminki, urnebesnih trash efekata, što ga je učinilo briljantnim filmom osamdesetih, a mnogi da smatraju i najboljim dijelom trilogije. Naravno, nije to tek samo tako napraviti film prepun koljačine i da se manjak nešto kompleksnijeg scenarija nadopuni trashy efektima pa da ispadne opravdanim svaki loš potez, jer se mnogi filmovi danas vade na: nemam ideja, idemo napraviti trash film. Evil Dead II je sasvim suprotno = kako od malo napraviti puno, a ne ostati na malo, sve u svemu, odličan film koji nikada neće zastarjeti, čak se veselim i seriji Ash vs Evil Dead, jer je slična ekipa tu, a makljaže interesantnih demona nikada dosta.




Bruce Campbell logično se vraća u ulozi Asha, gdje ga odmah na početku čak i preuzme demon te mu se nesretnom događaju svakojake nevolje, no što je više nevolja, to je Ash sve bijesniji te se ovdje počinje stvarati njegov lik i ikona s motornom pilom u ruci. Kreativnost scenarija omogućila je karakteru i glumcu da suvereno barata sa svakom mogućom opremom koja mu se uspjela naći dostupnom i da priču napravi što zanimljivijom. Općenito o liku Asha ne trebam puno pričati, svakako je jedan od pamtljivijih likova ikada, pogotovo nakon posljednjeg dijela. Efekti su, kako je već napomenuto, loši i trećerazredni, ali valja uzeti u obzir kako je namjera bila učiniti atmosferu što prikladnijom dubini šume i dobro nam znanoj trošnoj kolibi, gdje se trebalo računati i na jeftinoću prvog dijela. Stoga, drugi dio je dosljedan, oprezan u neopreznosti i veoma ziheraški napravljen od strane redatelja, ali i automatski odlično prihvaćen. Novi likovi koji dolae na vrelo događaja također su imali pune ruke posla, a antagonisti - krvožedni demoni, ovoga puta su raznolikiji i opasniji, no opet znaju provocirati psihu Asha i konstantno ga izbacivati iz takta. Ovdje se, slično kao i u Night of the Demons serijalu, znaju ponavljati događaji, ali naknadno snimljeni u novome ruhu, tipa demon koji viri iz šupe i gdje se načini kadriranja i snimanja ponavljaju, ali i dalje unapređuju. Kraj filma upućuje na radnju Army of Darkness, trećeg dijela kojeg ću također ponovno pogledati uskoro.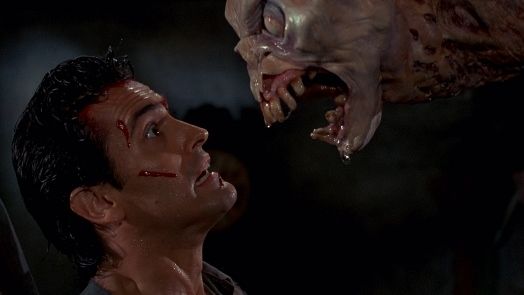 Nema se tu što puno komentirati, obožavam ovaj serijal, nositelji su žanrova osamdesetih te ću se toj trilogiji uvijek rado vraćati.