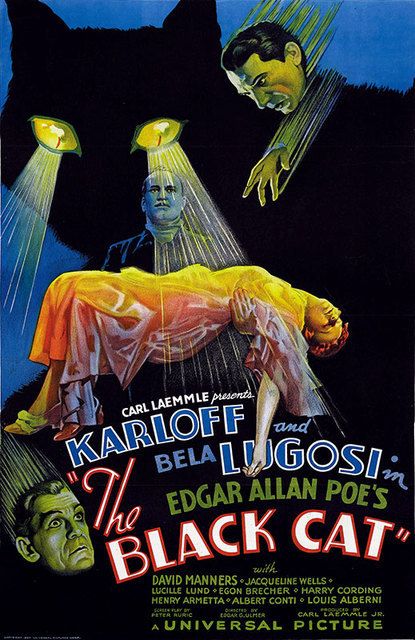 Sve u svemu: 4 / 5

Više o filmu: Imdb.com
Video

Američki putnici koji idu na medeni mjesec u Višegrad u Mađarsku zapinju na putu nakon prometne nesreće u kući ozloglašenog svećenika koji planira ženu žrtvovati za sotonističke potrebe...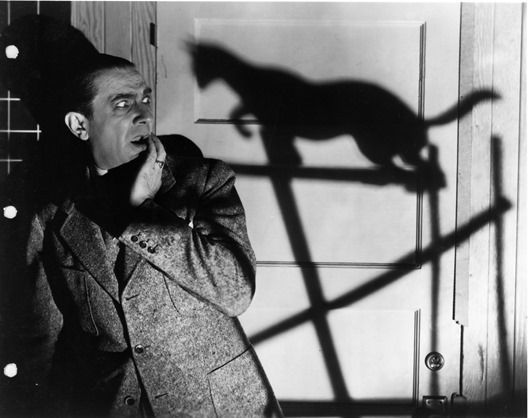 Ovakvih klasika nedostaje na blogu, no budući da je toliko, toliko horora koji se trebaju prokomentirati, jednostavno je nemoguće sve stići i svemu se jednako posvetiti. No, s vremena na vrijeme valja se osvrnuti na stare horor klasike koji su započeli dug i nepresušan val filmova strave. Ovaj film vas jednostavno, osim radnjom koja je bazirana na djelu Edgara Allana Poea (nema veze s crnom mačkom u zidu), mora privući kada vidite da u njemu glume dvije horor legende koje su započele trend stvaranja horor ikona - frankenštajn Boris Karloff i drakula Bela Lugosi. Sve ostalo je dodatna pogodnost - sat vremena traje film, mislim da svatko može odvojiti vrijeme za takvo što, a osim toga, postoje dobro "osvježene" verzije filma po pitanju zvuka i slike tako da ne možete promašiti. Još mu dodatnu važnost daje to da je Universalu to bio najuspješniji film te godine, a neki Ameri ga smatraju i prvim psihološkim hororom s elementima seksualne privlačnosti i misticizmom (štovanje vraga).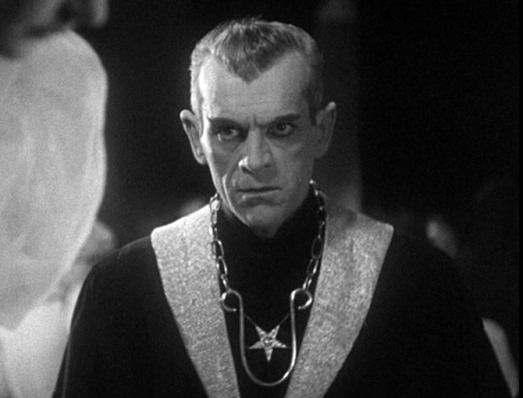 Glavni sastojak ovog filma definitivno čini i soundtrack ispunjen klasičnom glazbom kao i svjetlost kadrova i kutovi snimanja, koji su u najmanju ruku u mnogočemu pomogli da se dijalozi učine što atmosferičnijima, budući da se tada moralo znatno više potruditi za potrebe stvaranja dojma. Film je obilježio prvo od ukupno sedam udruživanja Karloffa i Lugosija. Interakcija njih dvojice u svakoj je sceni popraćena nešto napetijom glazbom ili potpunom mirnoćom, kako bi se naglasilo to "rivalstvo", kao i općenito sraz karaktera. Što se tiče glume u filmu, općenito sam kroz gledanje starih horora uvijek više naklonjeniji bio Karloffovom izričaju i pristupu ulozi, dok mi je Lugosi nekako oduvijek bio drveniji glumac kojemu idealno stoje pasivne uloge gdje čak ni nema puno naglih reakcija, budući da naizgled u nekim scenama za takve pristupe nije kompetentan. Radnja koja se bazira na žrtvovanju i ludosti ustvari je čak i manje zastupljena nego sam suodnos karaktera, u sat se vremena filma teško može u potpunosti fokusirati na tijek filma, što može, ovisno o ukusu, biti dobro lii loše.




The Black Cat čak nužno ni ne mora biti horor štivo za svakog ljubitelja, no nudi neke prekretnice u žanru koje su ga svakako obilježile, iako možda u današnjem intenzitetu promjena i ne bilježi toliku važnost. Da naravno ne spominjem po stoti put navedeni dvojac. Nisam nešto duboko ganut filmom, ali drago mi je da sam ga pogledao, budući da nije nametljiv i dosadan, a nudi poneke zanimljivosti.