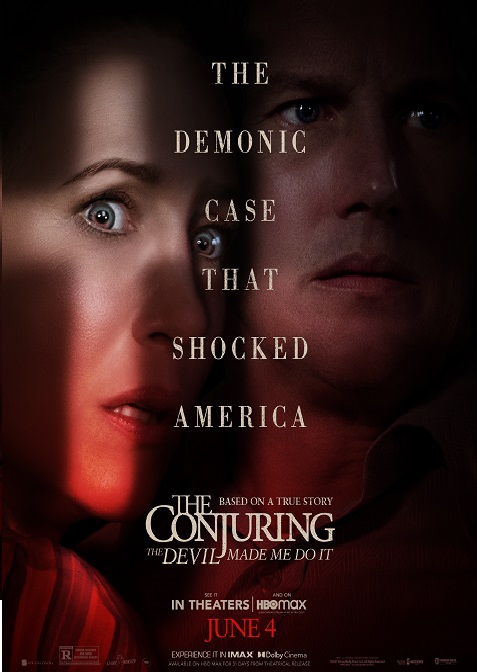 Sve u svemu: 3 / 5

Više o filmu: Imdb.com
Video

Bračni par Ed i Lorraine Warren istražuju jedan obiteljski slučaj koji bi mogao biti usko povezan s demonskom opsjednutošću...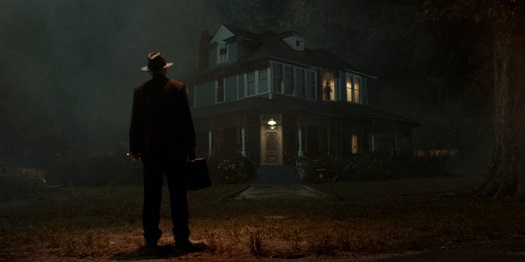 Najnoviji, osmi film Conjuring univerzuma, ujedno i po radnji najsvježiji (prati događaje iz 1981. godine), djelo je redatelja Michaela Cavesa (koji je režirao grozan dio univerzuma The Curse of La Llorona), a kao i dosadašnji konđurinzi, i treći je dio baziran na stvarnim događanjima iz nekih od brojnih zapisa istražitelja paranormalnog, Eda i Lorraine Warren. Naravno, sve je stavljeno na filmsko platno, pa je logično da se svi događaji znatno produbljivaju, relativiziraju, daje im se određeni dodatni jezivi ton i nadnaravne okolnosti. Slučaj opisuje poznat povijesni događaj u američkom pravosuđu, kada je Arne Cheyenne Johnson izbo gazdu kuće 22 puta, a na sudu je tvrdio uz svoga odvjetnika da ga je "vrag natjerao da to učini", i bio je pušten nakon 5 godina zatvora. Prema svjedočenju obitelji Glatzel, 11-godišnji David Glatzel bio je prvi domaćin demonu. Nakon što je svjedočila brojnim sve zloslutnijim događajima koji su uključivali Davida, obitelj je, iscrpljena i prestravljena, odlučila potražiti pomoć Eda i Lorraine Warren u posljednjem pokušaju da "izliječe" Davida. Obitelj Glatzel, zajedno s Warrenima, nastavila je tražiti da više svećenika podnese molbu Crkvi da formalno izvrši egzorcizam nad Davidom. Proces se nastavio nekoliko dana, zaključujući kada je, prema nazočnima, demon pobjegao iz tijela djeteta i nastanio se u Arneu. To je opisano i u knjizi "The Devil In Connecticut Geralda Brittlea. Tako smo po prvi puta u ovom univerzumu izgubili pojam uklete kuće i bazirali smo se na ukletim pojedincima, uz dašak egzorcizma (čak se i poznata scena Exorcista nakratko revitalizira u filmu, što možete vidjeti na fotografiji). Što nam je ponudio Conjuring 3? Definitivno brojne promjene, uvijek zanimljive Patricka Wilsona i Veru Famigu, ali i dosad uvjerljivo najslabiji Conjuring film.




Film je, kao i brojni hit naslovi, odgođen zbog pandemije i izašao čak godinu dana poslije, no interes za njim nije prestajao jenjavati, što dovoljno govori o moći samog serijala kojega je James Wan izdigao u posljednjih 7 godina. Klasične neke scary scene Conjuring je uvijek uspio učiniti zanimljivijima nego što ih imaju ostali horori sličnog podžanra, pa tako imamo i ovdje slučaj nekih inovacija po pitanju kreiranja jezive atmosfere, ali evidentno je kako nije postojao jednak kreativni moment kao u prva dva filma. Najveći problemi trojke kriju se u nekonzistentnosti s realnom pričom, uplitanjem potpuno nategnutog vještičarenja i ostalih prizivanja demona, koji su na neki način "omekšali" film, odnosno pretvorili ga u primjer bazične possession priče, što može možda uspjeti nekom drugom, ali ne filmu ovakvog ranga kakav je Conjuring. Postoji i objektivan problem s nešto sporijim razvojem dinamike, gdje tek u posljednjih 40-ak minuta doživljavate brži razvoj radnje i razotkrivanja u kronologiji događaja. Nemoguće je ne spomenuti odličnu glumu koja se proteže kroz cijelu glumačku ekipu, ali ipak su Wilson i Famiga nositelji svega što možemo vidjeti. No, bez žarišne kuće ukletih, ovo jednostavno ne možemo osjetiti kao dio filmova koji pripadaju Conjuring svemiru, pa čak ni uz ponovno oživljavanje simpatičnih i gledateljima dragih Eda i Lorraine Warren.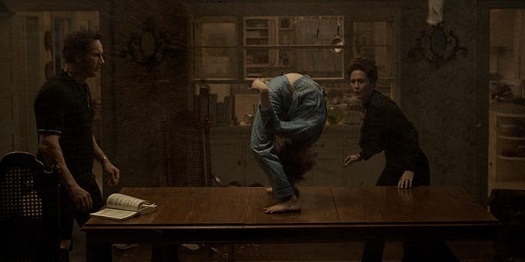 Zadržavajući svoju sposobnost da i dalje bude među jezivijim naslovima koji izađu u tekućoj godini, Conjuring 3 ipak je podosta izgubio "ono nešto" što je sačinjavalo najbolje filmove tog univerzuma, a to su upravo Conjuring filmovi, nikakvi Annabellovi, Nunovi, La Llorone. To je najmračniji i meditativniji i najmanje agresivan od svih dosadašnjih naslova. Promijenili su dosta toga, uz možda najbitnije redatelja, ali s promjenama je nažalost došlo i razvodnjavanje kvalitete. Pretpostavljam da ćemo već iduće godine imati priliku vidjeti popravak situacije u vidu nekog spin-off filma, a dotad ću vam trojku preporučiti samo ako budete išli s niskim očekivanjima. Nije loše, ali dokazano je da može deset puta bolje.