U narednom kratkom pregledu pogledanih naslova dotičemo se reboota popularnog serijala Wrong Turn, SF horor komedije Psycho Goreman, britanskog supernatural horora The Power i američkog također supernatural The Djinn.

Wrong Turn (2021)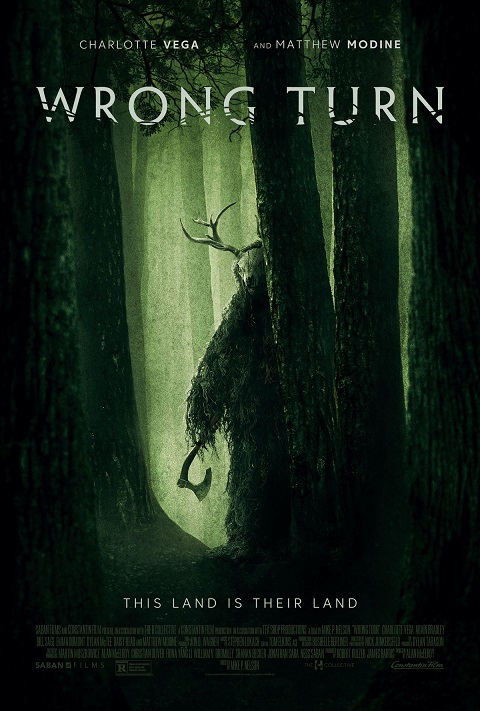 Sve u svemu: 2 / 5

Više o filmu: Imdb.com
Video

Prijatelji hikeri na jednoj od šumskih i planinskih ruta suočavaju se s mnogo većim problemima od same prirode - zajednica imena "The Foundation" živi u tim predjelima stotinama godina i ekspresno se rješavaju prijestupnika...
Sedam godina nakon posljednjeg, šestog dijela popularnog serijala o kanibalima i deformiranim pustinjacima koji smrtno kažnjavaju sve one koji skrenu s označenog puta, dobivamo nekakav oblik remakea/reboota koji poništava sve što se prije događalo i stavlja cjelokupnu radnju u neki novi, ponešto drugačiji kontekst. Wrong Turn serijal prestao sam pratiti nakon četvrtog dijela, dakle nisam pogledao posljednja dva, dok me za reboot zanimalo što bi to točno mogli svježega donijeti, budući da dosta cijenim prva dva dijela franšize. Mike P. Nelson osim slabo poznatog "Domestics" nema neka djela trenutno iza sebe te mu je ovo najpoznatiji uradak do sad, a njegova verzija Wrong Turna jednostavno se morala dotaknuti modernih političko korektnih stremljenja i alegorija na netolerantnu Ameriku. Tako da ovi ubojice, ta "sekta" ljudi nije samo ubilački nastrojena, već je i duboko unutar sebe isključiva, rasistički nastrojena i ksenofobična. Sve kreće vrlo ubrzano i dinamično što je prednost, ali kako minutaža prolazi, tako sam se iznova i iznova razočaravao u klasične greške i i bolesti ubrzanog scenarija, kada se pojavljuje nedosljednost i nedorečenost u priči i glumi, u groznim situacijama oni se ponašaju prilično ležerno, izgube člana grupe u hikingu, ponašaju se kao da je to nešto što se događa na svakodnevnoj razini, rade se loši i neobjašnjivi potezi i s protagonističke i antagonističke strane...moderni Wrong Turn izgubio je tu nit s rednečkim kanibalizmom i incestom i krenuo je u drevni svijet poganskih religija i tradicija, nitko se ne trudi da pojasni kako, što, zašto, sve je tako ultra šlampavo i zbrzano odrađeno. Bedast kraj nimalo nije pomogao boljem viđenju ovog lošeg filma. Ljubitelji i neljubitelji serijala, okrenite se nečem suvislijem.

Psycho Goreman (2020)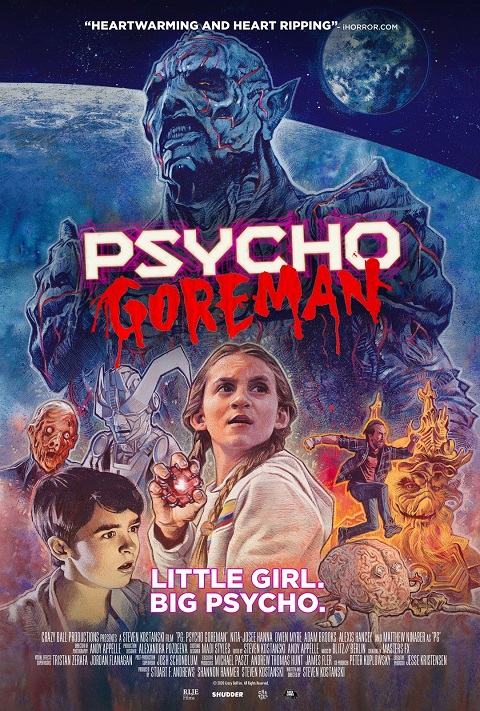 Sve u svemu: 3 / 5

Više o filmu: Imdb.com
Video

Nakon što su iskopali dragulj koji kontrolira čudovište koje želi uništiti svemir, mlada djevojka i njezin brat koriste ga kako bi ga natjerali da izvrši svoje naloge...
Ova kanadska sci-fi horor komedija upala mi je u oko odmah kada je trailer izašao, pošto se vizualno dojmi kao prava splatter poslastica s mnoštvom praktičnih efekata i hrpom šminke i maski. Redatelj i scenarist Steven Kostanski slične je eskapade radio i s vrlo dobrim hororom The Void, a u nekoliko je naslova zadužen za make-up department, što daje određeni pečat njegovim filmskim kreacijama. Psycho Goreman najavljen je i predstavljen kao humoristična, pomalo naivna i definitivno parodijska krvava rapsodija s hrpom čudovišta, aliena, raspadnutih organa, šiklanja krvi, gline, praktičnih efekata, blesave glume i scenarističkih rješenja...je li vam potrebno nešto više još opisivati? Za ovakav oblik filmova idealno mi dođe ova forma kraćih osvrta, budući da sve može biti rečeno s nekoliko pojmova - je li to dobro ili loše po film, procijenite sami ukoliko ste ljubitelj ovakvih tematika. Definitivno slabiji od primjerice Deathgasma ili redateljevog spomenutog The Void, ali Psycho Goreman (alien koji je čak i ime dobio od jedne djevojčice i to na eci-peci-pec) ima svojih pozitivnih trenutaka koji vas natjeraju da bez problema pustite mozak na pašu i gledate festival šiklanja krvi, gore i splatter scena. Kad imamo dolazak takvog aliena na Zemlju, kojega pritom počnu kontrolirati djevojčica i dječak, a njega samog love stvorenja iz drugih galaksija, onda znate da nemate čega previše pametnog niti smislenog ovdje očekivati. Prepustite se ovom trashu i uživajte koliko možete.

The Power (2021)




Sve u svemu: 2 / 5

Više o filmu: Imdb.com
Video

1974: mlada medicinska sestra prisiljena je raditi noćnu smjenu u propadajućoj bolnici dok rudari u štrajku isključuju struju širom Britanije. Ali unutar zidova krije se zastrašujuća prisutnost koja prijeti da će odvesti u mrak sve prisutne...
Ajme majko, ako mi ovo nije jedno od najvećih razočarenja ove, a i vjerojatno prošle godine...otkako sam saznao da izlazi ovaj naslov, s tematikom uklete bolnice, Britanije sedamdesetih, naslućivao sam nešto jako dobro, inovativno, jezivo...međutim, možete pretpostaviti koliko sam se strmoglavio tijekom gledanja filma. Sve je nekako dobro započelo, upoznajemo se s pomalo opičenim osobljem bolnice, ponekim pacijentom, a glavna bolničarka Val (Rose Williams) predosjeća neku opasnost jednom kada tijekom noćne smjene nestane struje i bude morala "preživjeti" noć u creepy ustanovi. Prvih pola sata je sve lagano, zatim slijede klišejizirane jump scene, od kojih bih na prve znakove osobno pobjegao i naprosto ne mogu shvatiti kako o tome scenaristi nikada ne razmisle. Atmosfera jeste uznemirujuća i tu ne mogu ništa negativno dodati, ali količina gluposti, nebuloza i klišeja u koje odlazi film graniče s neukusom i pravo je čudo da sam film od razočarenja uspio pogledati do kraja. Odlična Rose Williams svojom glumom i slatkoćom nije uspjela izvući film ni iznad razine vode da malo prodiše od svih silnih nelogičnosti i bazičnih horor elemenata koji su ga okruživali. Film ne preporučujem baš nikom, apsolutno gubljenje vremena, stoput viđene stvari i scene, jedino što odajem priznanje je atmosfera, no opet, ni to nije teško dobiti u settingu bolnice u ruševinama. Boo! iz 2005. mi je draži film od ovoga.

The Djinn (2021)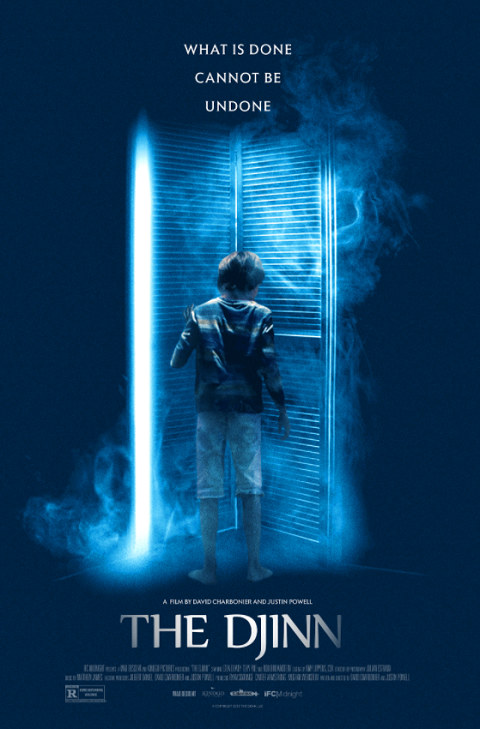 Sve u svemu: 2,5 / 5

Više o filmu: Imdb.com
Video

Nijemi dječak zarobljen je u svom stanu s nepoznatom nemani, nakon što odluči i zaželi ispuniti svoju najveću želju...
The Djinn je dugometražni poznatiji prvijenac dvojice redatelja - Davida Charboniera i Justina Powella, u kojem nijemi dječak, seleći se u novu kuću s ocem, pronalazi knjigu "sjena", u kojoj između ostalog piše kako će mu se želje ispuniti, ukoliko slijedi pravilan redoslijed radnji koje mora obaviti - svijeća, krv, ogledalo, želja, zovi duha....predviđate nastavak, ne? Pazi što zaželiš i slične šeme...praktički cijelo vrijeme ovdje imamo film u kojoj se radnja odvija u jednom prostoru - kući, a pola filma se šuti i izbjegava ovu čudnu pojavu - takozvanog djinna koji ispunjava želje, ali ne izgleda tipično onako kako bismo ga mogli zamisliti. Riječ je o kraćem filmu koji ima sasvim dovoljno trajanje, u kojemu se nažalost toliko stvari pojednostavilo, da preživljavanje protiv ovakve nemani izgleda poprilično jednostavno. Ezra Dewye je jako mlad, dobar i perspektivan glumac, ali scenarij je taj koji ga čini preopuštenim i to slabi cjelokupnu atmosferu i dojam o kvaliteti filma te su mu na tome gledatelji najviše zamjerili. Za ovakav niskobudžetni uradak efekti su neloši, a što se same priče tiče, ima i neloš kraj. Šteta, ovo je ispao teški prosjek, a moglo je biti puno, puno bolje i kvalitetnije izvedeno, no, u ovome žanru navikli smo na štancanja ovakvih naslova, pa barem 100-injak godišnje. Štaš, češće ne potrefiš nego potrefiš.