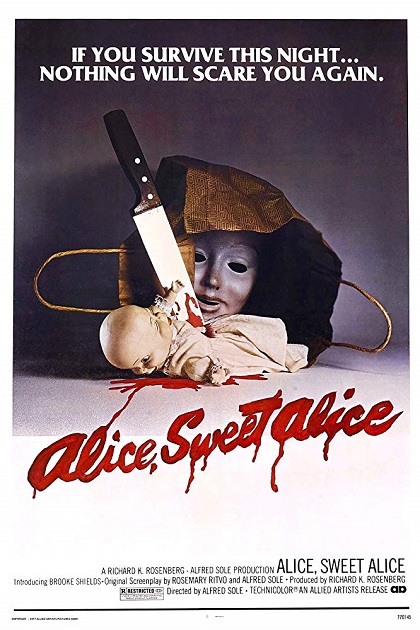 Sve u svemu: 3,5 / 5

Više o filmu: Imdb.com
Video

Šezdesetih godina u New Jerseyu, djevojčica je optužena za ubojstvo vlastite sestre u crkvu tijekom njene prve pričesti, no i nakon toga slijede nasilni napadi nožem koji će početi upućivati na razne druge stvari...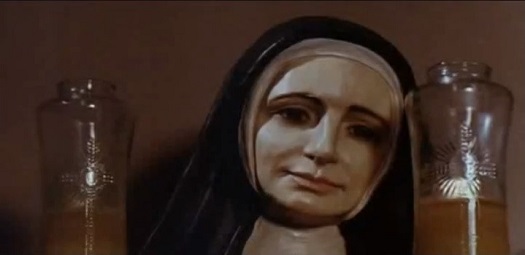 Alice, Sweet Alice oliti Communion (a mislim da čak ima još jedno ime), psihološki je slasher kojega sam godinama preskakivao, em se nisu mogli naći dobri torenti, em sam uspio u nekoliko navrata na njega i zaboraviti. Međutim, tematika filma, nekoliko fotki što sam vidio, plakat, njegova premisa, sve je upućivalo na to da će mi se film na nekoliko razina svidjeti i da će mi biti zanimljiv za baciti oko. Dakle, riječ je o filmu koji svoje paralele može vući iz nekoliko filmova šezdesetih i sedamdesetih, prvenstveno mislim na Don't Look Now (1973.) i na neke od kasnijih Hitchcockovih radova, no osjeti se taj uznemirujući, atmosferični dašak sedamdesetih godina u svakom segmentu ovog filma, iako mu je radnja smještena desetak i više godina prije. Vjerski motivi provlače se kroz cijeli film, budući da je, logično, poveznica na nemile događaje upravo pričest, a redatelj Alfred Sole na svojstveni je način upakirao elemente slashera, psihološkog horora, drame i trilera, dok su ga za glumačkim kadrom pratili Linda Miller, fantastična Paula E. Sheppard kao 12-godišnja Alice (iako je tijekom snimanja imala 19 godina) te debitantski nastup Brooke Shields. Film je u tadašnje vrijeme bio prilično kontroverzan, zato što se na subverzivan način mogao protumačiti kao otvorena kritika katolicizmu i kršćanstvu u sferama suzbijanja grjehova pojedinca i kažnjavanju istih, a iako je čak neko vrijeme bio i zabranjivan, upravo je zbog toga stekao kultan status među fanovima, iako film uopće nije dobio kredita i prepoznatljivosti onoliko koliko zaslužuje.




Sve počinje u naizgled mirnoj kršćanskoj obitelji, gdje se odmah nakon 10-ak minuta filma kreću događati nevolje i ubojstvo djevojčice. Iako je očigledno da je Alice ta koja je okončala život svojoj sestri, stvari će se kasnije ipak pokazati nešto drugačijima. Da vam naravno ne otkrivam pojedinosti, reći ću vam kako neke twistove tijekom filma bome nisam očekivao, a nisam ih ni mogao predvidjeti, što mi je veliki plus kojem pridodajem misterioznost cjelokupnoj priči. Nadalje, jezivost koja se krije u gotovo svakom segmentu radnje, scena, kadrove i glazbe prilično je dobro utanačena i spremna je blago uznemiriti vas kako film odmiče, govorim blago zato što je ipak riječ o sedamdesetima, no da smo svi gledali film u to vrijeme vjerujem kako bismo još intenzivnije doživjeli poneke scene i motive. Zakulisne igre, creepy likovi, klaustrofobičnost koja se povremeno javlja, elementi su koji vas proganjaju kroz čitav film te mi ni u jednom trenutku nije bio naporan ili dosadan. Doduše, moram mu zamjeriti nekoliko nelogičnosti, rupa i prebrzo objašnjenih situacija koje na neki način narušavaju visoko podignutu letvicu nakon što smo pogledali prvih pola sata filma. Također, neke scene loše su kadrirane i snimljene. Mimo toga, ne mogu mu stvarno naći neku veću zamjerku, osim također pomalo pompoznog kraja.




Alice, Sweet Alice vrlo je dobar predstavnik žanra iz toga razdoblja, baš onakav kakav treba biti - nekonvencionalan, uznemirujuć, teško probavljiv i u neku ruku blago šokantan. Preporučujem svim ljubiteljima filmova sedamdesetih, dobar je kao i Don't Look Now i njima slični uratci.