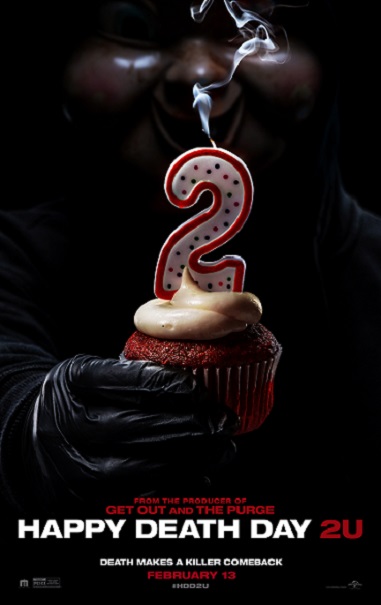 Sve u svemu: 3 / 5

Više o filmu: Imdb.com
Video

Tree Gelbman, djevojka koju smo upoznali kao nesretnicu koja se budi iznova i iznova i koju napada serijski ubojica, sada se na sličan način trudi izboriti s mijenjanjem sadašnjosti koja će se nastojati pozitivno odraziti na promjenu prilično krvave budućnosti...





Eto nam početkom godine i sequela prilično popularnog slashera Happy Death Day iz 2017. godine. Horor koji to ustvari i nije, HDD ostvario je golemu zaradu na kino blagajnama te je vrlo brzo postao poznat i priznat među ljubiteljima žanrovskog filma, no moram reći kako se mene nije baš dojmio, odnosno njegov me humor neprestano odbijao da filmu dam ikakvu pozitivniju ocjenu od malo iznad prosjeka. S obzirom da sam znao da me čeka i nastavak, unaprijed sam se pripremio da ću ustvari najmanje u filmu gledati horora, a najviše komedije, akcije i crnog humora, moram reći kako sam puno bolje dočekao nastavak negoli prvi dio, upravo iz razloga što sam znao što me sve može očekivati. Riječ je o istom redatelju i scenaristu, Christopheru Landonu, a imamo tu i puno slične postave - vraća nam se, moram priznati odlična, Jessica Rothe (glavna heroina), a tu su i Israel Broussard (Carter) te Phi Vu (Ryan). Radnja prvo nizbrdo kreće Ryanu, koji se nađe u potpuno istoj situaciji kao i Jessica u prvom dijelu, no spletom okolnosti ponovno Jessica postaje najvećom žrtvom te će se nastojati izboriti sa serijskim ubojicom, takozvanim Babyfaceom. Kao što je film populazirirao tog fiktivnog serijskog ubojicu, tako je i taj specifičan izgled ubojice popularizirao cjelokupni serijal, kojemu se, kako sam shvatio, predviđa još jedan nastavak. Ponavljam, kako sam krenuo gledati film s pretpostavkom da uopće neću gledati horor, odmah mi se krajnji rezultat puno više svidio te sam se čak u globalu uspio i zabaviti, jer HDD 2U je čista komedija s elementima raznoraznih žanrova, od akcije, horora, drame, trilera, miš maš svega.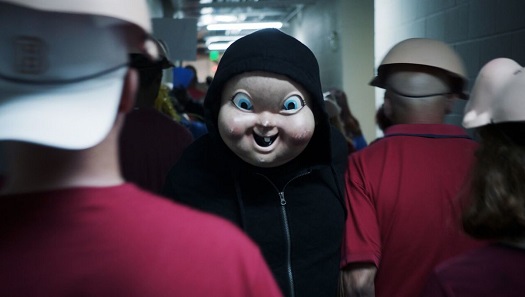 Zašto je pak završio na ovom blogu onda? Čisto iz poštovanja redoslijeda zbog prvog filma, koji je ajmo reći bio ponešto ozbiljniji nego ovaj, a u drugom dijelu se totalno pecalo interese publike i ono što je publika najviše voljela i odobravala u prvom dijelu, a to je taj time loop, igranje s vremenom i interesantnim konceptom te naravno doza humora, koja se u drugom dijelu upravo iz te potrebe povećala za barem 100%. Zabave i dinamike bome ne manjka, film je konstantno u nekom naboju i trudi se zadržati pažnju gledatelja neprestanim šaljivim upadicama, raznoraznim akcijskim elementima, crnim humorom, brojnim filmskim referencama...a isto tako, moram priznati da posjeduje super efekte. Zanimljiv je i način na koji glavna heroina na još inovativnije načine od prethodnog filma pokušava dospijeti do određenog cilja sprječavajući sve što se oko nje događa te su stvarno na kul način montirana i kadrirana sva ubojstva. Ono što me zasmetalo u filmu i što je svakako nemali uzorak su hrpa nelogičnosti (ok znam da ne može veća nelogičnost biti od time loopa): tip u rulji, doslovno hrpi ljudi bježi od ubojice, a mogao se obratiti bilo kome za pomoć ili pobjeći u skupinu, gdje se ubojica ne bi mogao snaći. Nadalje, dramatični elementi u obitelji heroine također mi nisu pasali te je to još jedan upliv sasvim desetog žanra koji je stvorio bućkuriš i kaotičnost, a jedna od najvećih stvari koja mi je zasmetala svakako je premalen fokus na ubojicu, gdje ga još manje uspijevamo vidjeti nego u prvom dijelu. Sam kraj i otkriće ubojice nije me nešto posebno očarao, čak mi je više unazadio koncept oko toga tko je ubojica.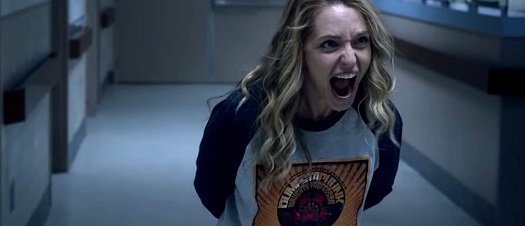 Da skratim: Happy Death Day 2U mi je bolji od svog prethodnika, još dinamičniji, zabavniji i nekako opušteniji, no valja ponavljam uzeti u obzir da je razina horora na minimalnom nivou, stoga nemojte očekivati ništa osim mindless zabave od sat i pol vremena, doslovno možete raditi još jednu stvar dok vam traje film i nećete ništa značajno propustiti, jer je sve ustvari tako jednostavno, pa tako i time loop i putovanje kroz više dimenzija događaja može biti jako jednostavno. Barem se tako čini.